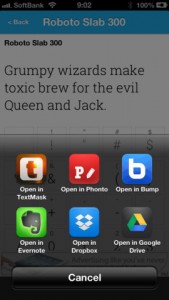 I'm a total typography nerd. I've watched a documentary on the history of Helvetica, and I'm the kind of person who flips to the end of a novel to see what typeface was used to set the tone of the book. I have a little bit of a background in design, but I've loved typography for as long as I've been reading. If you are likewise obsessed with fonts, the iOS app Fontasy makes it easy to browse hundreds of Google Fonts.
What is it and what does it do
Main Functionality
Fontasy allows users to quickly browse through Google Fonts. It boasts hundreds of free, open-source fonts optimized for the web.
Pros
600+ open-source font families that are web-optimized: great for web designers of all stripes
Type and test capabilities to see how your specific text will look in a given font
Great UI
Export font files to other apps, including Evernote, Dropbox, Bump, Google Drive, TextMask, Phonto, and more
View fonts by what's new, font name, or what's on-trend
Cons
Font previews in the main home browsing window could load faster
Annoying banner ads that don't seem to be removable via IAP
Discussion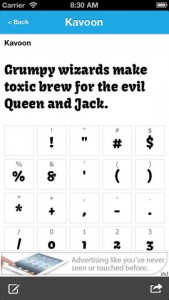 Fontasy is a simple way to browse Google Fonts from your iPhone. There's nothing wrong with the Google Fonts web interface, per se. However, for iPhone users, Fontasy is a way better option in terms of visibility.
If you know the name of the font you'd like, you can find it quickly using the search bar. If you want to browse, you can view long lists of fonts listed alphabetically, by what's trending, or by what's newly added.
Tap on a font name, and you can see a sample sentence, along with samples of common punctuation and numbers. You can also tap another icon from this point, and enter specific sample text of your own. You can then add colors, take a screenshot, and send that image as a greeting or a sample text to your email, or print it out.
If you like the font, you can share it to another app with just one tap. A menu will pop up, autopopulated with apps that can accept the fonts. Sending font sets via email doesn't seem to be possible, though you can send typed samples via email or Twitter.
I do wish that the fonts would be quicker to load as you are scrolling down through the browsing interface. The load time is acceptable, but you do have to wait slightly. However, I am really pleased with how complete these font sets are. In addition to common English characters, there are plenty of diacritic marks, foreign punctuation, and even characters for Greek or Cyrillic.
Conclusion and download link
If you want a simple, handheld option for browsing free web fonts, Fontasy is a great tool to share with your design team or even your clients. Whether you're building out a website or an infographic, these fonts can really make any project pop. The interface is solid, and there's not much to fault here.
Price: Free
Version reviewed: 1.0.0
Supported OS: Requires iOS 6.0 or later

Download size: 2.1 MB
Related Posts