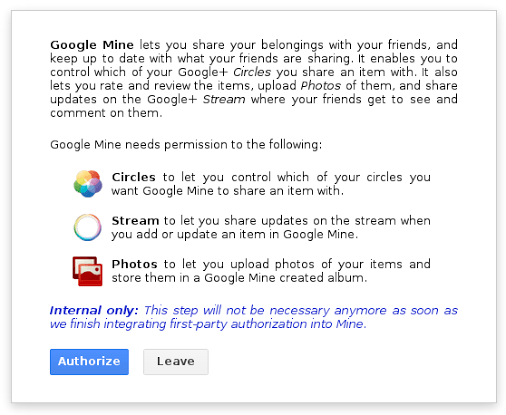 Apparently, Google is preparing to launch a proprietary service of their own like Craigslist, which allows users to list and sell used goods. The service is purportedly called Google Mine, and much of the information was gathered from a leak. Of course, that means this is a big ol' rumor, so it's possible these speculations are way out in left field.
According to the Google Operating System blog, Google is working on the service internally, and the related Android app is also being used in-house. It's going to be integrated with Google Plus –go figure- and users will be able to share tangible items along with a related status. Items can be assigned tags like "lent," "given away," "got it back," "lost it" or "had in the past." Listings can include videos, reviews, and a link to buy the item through Google Shopping. Desired items can be added to a wish-list, much like you can already do with apps in the Google Play store. You can even post item listings to Google Plus, in order to share them with your circles.
Google Mine lets you share your belongings with your friends and keep up to date with what your friends are sharing. It enables you to control which of your Google+ Circles you share an item with. It also lets you rate and review the items, upload photos of them and share updates on the Google+ Stream where your friends get to see and comment on them.
Supposedly, a feature called Katamari using WebGL will allow you to view items with full 360 degree rotation options. Such a feature would come in handy when purchasing used objects, because you can see what kind of shape the item is in before emptying your wallet.
There's no mention of availability, and there's probably a lot more to the service that has yet to be uncovered. We'll update you accordingly as soon as we know more. You can always check out the via and source links below for more information.
What do you think about the idea of a Google run service like Craigslist?
[via Ars Technica, Google Operating System]
Related Posts