One of the best ways to secure and lock down sensitive files, especially those you're going to share online or store in the cloud is to use advanced encryption methods. Unfortunately, sending encrypted files can be a bit of a hassle when both parties have to use the same encryption software or tools, in order to decrypt the files for use or viewing. Furthermore, if you're sending an encrypted file to someone that's not very tech savvy it can be frustrating trying to teach them how to handle the content. Silver Key aims to fix that problem, by allowing you to quickly encrypt and decrypt secure files through Windows Explorer.
What is it and what does it do
Main Functionality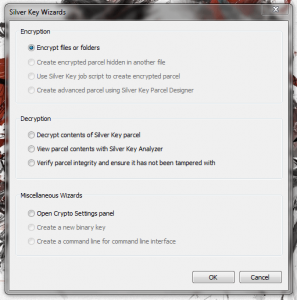 Silver Key is a portable application for Windows that allows you to secure files with 256-bit AES encryption directly through Windows Explorer. Furthermore, you can package the related files as a self-extracting executable so that the person you're sending them to doesn't even need to have Silver Key installed. Before the encryption process, you enter a unique password that can be used to extract the resulting package later.
Pros
Allows you to quickly encrypt and decrypt files
You can use the quick wizard, or you can encrypt/decrypt through the right click context menu in Windows Explorer
Files can be securely deleted or shredded
Uses secure cust0m passwords to unlock content
Files can be packaged as an encrypted parcel or a self-extracting executable
You can enable or disable context menu options through the application settings
Cons
A lot of features are locked down to the pro version, like binary key support, digital signatures and more
Discussion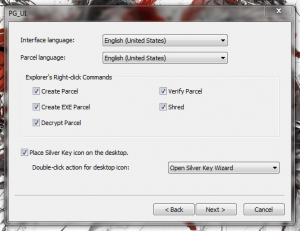 Silver Key is available in a couple different packages, you can either download it as an install package or a portable version that is compressed. If you download the portable version you will need an archive tool like WinRAR, WinZip or 7Zip to extract the necessary files.
For the purpose of this review I used the install version of Silver Key, but I also ran the portable package through VirusTotal, you'll find a link to the results in the conclusion.
After installation, Silver Key will take you through a quick setup wizard that allows you to configure various options associated with the app. You can choose to enable or disable any of the options that are added to the right click context menu, and you can also choose how the desktop icon behaves when you double click on it. You can revisit these options at any time through the application settings menu.
Silver Key allows you to encrypt files through several different methods, one of which is to use the wizard which can be started by double clicking on the app icon. The other way, which is much easier, is to right click on the file and choose 'create parcel' or 'create exe parcel' through the Windows Explorer context menu.
This will launch the password entry prompt, where you must enter the password to decrypt the related content later. Whether you choose to create a standard parcel or a self-extracting executable, you will still need to enter a password.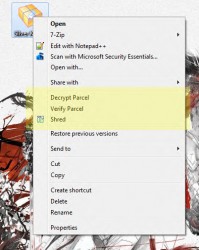 Silver Key will then automatically encrypt the related content and store the resulting parcel or package in the same directory as the original file. You can then send that package via email, or you can store it in the cloud. When someone tries to open the file, they will be asked for the encryption password. If they enter the correct password, they will then be asked where they'd like to store the extracted files.
The context menu options change to 'decrypt parcel' and 'verify parcel' when right clicking on a package that's already encrypted. The verification process will just scan the file and look for errors, and then it will spit out the results of the scan.
By default, double clicking on the Silver Key icon will open the wizard. As you can from the image on the right, it basically just offers the same options as the context menu except they're all conveniently displayed in one window.  At the bottom of the list, 'open Crypto settings panel' will open the application settings. That will allow you access to several options pertaining to the application:
User interface- the same options you configured during the initial startup, they have to do with the right click context menu and the icon behavior
Icons- you can customize the icons used for various files and packages
Encryption- pretty self-explanatory
Digital signature- you can sign the self-extracting

executables

with a digital signature and time stamp (pro version only)
Passwords and keys- change how passwords are used, in the pro version you can use binary keys
Cipher- not configurable in the free version
Shredder- options related to the shredder function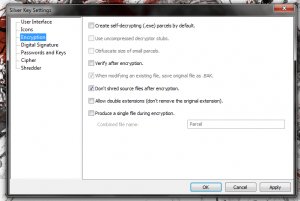 You may have noticed that last option is related to a shredder function. Silver Key also adds a shred option to the right click context menu which allows you to securely delete files and encrypted packages. Once a file has been shredded there's no way to recover its contents so keep that in mind.
If you create a self-extracting executable then recipients don't even need to have Silver Key installed to view the content. With a standard encrypted parcel, however they will need to have Silver Key available.
Of course, there are some features that have been locked out of the free version. The pro version includes support for binary keys, a sneaky option to hide parcels in JPEG images, encrypted comments, digital signatures, and more. That being said, the free version works just fine for encrypting content that you'd like to secure.
Conclusion and download link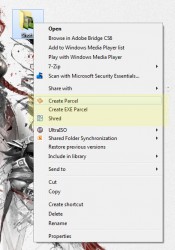 Silver Key is a free portable Windows application which allows you to encrypt and secure files. You can encrypt files in standard parcels, or you can package them into a self-extracting executable. The latter option allows you to send files and content to people that don't have Silver Key installed.  Silver Key also includes a shred function which allows you to securely delete files, or in the case of encrypted content erase its mere existence. The pro version is a very advanced tool with a lot of powerful features, most of which have been left out in the free version. That's okay the free edition of Silver Key works just great as a simple file encryption tool. The added option to create self-extracting executables just makes it that much more useful.
That being said, however, I don't quite see any big reason to get Silver Key over the likes of open-source and free AxCrypt. That does not mean Silver Key is bad. Indeed, Silver Key is useful but what does it have that AxCrypt doesn't have? Not much, if anything. You are more than welcome to check out Silver Key but I recommend AxCrypt if you need a file encryption program, simply because AxCrypt is the standard when it comes to file-level encryption.
Price: Free
Version reviewed: 4.1.2
Supported OS: Windows (2000, XP, Vista, Seven)
Download size: 8.85MB
VirusTotal malware scan results: 0/47 (install package), 0/46 (portable version)
Is it portable? Yes
Silver Key homepage [Silver Key download page (free edition)]
Related Posts