The thing about most flaky people is that they have no idea they're acting flaky. If people accuse you of being the kind of person who flakes out on planned events, there's not usually a way to prove them wrong with concrete proof. Now, there's an app that can help you compare and contrast your planned schedule alongside your actual itineraries. If you want to see how many appointments you have in a week (and how many of them you were able to keep), check out Schedule Planner. This free app was developed by Intersog.
What is it and what does it do
Main Functionality
In addition to contrasting planned events versus actual event attendance, Schedule Planner also lets you plan your schedule for the week, color-code your upcoming tasks to help you stay organized, and create pie charts to show how the user is spending their time across different task areas.
Pros
Great visual appeal: pie charts, color-coding, and a calendar interface that's super easy to glance at and absorb in an instant
Export PDF or CSV backups to Dropbox or your email
View events in Calendar or List view
Simple UI with autobackup that makes everything easy-peasy
Password protection optional, but available
Cons
Upgrade to Pro version costs $6.99 (includes Sync, Notifications, and Categories functionality)
Apparently, the app used to have a Notes section that has since gone the way of the dinosaur
Discussion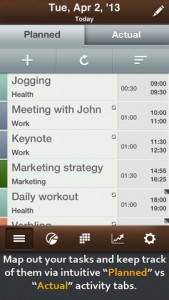 Without question, my favorite part of this app is the Planned versus Actual section. It's nice to see which days you've been able to get everything on your to-do list done, or get some clarity about days where your actual schedule varied wildly from what you had planned out beforehand.
This app could help you determine whether you're consistently missing appointments, and might need to stop spreading yourself so thin. The pie charts are a great way to visual how you're spending your time, and this app really helps users to notice their own behavioral patterns.
Another awesome thing about this app is the calendar view. Pretty much every calendar/schedule app out there relies on that little black dot on a day to indicate that it has a scheduled event associated with it. Not so here: colored tabs along the top of each grid on the calendar let you see at a glance what type of event you have scheduled that day, without needing to open the calendar to get a general idea.
Overall, this little app packs a powerful punch. The upgrade is a bit pricy, but it's definitely worth it, IMHO.
Conclusion and download link
If you're the kind of person who likes hard facts, quantitative data, and color-coded visuals, Schedule Planner is a great organizational tool. While it may seem like a steep price to pay, this free app is definitely worth paying to upgrade. Whether you rock the free version or an upgraded version, Schedule Planner is perfect for the schedule obsessed.
Price: Free
Version reviewed: 2.2.1
Supported OS: Requires iOS 5.0 or later

Download size: 12.8 MB
Schedule Planner on Apple App Store
Related Posts