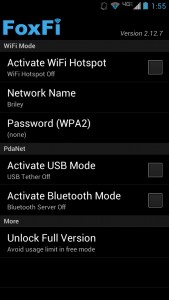 I have service with Verizon Wireless, not that you necessarily care, but trust me that point sets the stage for my review. Verizon likes to lock down their devices by charging you all kinds of additional fees to use features which should already be supported. For example, I have an unlimited data plan (I was grandfathered in) which means I have absolutely no limits. However, I can't use my device as a wireless access point without incurring additional charges, at least not without being a sneak. One way around this silly limitation is to root your device and install an Android app or custom ROM that has the feature built-in. What if you don't have the proper knowitall or resources to root your device, however- or just plain don't want to? FoxFi is a Wi-Fi tethering app that allows you to broadcast your mobile device as a wireless access point and it does not require root access to use.
What is it and what does it do
Main Functionality
FoxFi is an app that broadcasts your device as a wireless access point, but most importantly it doesn't require root access to use. If you're wondering why you would want to use your mobile device as a wireless access point, I'll paint this scenario for you. Let's say you're out somewhere, with a tablet or laptop that only has Wi-Fi support (no 3G or 4G) and you need to access the internet on said device. You can connect to your wireless access point -cue mobile device- to do what you need to do.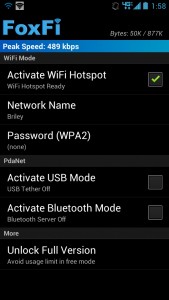 Pros
Quickly set your

smartphone

 up as a wireless access point
You can configure a WiFi access name and a password (WPA2)
No advertisements or

bloatware

 to contend with
You can also

setup

tethering via USB or Bluetooth

USB tethering requires the PDANet+ client installed on the connected computer

Connection

works great aside from the usage limitations (see cons below)
Adds connected notification to Android tray, also displays data usage in the app
Doesn't require root access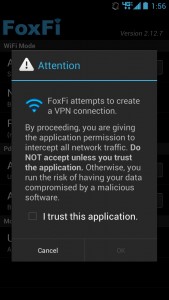 Cons
There's a usage limitation, after you reach a certain amount you have to restart the app and wireless broadcast
Some OEMs

have locked

down the WiFi hotspot feature in Jelly Bean, for affected devices you will have to install a user certificate which requires an active screen lock to

setup

It goes without saying, a wireless

tether

app can drain the battery quickly and use a lot of data
Discussion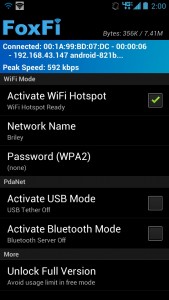 On Father's day Sunday I found myself between a rock and a hard place. I had plenty of work and homework to do, but my girlfriend wanted me to take the day off to spend time with her family. The plan was to go to SeaWorld, which is a theme park here in Florida (among other locations). The park itself is about an hour and a half to two hours away from our town, depending on traffic. If I could get myself internet access, then I could do most of my work and schoolwork on the ride there- thus allowing me to enjoy my day. Problem is, doing a lot of typing on a smartphone is -to put it bluntly- a pain in the ass. Not to mention, my schoolwork requires that I have a larger screen, I just need more screen real estate to navigate the related files and content. Instead of lugging my laptop, I decided to bring my tablet, smart choice, right? Well, yeah except for the fact that my tablet only has Wi-Fi connectivity.
Cue in FoxFi. It's a free Android app that turns your mobile device into a wireless access point so that you can connect to it with other devices. Of course, there are lots of similar apps available on Google Play, let's find out if FoxFi stands out.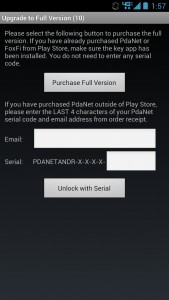 It doesn't require root access, so obviously it doesn't need Superuser permissions either. Because of that, you can start up the app and have a wireless access point running in minutes with any device. It goes without saying, this will burn through your wireless data so if you have a very limited plan, I would recommend you stay away from any kind of app like this- unless you don't mind seeing overages on your wireless bill.
The interface is very simple and straightforward, just the way I like it. There are only six options right on the main screen:
Activate

Wi

-Fi hotspot (enable/disable)
Network Name
Password (WPA2)
Activate USB mode (enable/disable)
Activate Bluetooth mode (enable disable)
Unlock full version
You can use the app to tether to a device via USB, or to broadcast through Bluetooth, but I wasn't interested in that. The real whopper is the Wi-Fi broadcast support. In case you're wondering, the USB and Bluetooth options work just as efficiently. To use the USB tether function properly you'll also have to download and install the PDANet desktop client.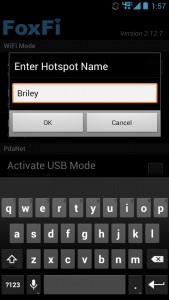 The process to set up a wireless access point is actually quite uninvolved. You just have to enable the 'activate WiFi hotspot' toggle, enter a network name and set up a password- if you even want one. The application will then setup the necessary wireless settings and then it will alert you when your new wireless network is ready to use.
My tablet discovered the network right away, which I named 'Briley,' and connected with no problems whatsoever. If you're wondering, my broadcast device or smartphone was a Motorola Droid Bionic. Even while on the road moving 70-80mph, at the whim of my cellular connection, I was able to get a lot of my schoolwork and work finished. I was actually very surprised at how well the application and the resulting connection worked. It was just like I was browsing my tablet via my home WiFi network, which is through Verizon Fios so it's pretty fast.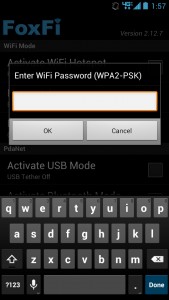 The best part about FoxFi is that there are absolutely no advertisements to contend with. You'd think for sure a free app offering this kind of support would be bogged down by ads, the developers have to monetize it somehow, right? That's not the case at all with FoxFi. There is a premium version available for purchase, but from what I can tell it doesn't really unlock any limitations except for removing a usage limit. In the free version, you have to restart the app and wireless connection every so often after a certain amount of usage is reached. Unfortunately, it's not exactly clear what that usage limit is. Once it's reached, you just have to restart FoxFi and your wireless connection- it's not a dealbreaker, but it can be an inconvenience to most.
The premium version of FoxFi is offered in a bundle with PDANet+, which pretty much offers the same kind of wireless connectivity features.
FoxFi uses about 21MB of RAM while running, and because it's a wireless tether app it can also drain the battery pretty quickly. In my case, I brought a car adapter and plugged my phone in to maintain a charge while I was using it as a wireless access point on the road.
Conclusion and download link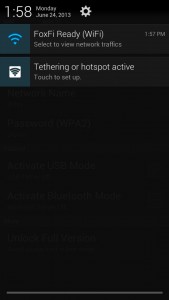 FoxFi is a free app for Android that turns your mobile device into a wireless access point. Ultimately, this allows you to connect other devices to your cellular connection through WiFi — known as "tethering." Tethering is not a new phenomenon; in fact, we have a best free tethering app for Android article for those of you that want to tether your devices. However, most tethering apps require root access; FoxFi does not need root access. And FoxFi works great for sharing your internet connection, once everything is all set up. The only inconvenience is that there is a data limit in the free version of FoxFi, and your tethering connection is disabled once the usage limited has been reached. On the bright side, to overcome this limitation all you have to do is restart the app and your wireless broadcast, but it can be a hassle if you're using it for long periods of time. The premium version of FoxFi is bundled with PDANet+ for $8 ($7.95). which removes the limit.
All in all. FoxFi is worth taking a look if you need tethering.
Price: Free
Version reviewed: 2.12
Requires: Android 2.2 and up
Download size: 203KB
Related Posts