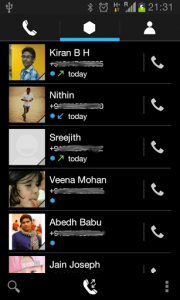 With so many dialer apps available for Android, it must have been a challenge for developers of this type of app to come up with something new. But that does not seem to be the case for Dialapp, a context aware dialer Android app which was recently released on Google Play app store. Whereas other dialers will make use of your call history to give you a list of people you are going to call, Dialapp "magically" predicts whom you're going to call.
Sounds magical? Well, not actually because the app based its prediction on several things namely, your location, time, calendar, conversations and other context-sensitive information which is based on a pattern. In a way, you can consider this app as a smarter dialer than other similar apps.
With that said, Dialapp is simpler and faster. The question that remains to be answer is whether it is accurate with its prediction. Only you can prove that by installing the app on your Android device and find out whether it works as advertised. Unfortunately, if you're an iPhone user, the app is currently exclusive for Android for now. Perhaps, it won't even see the light of day on the iOS platform since we all know the iPhone's limitations when it comes to this type of apps.
Based on initial reviews of Dialapp, users seem to be happy with it. So if you're giving Dialapp a shot, let us know how you find the app so far via the comments below.
Related Posts