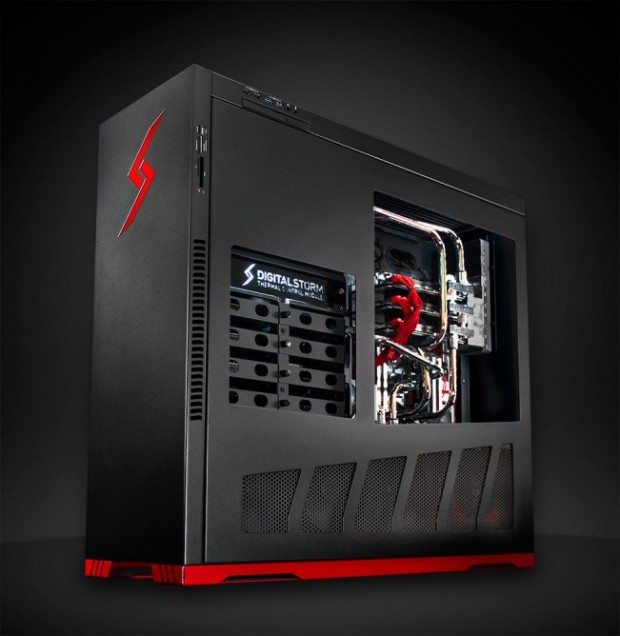 Tablet and smartphone sales are on the rise, and PC sales are dropping considerably, but that won't stop a very specific crowd from upgrading their arsenal. PC gamers always strive to have the biggest and the best, because where gaming is concerned the more power the better. That's exactly the crowd that Digital Storm is after with their latest Aventum II gaming powerhouse.
This bad boy includes a six-core processor, a plentiful amount of memory and storage capacity, and a complete liquid cooling system. The Price starts at $4,999 and can cost as much as $9,500 depending on what hardware you want inside.
The base model for $4,999 includes the following specs:
Intel Core i7 4770K processor
16GB of 1600MHz RAM
2 Nvidia GTX 780 GPUs
240GB SSD
1TB 7200RPM HDD
DVD burner
1050W PSU
In the low-end model, the liquid cooling system does not include nickel-plated copper pipes which essentially just serve as an added aesthetic. They look just like the exhaust system for high-end automotives. In case you can't tell, this sexy beast takes inspiration directly from the automotive industry.
The Ultimate edition, which costs $9,500 does include those nickel-plated copper pipes along with some more choice hardware.
3.5 GHz Intel Core i7 3970X processor
16GB of 1866MHz DDR3 RAM
3 Nvidia GTX Titan GPUs
Larger power supply
The Ultimate edition does include all of the other great features from the low-end model too. Except what's been substituted in the list above, of course.
Even better, before the company ships any of their rigs they put them through a rigorous 72 hour stress test to ensure customers are only getting the absolute cream of the crop. I'm sure I'm not alone when I say these things are highly desirable.
That being said, I've been assembling computers for years, and you can put together the same build yourself for nearly half that cost, albeit without that remarkably attractive design.
[via Gizmag, Digital Storm]
Related Posts