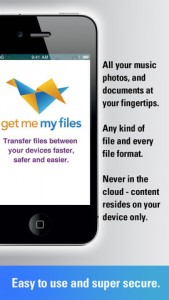 When you're on the go, it can be really frustrating to realize that you don't have access to a document that's on your laptop or desktop. Keeping a backup in your inbox or in Dropbox can help, but what do you do if you forgot to put the files you needed within the reach of your mail or Dropbox app? If you have an app like GetMeMyFiles, you might just be able to get yourself out of a jam while you're on the road.
What is it and what does it do
Main Functionality
GetMeMyFiles is an iPhone app developed by NxGen Software LLC. GetMeMyFiles lets you view, transfer, and sync files between your mobile device, laptop, or desktop.
Pros
Fast with secure encryption
Content is not ever stored in the cloud, so you can feel a little bit more secure than with other apps
Sync between Apple and PC
There is no limit on how big or small a file needs to be in order to be sent
You only need to open one account for all your devices
There are also complementary Mac and Windows versions of this app, as well as a version for Android
Cons
GetMeMyFiles must be installed on any device you want to sync/transfer files with, which requires a bit of forethought
"Getting started" guide could be longer and more in-depth
Default sharing settings from the iPhone only seem to include your iPhone Camera Roll photos: no notes, music, audio dictations, or other files auto-populated into my sharing list on the iPhone
Discussion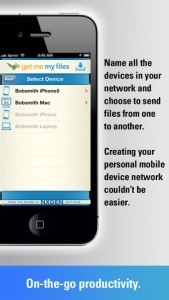 If you don't already have an account with GetMeMyFiles, you can skip the registration process. If you don't, no biggie: the set-up/registration process takes minutes. Once you sign up, you can add your other devices (an Android phone, a PC, a Mac, an iPad) to your account.
Any device that you want to have sync or transfer capabilities with needs to have GetMeMyFiles installed on it, so bear that in mind when you're setting things up–unlike with some other apps, a Wi-Fi/Bluetooth link directly to the device won't work.
The App Store page for GetMeMyFiles boasts that the app has encryption that provides "bulletproof security." For people who hate storing stuff in the cloud, this app may be a good choice. While the files can be shared between devices, the files always live on your devices and not in the cloud.
Whether you're a student who forgot to print your term paper, a salesperson who forgot to grab your contact sheet for a day of cold calling, or just someone who wants to share family photos on the go, this app offers fast transfers and a great interface.
Conclusion and download link
If you want to have constant, easy access to your photos, homework, or business papers on the go or at the office, GetMeMyFiles is a really solid option, particularly for people who don't want to store their documents in the cloud for whatever reason. If you need a file transfer option that's completely cross-platform (well, save Linux boxes, I guess), this is the app for you.
Price: Free
Version reviewed: 1.1.77
Supported OS: Requires iOS 4.3 or later

Download size: 31.7 MB
GetMeMyFiles on Apple App Store
Related Posts