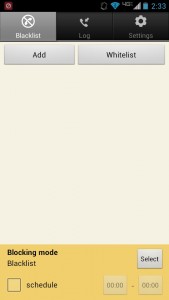 In the Android OS by default, you can setup calls from select contacts to go straight to voicemail. It's a simple feature that works great for those times when you don't want to take calls from someone in particular. Unfortunately, the function only allows you to block calls for contacts that are already in your phone. What if you want to block calls from alternate numbers, or even unknown or restricted numbers? You can always employ the method that your wireless carrier offers, which usually involves entering the offending numbers into some kind of web form. There's gotta' be an easier and more efficient way to do it than that, though. Blacklist Plus is a free call and message blocker application for Android. It allows you to restrict any and all calls, even those from contacts not stored in your phone.
What is it and what does it do
Main Functionality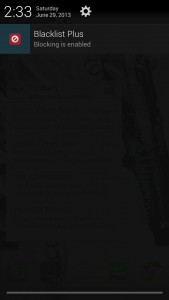 Blacklist Plus is a call and message blocker application for Android. There are tons of call and message blocking filters available, but the most efficient one uses a whitelist. Any contacts you want to allow through the filter, you add to the whitelist while all others are blocked. You can also set the blocking filter on a specific schedule so that it only operates during a certain time. In addition, it can either hang up calls automatically or it can just silence calls so they go to voicemail.
Pros
Effectively block calls and messages by muting them altogether, or hanging up the call automatically
You can set a schedule for when the call and text blocker is active
There are several blocking modes available (see review below)
You can add numbers [to the whitelist or blacklist] from contacts, call logs or manually
Records all call and message blocking activity to a log
Sends push notifications to the Android tray when an activity occurs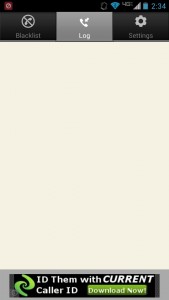 Cons
Uses 36MB of RAM while running which isn't bad, but it isn't great either
The password lock is only available in the pro version
Discussion
 Blacklist Plus is a pretty powerful call and message blocking app. It offers a nice selection of customization options so that you can setup the filter just the way you want.
When you start the application you'll notice the UI is quite simple. There are three main tabs, which are blacklist, log and settings. Blacklist is the menu where you set up the individual numbers you'd like to block, while the log records any call and message activity. The settings tab is reserved for the application settings, obviously.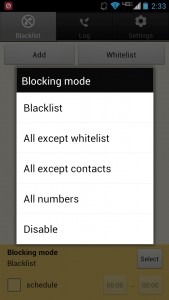 The first thing to note, is that there are several different blocking modes. They are as follows:
Blacklist- blocks any numbers added to the blacklist
All except whitelist- blocks all numbers except those added to the whitelist
All except contacts- blocks all incoming calls and messages unless they are stored in your contacts
All numbers- completely blocks all numbers
Disable- turns off call blocking
You can choose the active blocking mode via a button at the bottom of the "blacklist" tab. It's actually attacjed to a bottom menu that pops open, which also includes an option to designate a schedule. If you setup a schedule, the active blocking mode will only work during the specified time. Unless, of course, you have the call and message blocker disabled then it just stays deactivated until you enable it again.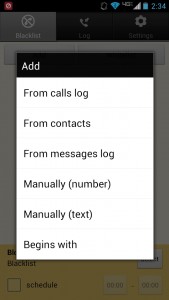 When adding numbers to the blacklist or the whitelist you are also presented with several different options, which include the following:
From calls log- allows you to choose a number stored in your call logs
From contacts- allows you to choose from an existing contact
From messages log- allows you to choose from your text messaging
Manually (number)- allows you to manually input a number
Manually (text)- allows you to input a text string
Begins with- allows you to block numbers by area code
Setting up the filter is pretty straightforward. All you have to do is choose the active blocking profile, and then enter the related numbers or contacts you would like blocked. The developer made it easier by offering you several different tools to get the job done, which I've mentioned above.
The log needs no explanation. It displays any and all activity related to blocked calls and messages.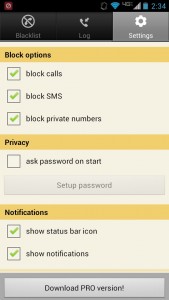 The application settings menu is the place to go to configure how the app operates. At the very top is another option to select the blocking mode and setup a schedule (it certainly seems a bit redundant). You can also change the method used to block numbers, by telling the app to either hang up a call or just mute it. You can also turn off blocking features individually for calls, SMS or private numbers.
Furthermore, while the call blocking feature is active a notification is pushed to the Android tray. You can remove this notification through the application settings. You can also disable any push notifications offered by the app. It will notify you when a call or message has been blocked.
The blacklist feature works great. Every day around the same time, I get a call from a stranger that is looking for a person I don't know. Quite literally, I tell them every day they have the wrong number yet they continue to call back. For the past couple days that number has been blocked.
There is a pro version of the app available for $0.99, which adds several features not included in the free variant. The most prominent is that you can setup a password to lockdown Blacklist Plus and prevent unauthorized access. In addition, the free version includes a banner ad at the bottom of the log tab, and  an "upgrade to pro" button at the bottom of the settings tab.
For reference, Blacklist Plus uses about 36MB of RAM while running.
Conclusion and download link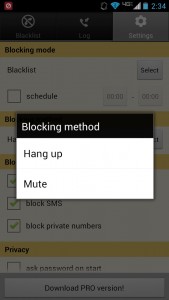 All in all, Blacklist Plus is a useful call and message blocker for Android. Best of all, you can configure the app so that it meets your individual needs. For example, there are several different blocking modes and several different ways to enter in a number or contact. In addition, you can set the application to hang up on all call that are blocked or just mute them. There are plenty of call and message blocking apps available in Google Play, but this one offers quite a bit of functionality especially since it's free. There is an ad banner displayed on a single menu tab (logs), and an upgrade button is also displayed on the application settings tab. That being said, both the ad banner and the upgrade button can be overlooked if you don't want to spend any money. Then again, the pro version is only $0.99. If you're looking for a simple yet effective way to end those annoying calls and messages, Blacklist Plus has what you need.
If you happen to not like Blacklist Plus, check out dotTech's review on best free call, SMS, and MMS blocker for Android.
Price: Free
Version reviewed: 1.14
Requires: Android 2.1 and up
Download size: 260KB
Related Posts