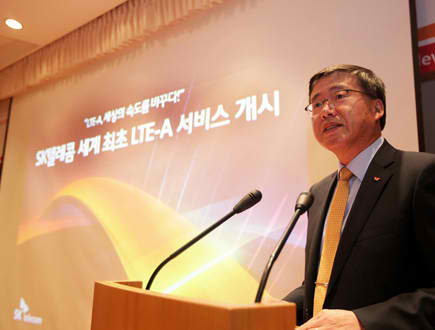 It seems that there's no stopping the rivalry between Samsung and Apple. The two companies are in head-to-head battle for the supremacy in the mobile smartphone market. Just recently, Samsung unveiled its first LTE-Advanced (LTE-A) smartphone, the Galaxy S4 LTE-A. Now, it seems that Apple may follow Samsung's lead and release an LTE-A version of the yet to be released and still a rumor, iPhone 5S.
The Korea Times reported that SK Telecom, a telecom in South Korea, approached Apple to put LTE-A technology on the next iPhone, likely to be the iPhone 5S. In fact, Apple and SK Telecom seems to be in the middle of talks about this as of this writing, claims an SK Telecom executive who requested to remain anonymous. It isn't clear if the LTE-A version of the next phone will feature outside South Korea or not.
LTE-A is of course a new network technology that SK Telecom is pushing and will double the current Internet speed of mobile devices. Hence, if this negotiations pushed through and Apple agrees, the upcoming iPhone 5S will let users to download data at up to 150Mbps. This speed is said to be twice faster than download speed of the regular LTE network — 5-6x more if you live in the US.
SK Telecom is also confident that Apple will agree on having an iPhone with LTE-A capability. According to the SK Executive, it's a win-win strategy for both parties. SK Telecom is very aggressive in becoming the leader in LTE-A devices, while Apple can take this opportunity to revitalize it's stalling phone business.
What remains now is whether Apple will take this chance or not.
[via Korea Times, image via SK Telecom ] 
Related Posts