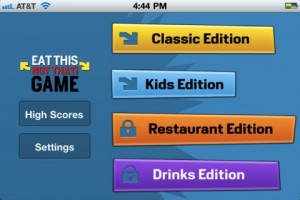 With so many people in US and UK battling obesity, it's rare to not know someone in your social circle who isn't actively trying to eat better. We've become increasingly more aware of the calories we take in, which explains why this video of what 200 calories looks like in different types of foods recently went viral. If you're embarking on a weight loss quest and want to re-educate yourself about where the calorie traps are in your favorite foods, the Eat This, Not That! game can make nutrition education fun.
What is it and what does it do
Main Functionality
Eat This, Not That! The Game is a simple game that helps people learn which food options are the more healthy.
Pros
Choose from Classic, Kids, Restaurant, or Drinks mode (only classic is free, the rest cost 99 cents to unlock)
Educate yourself about the calorie content of common drinks, breakfast foods, lunch items, dinner menus, snacks, and desserts
Play casually with no penalties for wrong answers, or amp things up with a more challenging speed round
Featuring tons of common menu items from national food chains
Food item choices are clearly explained, with info about calories and fat
Ingrains smart dining choices within your head so that when you sit down to order, you're more likely to make the right choice
Cons
App wants to access your calendar and contacts, which doesn't seem strictly necessary for a casual game
Gameplay seems a bit cramped on the iPhone's screen
If you want to see fat, saturated fat, calories, or sodium values, you'll need to let the clock run down a bit before picking between the two food options
You need to share the app on social media to unlock parts of the app, such as Supermarket Mode
Discussion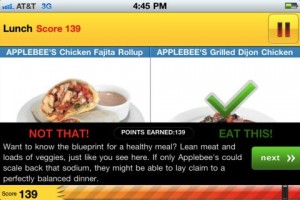 Eat This, Not That! has been around for years. What started out as a simple advice column in Men's Health magazine has since spawned a whole line of diet-friendly books. The premise, in case you aren't familiar, is this: two similar foods are presented side by side, with one option being far more healthy than the other.
Choosing the more healthy option isn't always as simple as you might think. There are times when you'll be surprised by which options are the healthiest. For example, a fried chicken Milanese at California Pizza Kitchen has less than half the calories of CPK's seared chicken marsala, a fact I learned while playing this game. Apparently all the butter in the marsala sauce makes it more fatty than the breaded, fried Milanese chicken.
The interface here is pretty good. The images of the food are large and well-presented, though the text occasionally looks cramped. I do wish that you'd get a better breakdown of the nutrition in each item after making your selection.
Conclusion and download link
If you want to start eating better, training your brain to make those smart choices is a big part of breaking out of those bad eating habits. Eat This, Not That! The Game is surprisingly fun, and you're bound to learn a lot playing it. For educating adults or kids about smart dietary choices, this dining game is most helpful
Price: Free
Version reviewed: 2.0
Supported OS: Requires iOS 4.0 or later

Download size: 6.9 MB
Eat This, Not That! on Apple App Store
Related Posts