As time goes on the files on your hard drive become more and more fragmented. As you manipulate files, they become scattered over different locations on your hard drive and eventually – if allowed – your computer will slow down significantly since it would have to search multiple locations in order to open individual files if severe fragmentation takes place.
Using any of the disk defragmentation tools here today, will reverse this process, increasing file access times and ultimately making your computer run better. Please note that SSDs should not be defragmented due to them only being able to be written to/ read from a limited amount of times – defragmenting will result in several read write/cycles potentially reducing the life of your SSD. This type of disk requires special treatment.
With that background information covered, let's get on to our review. Here is dotTech's selection for the best free disk defragmentation tools available for Windows.
[Note: We know Windows has a built-in defragger but there is a reason there are so many third-party defraggers out there — they offer more functionality, such as speed or more features. This article doesn't include Windows' built-in defragger for two reasons. First of all, the defragger varies from Windows version to version, which makes it incredibly hard to review. Secondly, our intention from the start was to look at third-party defraggers.]
This review is part of our Best Free Windows Software section. Check out more articles on the best free Windows programs by clicking here.
Table of Contents
Best Free Disk Defragmentation Tool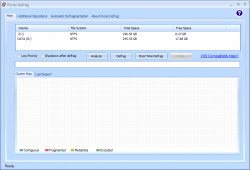 Program Name: Puran Defrag
Developer: Puran Software
Download Size: 3.32MB
Version Reviewed: v7.6.0.0
Supported OS: Microsoft Windows XP SP3, Windows Vista, Windows 7
Pros
Puran intelligent optimizer
Automatic disk defragmentation option
Boot time defragmentation
Low priority defrag option allowing you to work while defragmenting
Individual file/folder defragmentation
GUI or console command line use
Selected files/folders can be excluded from being defragmented
Cons
Watch out for bundled crapware during installation
Discussion
Puran is a multi-featured defragmentation tool with several powerful features.
Puran's operating windows is divided into tabs. The main ones being Main, Additional Operations and Automatic Defragmentation. Within the Main tab, users can choose to Analyze in order to determine how fragmented a disk is and from there choose Defrag in order to reverse fragmentation. Users can also choose to carry out the following under Boot Time Defrag:
Restart-Defrag-Restart
Restart-Defrag-Shutdown
Restart-Defrag-Restart + Disk Check
Restart-Defrag-Shutdown + Disk Check
Restart-Defrag-Restart + Full Disk Check
Restart-Defrag-Shutdown + Full Disk Check
The next tab is the Advanced Operations tab. The options under this tab are as follows:
Fill Gaps To Avoid Frequent Fragmentation
Optimize Directories For Faster System Access
Free Some Space For Windows Temporary Files on Faster Disk Area
Boost Overall System Speed By Puran Intelligent Optimizer
Exclude Files within a specified size range
Exclude a user specified list of files
Enable/Disable individual file/folder defragmentation
Delete Files in a user specified list
The Automatic Defragmentation tab simply allows for users to specify a defragmentation schedule and users can choose to neglect this schedule if their computer is a laptop and ever happens to be running on battery power during the scheduled defragmentation time.
Below is a chart showing what the colors in Puran's cluster map represent:
Puran also intelligently optimizes files as well as allows for powerful command line operations.
My only gripe with Puran is that I had to avoid downloading crapware during installation.
Puran is both easy to use and powerful – always an ideal combination. It is an excellent defragmentation tool and quite deserving of the title of Best Free Defragmentation Tool for Windows.
Runner Up
Program Name: IObit Smart Defrag
Developer: IObit
Download Size: 5.7MB
Version Reviewed: 2.8
Supported OS: Windows NT/2000/XP/2003/Vista/Server 2008/7/8
Discussion
While IObit Smart Defrag is a powerful defragmentation tool it is still quite an easy to use program. A few clicks and you are on your way to faster file access!
To get started with this utility, you simply need to select the drive/partition you wish to defrag and hit either Defrag or Analyze. It is recommended that you being by selecting analyse in order to assess the level of defragmentation of the drive or partition in question. IObit uses a colored block scheme( cluster map ) to display how fragmented a drive is. The following represents the meaning of the color of a block in Smart Defrag's displayed cluster map:

Grey – free space
Blue – rarely used
Purple – directories
Orange – Master File Table
Black – unmovable
Red – fragmented
Cyan – moving
Basically, if you see plenty of red blocks, you need to defragment your drive!
After carrying out your analysis – if it was needed – you are ready for the defragment option. IObit has 3 different defragmentation options:
Defrag only
Defrag and fast optimize
Defrag and fully optimize
Defrag only, simply – you guessed it – defragments your files, grouping together file fragments which should have been together. The optimize options streamline your file system and enables your computer to run faster by placing frequently used files and folders in the 'fastest' area of the disk. Please note that the Defrag and fully optimize option is more thorough than the Defrag and fast optimize option.
One of the more intriguing features of IObit is that it allows you to add a single file or folder to be analysed or defragmented just like you would an entire disk or partition. This feature could come in quite handy as you may be interested only in an individual file or folder. IObit also allows for the scheduling of defragmentation runs which is always useful. Another advanced feature is the 'Boot Time Defrag' option. This option allows for the defragmentation of files and areas of your hard drive which are simply not plausible to be defragmented after your computer has booted up. You can choose to defragment the page file and hibernation file as well as to defragment your hard drive's master file table. IObit defrag gives detailed reports of all activities which are carried out.
IObit Smart Defrag is an excellent defragmentation tool and it does its job rather quickly. I do however have one gripe with the utility. Firstly, I dislike the fact that ads are displayed within the program. Additionally, I had to be careful to not install unwanted software during the program's installation.
Neglecting those issues, IObit Smart Defrag is highly recommended and I urge you to give it a try. It only lost out to Puran Utillities due to Puran having more boot time defrag options.
Honorable Mention 1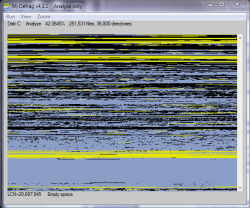 Program Name: MyDefrag
Developer: Jeroen Kessels
Download Size: 2MB
Version Reviewed: v4.3.1
Supported OS: Windows 2000, 2003, XP, Vista, 2008, Win7
Discussion
MyDefrag is quite a powerful program. It is very thorough when carrying out defragmentation but with this comes slower defragmentation times.
This powerhouse is operated through a simple GUI which explains displays the scripts which the program runs along with an explanation of what each one does. MyDefrag offers the following defragmentation options:
Anayze only
Consolidate Free Space
Data Disk Daily
Data Disk Monthly
Data Disk Weekly
Defragment Only
Flash Memory Disks
System Disk Daily
System Disk Monthly
System Disk Monthly
The Analyze only option simply scans selected disks and gives the user feedback in order to let them know the state of defragmentation of their disks. Consolidate Free Space comes in handy with very full disks. It is capable of creating space which allows large files to be shifted around. It forces everything to the start of the disk, beginning with files located at the disk's ending and it fragments fills efficiently so that gaps are precisely filled.
Data Disk Daily is designed for everyday used and quickly defragments and optimizes selected data disks. It moves only smaller files but leaves larger files and does not attempt to fill all gaps on the disk(s) in question. This option or script places the master file table and directories at the beginning of the disk. These are then followed by a gap. MyDefrag proceeds by then defragmenting all files and quickly fills all remaining gaps.
Data Disk Monthly is designed for occasional use with data disks – around once a month. This option is much more thorough than Data Disk Daily and subsequently takes a longer time to finish.
In terms of thoroughness, Data Disk Weekly lies in between the daily and monthly options. The Defragment Only option simply carries out defragmentation with no optimization or fancy moving around of files or master file tables.
MyDefrag also provides a special option for the defragmentation and consolidation of free space on flash memory and solid state drives. It is designed so as to move around as little data as possible since as you know flash memory has a limited number of read-write cycles. Please note that the System Disk options are identical to the Data Disk options except for the fact that the former are meant for system disks while the latter are meant for data disks.
That is literally all there is to the program, but this program also allows for powerful command line operations.
MyDefrag is a powerful program and will effectively carry out all defragmentation tasks. It is however considered to be, relatively slow – when compared to the other offerings – but this can be attributed to increased thoroughness. In addition, if you choose to utilize the simpler GUI, some of the language utilized to described options/scripts can be confusing. Another issue I have with the program however, is that it offers no option for pre-boot defragmentation.
Although MyDefrag can be considered slow, when it finishes you will be sure to have a drive which is well defragmented, optimized and has consolidated free space. Your computer will thank you for it.
Honorable Mention 2
Program Name: Auslogics Disk Defrag
Developer: Auslogics
Download Size: 2.9MB
Version Reviewed: v3.6.1.0
Supported OS: Windows XP/Vista/7/8
Discussion
Auslogics offers users several features which are aimed at getting your computer back up to speed or simply keeping it there.
As expected of a defragmentation utility users have the option of analysing any drive which they are contemplating carrying out a defragmentation on. Users also have the option of carrying out a 'quick defrag' which neglects the analysing process. You can also carry out a 'regular' defrag as well as a 'defrag & optimize'. This option – in addition to defragmenting files – places frequently used files in the 'fast disk access zone', subsequently speeding up access times to these files. This feature is also offered in IObit. Individual files and folder can also be defragmented as can be done with most of our other offerings reviewed here today. The diagram below illustrates the meaning of the blocks in the cluster map which Auslogics displays:

1) Free space
2) Allocated
3) Master File Table
4) Unmovable Files
5) Processing
6) Fragmented
7) Defragmented
(The numbers represent the position of the blocks in the diagram, starting from the left.)
Auslogics gives users the option to schedule their defragmentations as well as the option to delete temporary files before defragmenting in order to speed up process. In addition, the option to skip file fragments which are bigger than 10MB is offered as well as the ability to allow for frequently accessed system files to be moved to the beginning( faster ) part of the disk drive in order to speed up disk access. Please note that doing the latter will increase the defragmentation time. Users can also choose to exclude certain files from being defragmented. Users of Auslogics can execute a check of a selected disk as well as correct any errors which are found by carrying out a CHKDSK, which can be activated directly from the advanced menu within the Action drop down menu. Finally – this is always an asset – Auslogics is available in a portable version.
Although this is a great program, I do have a couple of issues with it. Firstly, it gives users the impression that certain features are offered such as within the system health tab where the registry is scanned for errors and the computer is scanned for junk files. The program does not actually offer any assistance in rectifying any of the purported issues. Two other examples of this are the optimize your computer'and protect your computer against viruses options which are listed under Advanced in the menu bar. In all of these cases the user is simply directed to the Auslogics page where they have the option of downloading additional software to carry out the proposed task. My next issue is that there is no pre-boot defragmentation option, while this is offered in some of our other offerings reviewed here today. This slightly hampers the functionality of the program.
Despite these issues, Auslogics is still quite capable and will satisfy your defragmentation needs for the most part.
Honorable Mention 3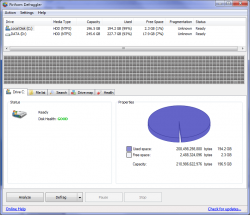 Program Name: Defraggler
Developer: Piriform
Download Size: 3.66MB
Version Reviewed: 2.14.706
Supported OS: Windows XP/Vista/7/8
Discussion
Like IObit, Defraggler is quite easy to use while still offering advanced features.
Defraggler offers both a quick defrag as well as a 'regular' defrag option. Of course the latter is more thorough but takes a longer time to complete. As expected, there is also an analyse option which lets you know if you need to even carry out a defragmentation. Individual files and folders can also be defragmented and the program even allows for the defragmentation of free space. There is also the option for carrying out a defragmentation operation before the computer boots up in order to complete operations which would be potentially dangerous after the computer has booted. Below is a screenshot showing what the clusters mean in the cluster map which the Defraggler displays: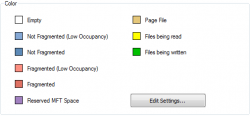 Defraggler is also capable of displaying detailed information about the health of a drive such as its temperature as well as a general rating such as 'good' of the overall health of the drive in question. Additionally you can carry out a search for files of a certain size and from there defragment a selection or all of these files. Defraggler also displays a file list of fragmented files which can individually be selected for defragmentation. Users have access to error checking functionality and can check any drive attached to their computer for errors. A schedule can also be created for carrying out defragmentations at your convenience.
In addition to its other splendid features, Defraggler provides an option which allows for the movement of large files to end of drive during a whole drive defrag. With this option, users can select the minimum file size as well as the type of large file to be moved. It can also be specified for large files not to be moved during the defragmentation of free space. Also the quick defrag option can be customized where the fragment size to be defragment can be selected as well as the number of fragments per file. The type of file to be defragmented can even be further specified by inputting larger than and smaller than parameters. Certain files can also be selected by the user to be excluded from defragmentation.
Defraggler has many features designed to help your computer run faster as you can see and is a brilliant program. However, it does not have the optimization options found in IObit Smart Defrag.
Other Alternatives
Related Posts