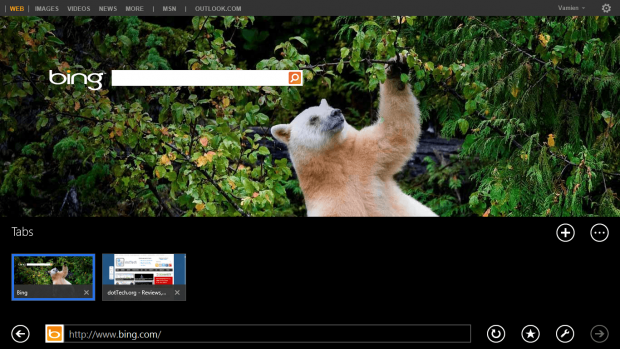 Windows 8.1 Preview is out and ready for download for those who are interested. The new update brings to the table a large number of improvements to Windows 8, but it also brings forth Internet Explorer 11, and we're going to dig deep into this new browser to see if whether or not it is worth using.
The first thing you'll notice about Internet Explorer 11 is how much it stays true to Internet Explorer 10's design, so nothing should be deemed confusing. Let's take a look at what is new in the new browser, there might be some things you will like.
Unlimited Tabs: The differences come to light when the Metro version of the browser is in place, as the tabs are now placed at the bottom, which makes them easier to control than before. Furthermore, the Metro version of Internet Explorer 11 is now capable of accommodating more than 10 open tabs compared to the previous version.
Favorites: With the release of Windows 8 and the Metro version of Internet Explorer 10, Microsoft downplayed the need for Favorites, hoping users would simply pin their favorite websites to the Start Menu. However, that did not prove to be a popular decisions and thus, users can now add websites to Favorites with Internet Explorer 11.
Improved security: For as long as I can remember, Internet Explorer has always been seen as the browser with less security and is fully opened to the boogeyman entering your computer system. Things have changed over the years, but with Internet Explorer 11, Microsoft is upping the ante. There's a feature called Enhanced Protected Mode, this isn't new, it first came to light in Internet Explorer 10, however, it was not on my default. This time around, it is, and if an extension or toolbar lack support for this security measure, they will not work unless Enhanced Protected Mode is turned off.
Synchronize open tabs, Favorites, and settings: It is now possible to sync Internet Explorer 11 open tabs, Favorites, and settings across PC and devices. You will need to have Windows 8.1 on all your computer devices and a Microsoft account for this to work.
Browse tabs side-by-side: You can now browse your tabs side-by-side, just snap Internet Explorer 11 to the right or left, right-click on a tab and then click "open tab in new windows." If you have a high resolution display, you can have up to 4 windows open.
Performance improvements: Internet Explorer 11 is fast, though we can't tell at this moment in time how fast it is compared to Chrome, Firefox, Safari, and Opera. What we do know, is that the browser now support WebGL, and has some HTML5 and JavaScript improvements. Microsoft was adamant on supporting WebGL due to security concerns, but gladly, the software giant has changed its tune.
Conclusion: While these new features and improvements are welcoming, Internet Explorer 11 is still unusable for many as it does not have a compelling extension system. Do you want a free Adblock extension? You won't find it here. So until then, we foresee many users sticking to what they know best — Firefox, Chrome, or maybe even Opera.
Related Posts