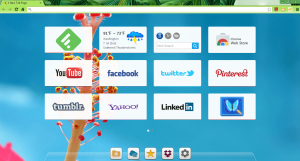 The tew tab feature in Chrome, Firefox, and Opera looks simple and neat; when you want to open a new tab, a new tab page opens allowing you to visit whatever website desired. The problem is that it lacks in certain aspects. It doesn't allow user customization and there are no options for quick website access. This leads other users to look for alternatives such as the X New Tab Page extension for Chrome, Firefox, Opera. Let's see if this tool deserves a thumbs-up.
What Is It and What Does It Do
Main Functionality
X New Tab Page is a simple and easy-to-install Chrome, Firefox, and Opera extension that lets you change and customize the appearance of your browser's default new tab function. It lets you add speed dials so that you could organize your favorite sites, bookmarked pages and frequently used browser plugins and extensions. You can even change its background photo.
Pros
Simple and very easy to use
Neat user interface and there are lots of options for user customization
The "Speed Dial" feature integrates and organizes your favorite sites, frequently visited sites, bookmarked pages and frequently used extensions.
It provides other useful plugins such as quick search and real-time weather updates.
It provides a backup of your saved preferences via Cloud.
You can easily organize and sort out your pinned websites by simply dragging their icons.
Works on Chrome, Firefox, Opera, Maxthon, and Dragon browsers
Cons
It doesn't support keyboard shortcuts
It doesn't crash but there are occasional glitches. For example, the new tab page will just load on its own even if it's not prompted to do so.
The customization settings could appear a bit tricky especially for new users
It doesn't offer multi-user support
No Internet Explorer support
Discussion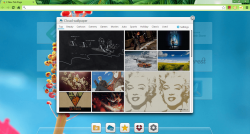 The current version of X New Tab Page has already addressed most of its main issues such as the lack of custom background support as well as the bug in the custom speed dial logo. Unfortunately, there are still some minor issues left unfixed such as those instances wherein the new tab page would just load on its own.
On the brighter side, the main highlight of this extension is its ability to organize and customize your favorite sites and pages through its Speed Dial function. This feature is already common among mobile browsers but it is quite good to see such feature in top web browsers such as Mozilla Firefox and Google Chrome.
It is also important to note that some users may find the X New Tab Page's settings a bit complicated but you won't be left totally clueless. For starters, you will be guided by a quick tutorial for using the tool's basic commands. Once you get more familiar with the setting, that's the time that you can play around with its other options such as adjusting the size and position of your speed dials.
Conclusion and download link
What I like most about X New Tab Page is the fact that I get to control the sites that appear on my new tab screen. Unlike before, I no longer need to open my bookmark folder just to find the site or page that I want to visit. Since I'm an avid Chrome user, I find this feature very useful and convenient. I also like the fact that I can add a "personal touch" to my new tab page by uploading my own background photo. The only thing that annoys me is the occasional glitch that involuntarily loads the new tab page, especially when my browser is on idle mode. Nevertheless, I recommend this extension to any Chrome, Firefox, Opera, Dragon, or Maxthon user who wants to access their favorite sites through speed dials on the new tab page. Check it out.
Price: Free
Version reviewed: 4.1.0
Requires: Firefox, Chrome, Opera, Dragon, or Maxthon browsers

Related Posts