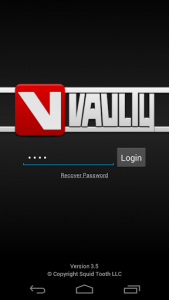 One of the biggest downsides of keeping a private photo or video is the risk of being exposed. Unfortunately, these types of situations often happen to a lot of Android users, as devices get passed around often. There are even instances where the abusers would use a photo to blackmail or extort their victims. This is why apps like Vaulty can help a lot in keeping your media files safe from prying eyes.
What Is It and What Does It Do
Main Functionality
Vaulty is an app that lets you hide and password protect the images and videos inside your Android device. It works for both tablets and smartphones. Through this app, you can select the media files that you want to keep inside your private gallery. No one can view this gallery except you. If you want other people to access your private gallery, they would need to enter the correct PIN or password.
Pros 
You can easily hide pictures and videos without tweaking your files and folders
You can protect your private gallery with a PIN or password
You can easily delete, move, edit or share the photos inside your Vaulty app
There's an option for renaming media files and you can sort them out according to type, file size, file name, etc.
There's an option for selecting multiple images and videos
The files stored in your private gallery won't appear in your file manager
The app lets you create two or more private galleries or "Vaults"
Cons
Some of the app's features are not available for free users
There is no "New User's Guide". New users might find it difficult to recognize the purpose or functionality of each icon.
You can create folders but you cannot create sub-folders.
Every time you hide a file, it will be scanned by the anti-virus scanner that you've installed on your device. This could slow down your phone's system performance. The same thing happens when you unlock or unhide a photo.
The type of files that you can hide in your vault are only limited to photos and videos.
There is no option for file backup and you cannot sync your private photos into your cloud storage account.
The app's level of security could be easily hacked or bypassed. It doesn't provide any option for additional security.
There is no way to recover your accidentally deleted photos.
Discussion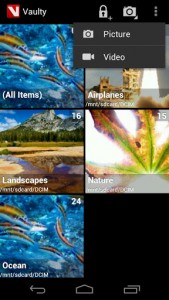 What makes Vaulty different from other apps is that it features a lot of other things that you cannot easily find other photo lockers. It has its own photo edit tool, you can view your images via slideshow and you can even share your private images to your contacts on Facebook, Gmail, Viber, and other apps. It also does a good job in hiding and keeping your private photos. It's just that I find its frequent "media scanning" quite annoying because it slows down the performance of my smartphone. It could have been better if there's a way to turn off this feature. Nonetheless, I didn't have any difficulties when it comes to moving my files into my private photo gallery.
If there is one thing that I really like about Vaulty, it is none other than its ability to protect the hidden files with a security PIN or password. This is very useful especially when you want to hide a confidential image or video. Of course, this doesn't guarantee that your files will be 100% safe from photo thieves and hackers. Even so, it is good to know that there is an easier way to keep your images and videos hidden from prying eyes and unauthorized viewers.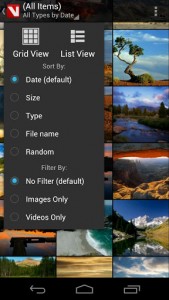 Functionality wise, the app has served its purpose. Plus, if you are already familiar with the Android interface, then you won't have any difficulty in using the app. However, if you're not really the "techie-type", it may take a while before you get used to the app's controls. This is because there is no way that a user could easily recognize what a particular icon means unless you test it out. For example, the "Lock" icon obviously means to lock or hide the images but how will you do so if you don't even know what button to press to access your default gallery? This will eventually lead to confusion especially for new app users. Not only that, there's also no option for creating a file backup and if something goes wrong, there's no way for you to recover your lost or deleted files.
Conclusion and Download Link
Despite the fact that Vaulty offers the ability for users to easily hide and unhide images and videos, I don't recommend it — too many downsides in my opinion… especially to those who are not that proficient in using Android. There's also no guarantee that the files kept inside the app's vault will be safe just in case something goes wrong. I don't really mind if I cannot access the app's premium features such as the additional photo editing tools, etc. in the free version. What's more important to me is to know that my files are secured and retrievable. If Vaulty manages to add an option for file backup, then that's the time that I would recommend this app. Until then, a simple and free app locker (an app that allows you to password protect apps, such as Gallery) should work just as well for most everyone and doesn't involve the risk of losing photos or videos when you hide them.
Price: Free
Version reviewed: 3.11.2
Requires: Varies with device

Download size: Varies with device
Hide Pictures in Vaulty on Play Store
Related Posts