Undoubtedly one of the most utilized pieces of software on any computer today is the web browser. Over the years, the web browser has become increasingly important and many functions previously characteristic of the 'offline' world such as the viewing and editing of text documents can be carried out from within a browser. With a plethora of web apps, online games and social networks, the web browser is definitely one of the staple apps on anyone's PC. It can be amazing just how much time is spent online these days.
Since we are investing so much of our time in this one application, we should have a good one right? Well hopefully reading the review of the following browsers will help you to find one. A great browser is not as clear cut as the one with the fastest load times because features such as the support of extensions and various customizations are also important. Indeed, although a particular browser may not be the fastest, many persons will love it due to the extras it offers. It is for this reason that a single browser can not be singled out as being the best browser. Instead, we have highlighted several of the best browsers in this review.
In this review, we point out the best free web browsers we have encountered on Windows and highlight their functionality. Hopefully this helps you to find a great browser that suits your needs.
This review is part of our Best Free Windows Software section. Check out more articles on the best free Windows programs by clicking here.
Table of Contents [Chrome vs Firefox vs Opera vs Pale Moon vs Maxthon vs Internet Explorer vs Midori vs SRWare Iron]
Best Free Web Browser 1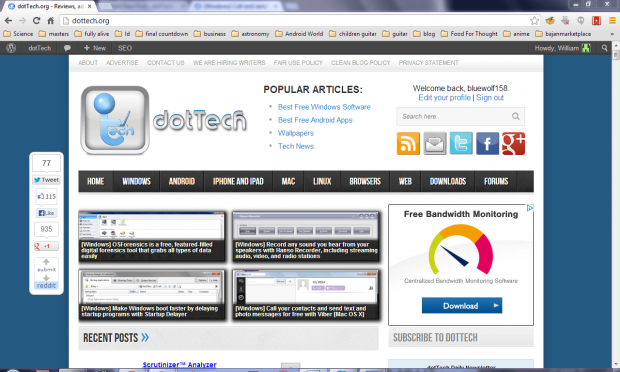 Program Name: Chrome
Developer: Google
Download Size: N/A
Version Reviewed: 28.0.1500.72
Requires: Windows XP, Vista, Windows 7, Windows 8

Discussion
Google Chrome is a stalwart of minimalism, displaying only what is needed for browsing and it does so quite effectively. Far from being bland Google Chrome really shows that sometimes less is more. Directing the browser to web pages as well as carrying out Google searches is carried out all from one area known in Chrome as the Omnibox. Extensions are located to the right of this and tabs can be found above while a bookmarks toolbar is found below the Omnibox. Also with bundled flash and pdf viewers, you won't have to worry about downloading extra software to carry out basic functionality and with this also comes security benefits.
>Right off the bat, one of the great features of Google Chrome is that every single tab runs as an individual process. This way if one tab crashes, the entire browser does not crash and the one tab that crashed can be reloaded. Users can also pin tabs which they deem important in order to avoid getting your important tabs lost when you have several tabs open. The Omnibox is definitely a nice touch and it is very convenient. Another powerful feature is Google Instant which displays search results while you are typing a query in the Omnibox. The smart prediction of this feature can predict what you want to type before you even finish typing and results will also begin popping up as you type. It will not display explicit results however. This feature helps make your searching experience a breeze and will also potentially significantly speed up the process. Also of note is the initial opening of a new tab. The new tab page displays frequently visited pages as well as any installed web apps allowing users to easily access them.
As I mentioned before, Google Chrome comes bundled with both a Flash player as well as a PDF viewer. Doing so saves users the trouble of having to download this software and also helps to improve security — external PDF viewers have been exploited in the past. Chrome also supports many extensions which add desired functionality to the browser based on your needs — for example the Read It Later extension allows you to quickly save web pages which you want to view later. Many of us have more than one computer and probably access the internet from all of them. It can therefore be quite annoying not having access to your bookmarks or web history on each of them. Having a sync function in a Web Browser is therefore highly desirable and luckily Chrome implements a syncing feature and does so quite well. Passwords, preferences, themes, "apps," auto-fill entries, extensions, and Omnibox history as well as bookmarks can be synced, making switching between machines a breeze.
Chrome also comes with a built-in task manager, meaning that any tabs, extensions or plugins pertaining to the browser can be viewed along with the memory, CPU or Network resources they are using. These processes can also be eliminated from within the task manager. Users will also find Incognito mode quite handy as this mode allows for 'private' browsing such that:
Webpages that you open and files downloaded while you are incognito aren't recorded in your browsing and download histories.
All new cookies are deleted after you close all incognito windows that you've opened.
Changes made to your Google Chrome bookmarks and general settings while in incognito mode are always saved.
There is also the speech api which allows for Google searches to be carried out using speech.
Chrome is definitely a powerful browser but it is not without its flaws. Firstly although Chrome is generally quite fast, it can bog down older machines. It does work well on machines with newer multi-core processors however which most of us out there have anyway but that was a point worth mentioning. Additionally, although Chrome Instant can be magical, it does not work with slower internet connections so you will have to resort to slower searches whenever you encounter one of these. Also, one of the biggest concerns with Google Chrome is privacy — are you surprised? One of the biggest privacy concerns is with the Omnibox. Lots of information is stored on Google's servers such as search and address history.
All in all, Chrome is one of the most popular browsers out there and it is easy to see why. A combination of fast browsing and handy features makes it a great piece of software.
Best Free Web Browser 2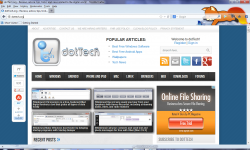 Program Name: Firefox
Developer: Mozilla
Download Size: 20.6MB
Version Reviewed: 22.0
Requires: Windows XP, Vista, Windows 7, Windows 8

Discussion
Firefox is another big name in the web browser game. Although it has lost ground to Chrome over the years, it is still a great browser with some powerful features and it is all open source.
Although, Firefox's interface is not as basic as Google Chrome's it is quite well organized without taking the minimalist approach but if you have got used to Google Chrome's interface it may come across as a bit cluttered. Firefox's interface can be customized with themes known as personas to add a bit of personal flavor to your browser. As you know, opening many tabs can lead to a cluttered, confusing experience. Luckily Firefox gives users the facility of grouping their tabs together in a manner which is convenient to them. Like Chrome, tabs can be pinned as well.
Firefox comes with a built in pdf but no built in flash player but the security benefits of having a built in pdf viewer are still there so users would only have to worry about going to Adobe's website and downloading the flash player. Like Chrome, many add-ons are available which means that much functionality can be added through these. One thing to note with these add-ons however is that they can bog down Firefox's performance. This was actually one of the main concerns users who jumped ship from Firefox to Chrome and other browsers so this is definitely something to watch out for. Otherwise Firefox is decent on system resources. Unlike Google Chrome, each tab is not a separate process, so if one tab crashes the whole browser crashes but with each process open in Chrome, more memory is taken up so Firefox has the advantage of using less memory in this regard but Chrome has the advantage that only a single tab would crash so either way a trade off is made. Firefox new tab page, like that of Google Chrome shows the most visited pages.
Users will enjoy the multiple search options included in Firefox. You can search Google, Yahoo, Bing, Amazon, Ebay, Twitter or even Ebay simply by clicking on the down arrow in the search toolbar and specifying which one you want. This functionality can come in quite handy and can save users quite a bit of time. The social APIs included with Firefox are also a nice touch. For example, Clickz displays news feeds and videos and there is also a built in Facebook Messenger for Firefox. This allows for persons who use Firefox as their main browser to easily access Facebook's Messenger function without downloading the standalone Windows application or actually going to the Facebook website and logging in or out whenever you desire to use the messenger function. Firefox has one of the best syncing capabilities of the browsers reviewed here rivaled perhaps only by Maxthon. Firefox allows for the syncing of bookmarks,passwords, browsing history of sites visited over a 60 day period, add-ons installed on your computer or mobile device. What sets Firefox apart from its competitors is its ability to synchronize tabs as well as tab groups. Basically allowing you to seamlessly pick back up browsing from where you left of on another device.
Like Opera, Firefox has a 'do not track' mode which tells websites that you do not want your browsing behavior to be monitored and it also allows for private browsing similar to Google Chrome's Incognito mode.
As you can see, Firefox is another big name which proves itself.
Best Free Web Browser 3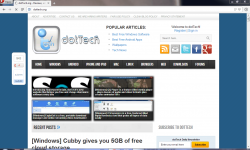 Program Name: Opera
Developer: Opera Software
Download Size: 29.6MB
Version Reviewed: 15.0.1147.118
Requires: Windows XP, Vista, Windows 7, Windows 8

Discussion
If you're looking for a speedy browser it will be well worth your time, taking a look at opera. Opera has taken into consideration persons with slow internet connections so that even they can browse at decent speeds. It has a simple interface which users will become accustomed to quickly, allowing for fast and easy operation.
Before jumping into its features, you should now that Opera has bragging rights for being the first to implement several features which are now considered standard on a web browser. Opera was the first browser to introduce tabs, it was the first to display frequently visited web sites in the form of thumbnails on the startup screen of your browser, they were the first to implement a built-in pop-up blocker, they also were the first to implement browser sessions which give the ability to resume a previous state of browsing prior to closing the browser and they were also the first to allow for the deletion of private data. I'm not saying that being the first to implement these features makes Opera by any means a better browser but they were worth noting.
Similarly to Google Chrome, Opera is designed with a minimalist approach; both web addresses and searches are entered in one bar. It also allows for themes which add a personal touch to the browser.
For fast browsing speeds, Opera has the ability to predict network actions in order to improve page loading times. In addition 'offroad mode' facilitates faster page loading on slow internet connections by first compressing web pages on opera's servers before they are actually loaded on your computer. For your convenience, Opera possesses a re-open last closed tab function which comes in handy in the event of accidentally closed tabs. The Speed Dial option allows you to make a note of pages you would traditionally bookmark in other browsers. Pages stored using the Speed Dial option are stored in the form of a tile. In addition to the Speed Dial option users also have the option of saving favorite pages using the Stash option which is quite similar but does not use tiles to represent stored pages. You will also of course appreciate the added functionality which can be added to the browser through the many extensions which are available for it. You should also look out for the discover feature which displays top stories across a wide range of areas such as Arts, Science and Technology. User preferences for the various genres can also be specified.
Users will also appreciate the mouse gestures which allow for fast and simple navigation. For example — after making sure that mouse gestures are enabled — right clicking and swiping the mouse left or right either loads the last page or advances to the page you just came from respectively. Keyboard shortcuts can be utilized as well but mouse gestures tend to be more intuitive and thus users pick on them more quickly. Another powerful feature to take note of is Opera Link. It allows for the synchronization of the Speed Dial, notes, the personal bar, custom search engines, typed history as well as the content blocker list across multiple computers and mobile phones. For your peace of mind, it can be specified whether or not you want websites to track your behavior or not.
There are some issues that have reared their head with Opera however, despite it performing quite well. For one, it has been accused of having no real bookmark feature with some users complaining about the lack of the ability to organize pages in Speed Dial or the Stash into folders like what can be done in other browsers. In addition Opera has been accused of compatibility issues in the past but I actually ran into none but you should keep an eye out for this I guess.
If you ever get around to using Opera you will undoubtedly come to the conclusion that it is both easy to use and powerful and you may just fall in love with it.
Best Free Web Browser 4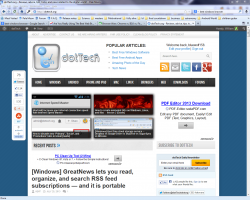 Program Name: Pale Moon
Developer: Mr. M.C. Straver
Download Size: 14.6MB
Version Reviewed: 20.2.1
Requires: Windows XP, Vista, Windows 7, Windows 8

Discussion
Pale Moon is a stable browser based on the quite well known Firefox. It will seem very familiar to anyone who has ever used Firefox before but it is optimized for faster performance than its counterpart.
What separates Pale Moon from Firefox is that Firefox is designed to be as compatible as possible with as many computers as possible while Pale Moon is optimized from the core to try to extract the maximum amount of performance. While Firefox can be tweaked with add-ons to improve performance, Pale Moon manages to beat it out since it is optimized from its core up.
Pale Moon's interface is almost exactly like Firefox except with a few small changes. Firstly there are none of the accessibility options found in Firefox and also – less noticeably – the bookmarks toolbar is enabled by default. In addition, parental controls are also disabled. Also Pale Moon's opening screen is a bit different showing users some useful links as well as giving them an opportunity to make a monetary donation to the Pale Moon developers. It also allows users to use a 'low-fi' option which helps users browsing on slow connections. Pale Moon also displays a genuine status bar which actually displays the progress of the page which is currently loading. It is also able to use existing Firefox profiles with a migration tool which is readily available.
Beware though, some of Pale Moon's optimization has come at the expense of the disabling of support for older processors so if you have an 'ancient' computer you will have to settle for regular, unoptimized Firefox. At least you will have the peace of mind that any of the modifications made will not affect in any way the way web pages are displayed.
Best Free Web Browser 5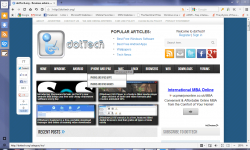 Program Name: Maxthon
Developer: Maxthon
Download Size: N/A
Version Reviewed: 4.1.0.4000
Requires: Windows XP, Vista, Windows 7, Windows 8

Discussion
Maxthon is a cloud based browser whose current version is based on Chrome and Internet Explorer, making it compatible with most all Chrome and Internet Explorer extensions. Additionally, content can be easily synced across all devices on which it is located. It is not one of the big names like Chrome or Firefox but it has great functionality and may just give you a pleasant surprise.
One of the most coveted features of Maxthon is its cloud functionality. Maxthon passport is the feature which facilitates this cloud functionality. Registering for a free Maxthon passport account will allow users to gain access to the free cloud services previously mentioned. Some of the more notable cloud features are as follows:
Cloud download — instead of downloading files to your computer, you can choose to download files to your personal cloud which can then be accessed from any of your machines running Maxthon.
You can push the current page you're viewing to any of your Maxthon machines as well
Tab syncing shows all tabs open on another device
Immediately on opening Maxthon, you will love that it is customizable and that it allows for the setting of background images. One other aspect of Maxthon which you will appreciate is its split screen feature. This allows for the splitting up of the browser into two vertical sections which can be viewed at the same time with each section displaying their own tab. Basically this feature allows for the viewing of two separate tabs simultaneously without actually opening two separate windows. Users will also appreciate the fact that the browser supports mouse gestures — similarly to Opera. If you are not impressed yet, you will be when you discover that Maxthon also has a built in screenshot snapper. Another great feature is the night mode option which allows for the inverting of dark and light colors in order to improve visibility in low light conditions( or at night of course). In addition, Maxthon allows for the reading of RSS and Atom feeds. While browsing these feeds you may appreciate the reading view which allows for the viewing of text heavy pages more easily.
Included with Maxthon is a feature known as the resource sniffer which identifies all audio, video and image information and allows for the downloading of this media either from all pages or from all opened pages. Luckily Maxthon is compatible with Chromium extensions, meaning that adding functionality to this already great browser can be achieved without much hassle. Two page rendering engines are made use of in order to ensure the maximum compatibility with web pages. Retr0 mode makes use of both engines while ultra mode only uses one engine meaning that the speed of the browser should increase but some webpages may subsequently become incompatible with the browser.
There are some issues which can be found with Maxthon unfortunately. The most irking one is its limited tab handling. Users can not 'pop' out a tab in order to open a new browser window or to transfer the tab to another open browser window which is pretty much standard in most modern browsers. Users are limited to swapping the positions of tabs. Also, you must manually select a tab before you can close it.
Beside these faults, Maxthon and its convenient cloud features as well as features such as the screenshot snapper as well as the resource sniffer will entice users who want the most out of their browser and who can blame them — Maxthon is a powerhouse.
Honorable Mention 1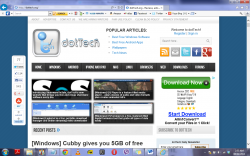 Program Name: Internet Explorer
Developer: Microsoft
Download Size: N/A

Version Reviewed: 10.0.9200.16660
Requires: Windows XP, Vista, Windows 7, Windows 8

NOTE: The latest version of Internet Explorer, 10, is only available on Windows 7 and 8
Discussion
While it is true that Internet Explorer has gained a negative reputation with past versions, Internet Explorer 10 has improved leaps and bounds and actual performs quite well these days. Although, it looks similar to other iterations of Internet Explorer, you're in for a surprise.
Internet Explorer 10 really pays close attention to the privacy of users. For example, the browser comes integrated with tracking deterrents which allows for personal information not to be shared with any and anyone. As expected of a modern browser it has the usual private browsing mode but you will also appreciate the tracking protection option which prevents third parties from gaining information from your computer and blocks maliciously placed cookies
Another neat feature is the built in spell checker and similarly to Google's Chrome, both searches and web addresses are entered into one bar but compared to Chrome, the option to automatically suggest searches can be switched off meaning that less information is shared which is one of the issues with using Chrome. The One Box does however lack the Instant function found in Chrome. Also the preferred search engine can be specified directly from this so called 'One box' unlike with Chrome where this can only be set via the Settings page. Pinned sites are also an asset, allowing for frequented or desirable sites to be easily and quickly accessed. Internet Explorer also supports various extensions, allowing for increased functionality.
It is clear that a big effort was put forward in this particular build of Windows and as Microsoft quite rightly states, it is both fast and fluid. One of my only gripes is that the tab and the One Box are located in the same 'row' which means that the window can appear cluttered if several tabs are opened. Also Internet Explorer 10 does not run on Windows XP and Vista — quite a bummer for the many longstanding XP users out there.
Before you write me off, I urge you to give Internet Explorer 10 a try and see what it is like for yourself and you just might like it.
Honorable Mention 2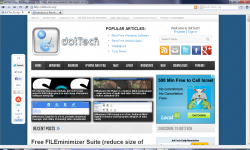 Program Name: Midori
Developer: Christian Dywan
Download Size: 33.2MB
Version Reviewed: 0.5.4
Requires: Windows XP, Vista, Windows 7, Windows 8

Discussion
There's not much to say about Midori but don't let that fool you. Sometimes simplicity is quite beautiful… and fast.
By default, Midori makes use of Duck and Go as its search engine which is very secure and strives to keep your information anonymous and private. Basically Midori is a no-frills browser but it sure does get the job done. It is lightweight, speedy and stable and would be ideal on older machines.
This browser is not for those users who are looking for all the features under the rainbow, it allows you to do what it should and quite well at that — browse the web efficiently. Give this one a try, I'm sure you'll like it.
Honorable Mention 3
Program Name: SRWare Iron
Developer: SRWare
Download Size: 28.3MB

Version Reviewed: 28.0.1550.0
Requires: Windows XP, Vista, Windows 7, Windows 8

Discussion
I won't say much about SRWare Iron but I felt this browser is worth mentioning.
SRWare Iron is a fork of Google Chrome — it is built upon Chrome's source code. However, SRWare Iron is privacy-focused — it strips out all the not-privacy-friendly aspects of Chrome. The best part is SRWare Iron does this without sacrificing much, if anything; SRWare Iron has all the same features as Chrome (including the ability to use Chrome extensions and themes). Plus SRWare Iron has a portable version.
Check out SRWare Iron if you like Chrome but want better privacy.
Other Alternatives
Related Posts