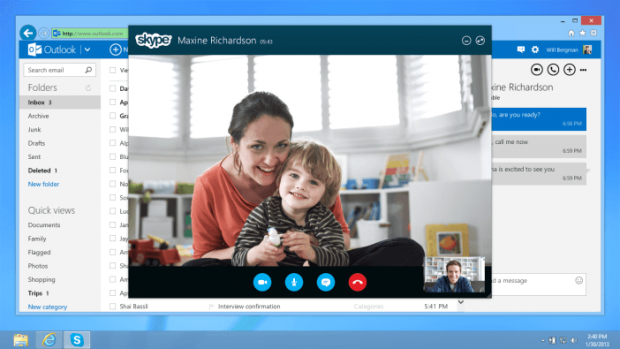 The Guardian continues to release more information regarding leaked documents that claim the NSA was spying on American citizen via its PRISM program. The latest information claims Microsoft, the FBI, and the NSA are all in a tight relationship. So tight is this relationship that it is said Microsoft — and it's subsidiary Skype — willingly joined PRISM.
Leaked documents claim the NSA can easily gain access to emails on Microsoft servers or Skype audio calls through the PRISM program. Furthermore, the documents said Skype signed on with PRISM back in 2010 before it was acquired by Microsoft for over $8 billion, and since then has continued to provide access to audio calls made by users across the globe. What's even more heart wrenching, is the FBI and NSA have reportedly dubbed PRISM as a "team sport", a clear sign that many American top companies were in on the plan.
Not surprisingly, Skype has denied these claims and has stated that its technology does not have the proficiencies to accomplish a program like PRISM. The company will need more than that to convince users they are not being spied on the FBI and the NSA.
It is also understood that Outlook.com was designed with PRISM in mind, and thus emails and other data are shared with the NSA; HTTPS and other forms of encryption used by Outlook.com does not stop NSA from spying. Furthermore, NSA has similar access to Microsoft's SkyDrive — the ability to view files and data despite encryption used by the service.
As expected, Microsoft denied these claims by stating it does not provide data to the government. Furthermore, in a statement regarding the Guardian report, Microsoft said the following:
We have clear principles which guide the response across our entire company to government demands for customer information for both law enforcement and national security issues … To be clear, Microsoft does not provide any government with blanket or direct access to SkyDrive, Outlook.com, Skype or any Microsoft product … There are aspects of this debate that we wish we were able to discuss more freely. That's why we've argued for additional transparency that would help everyone understand and debate these important issues.
If you want to read the whole leaked document, you won't be able to, as the Microsoft information is from a NSA bulletin system on the Internet. We would have preferred if we could see the original document, but as it stands, we have no choice but to take go with what the Guardian has reported.
[via The Guardian]
Related Posts