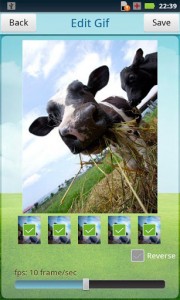 Nowadays, it has already become a trend for people to share their photos to various photo communities and social networks. You can even use animated GIFs as internet memes with funny or sarcastic captions. There's also no need for you to worry about the tricky image editing because GIF Camera will let you create lots of animated GIFs in just a few clicks of a button.
What Is It and What Does It Do
Main Functionality
GIF Camera is a camera app that lets you create animated GIFs in an instant. The app features two options for creating animated images. The first option captures the images directly from your device camera while the second option lets you use the photos from your local media storage or SD card.
Pros
Simple, easy to use
The frame limit per recording is 60 but you can always set it to a lower frame count.
The GIF's maximum frame count could go as high as 20 frames per second.
Features 4 main tools for creating and managing animated images
The animated GIFs will be stored directly to your photo gallery
You can instantly share you animated images to social networking sites such as Facebook, Twitter and Weibo. You can also upload your images to the app's official animated photo sharing community called "Listen5".
Features a large collection of funny GIFs
You can delete the frames that you do not want to appear on your animated image
Cons
The app's camera tool doesn't have any special effects. There's no also Zoom feature and you cannot adjust the brightness.
The sharing tool doesn't work on the app's animated GIF gallery
The app occasionally crashes especially when you're trying to generate GIFs with a higher frame count.
Discussion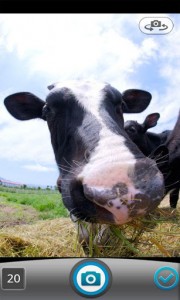 After launching the app from your app menu, it will automatically take you to its main menu. In its main menu, you'll find four buttons. These buttons or tools are meant to help you create and edit your animated GIFs. Not only that, you will also find two smaller buttons for viewing the app's settings and developer information.
For creating a GIF image, you can either choose between the "Make GIF" and "From Local" buttons. If you choose the former, you'll be prompted to take or record a short video clip. The duration of this clip will vary according to your app settings and preferred frame rate. For example, if you choose to record a video with only 10 frames, the app will make use of those frames to generate a new animated image. Furthermore, you can adjust the speed of the image by selecting your preferred "fps" settings. You can also reverse the animation of your image. It is also good to know that this app lets you edit and select the frames that you want to include to your animated GIF. The only downside about using this app is that there's no tool for inserting a caption or text.
If you feel a bit lazy or you simply want to create a new GIF out of your locally stored images, just select the "From Local" button to load the images from your photo gallery. Choose the images that you like and make sure that they're in the right order. Once done, adjust the speed of your GIF and you're all set to share your new masterpiece to your friends on Facebook, Sina Weibo or Twitter. If you want to view all of your animated photos, just go to the GIF album or simply open the photo gallery from your app menu.
Aside from these features, the GIF Camera also has a large collection of funny GIFs that you can view and share. Or if you want, you can upload your GIF to the app's official photo sharing community called "listen5'. Unfortunately, the site isn't linked to the app. So if you want to upload your images, you have to do it the "traditional way". You're also required to register using your Facebook account.
What I can say about GIF Camera is that it's pretty easy to use. It might not have the best user interface but it certainly does what it is designed to do. The animated GIFs that you can create using this app are of good quality plus you can easily generate them without using a complex software or program. Still, I find the app a bit lacking in features. There were also instances where it crashed right after I chose to generate a GIF with a high frame count. Other than that, I had fun using it since it encourages me to think of creative ways to make my GIFs look more interesting.
Conclusion and Download Link
If you're into animated GIFs, I recommend that you try this app. GIF Camera may have a couple of drawbacks but if you consider all of its positive aspects, you can pretty much say that it's a reliable app for creating animated GIFs. Besides, this app is very useful especially if you like creating internet memes and candid shots. Check it out.
Price: Free
Version reviewed: 1.1.0
Requires: Android 1.6 and up
Download size: 1.2MB
Related Posts