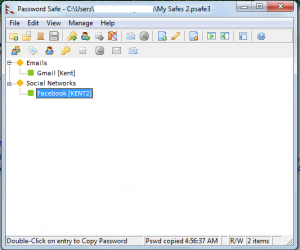 Have you ever thought of using a password manager to keep and manage all of your important user account details? After all, there's no way that you can remember all of your strong passwords and usernames. Besides, there are a lot of reliable password managers that you can get for free. Let's see if Password Safe is one of them.
What Is It and What Does It Do
Main Functionality
Password Safe is a free and open source software for Windows that is designed to help you manage your important user account details. What it does is that it basically creates a secured and encrypted database for your usernames and passwords. Furthermore, the software itself is password-protected. So if you want to gain access to your secure password list, you only need to remember one password and that is your "master password". This software is very helpful especially if you are dealing with multiple accounts with different log-in details.
Pros
Easy to install, very easy to use
Secure, uses Twofish encryption
Requires a "master password" for every log-in attempt
You can easily categorize and organize your username and password lists into groups
Provides relevant documentation for new users
Provides an import and export tool
You can create a backup of your username and password database.
Provides a tool for generating stronger passwords
You can include your site's log-in URLs to your list of entries for easier access
Has an 'Auto Type' feature which makes it easy to log into websites using saved usernames/passwords without having to copy and paste them
Portable, offers a disk-on-key version
Cons
There are no mouse hover descriptions in the main menu
The setting and arrangement of the controls could be a bit confusing especially for first-time users
Doesn't offer as good browser integration as found in LastPass, Roboform, or Dashlane
Discussion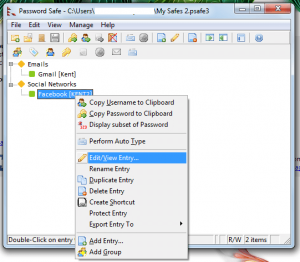 Since what the Password Safe software does is to keep your passwords and usernames safe inside its database, you obviously need fill out each entry with all of your important user account details. Therefore, it's only natural for you to question the credibility and security of this free Windows software. Well, here are a couple of important things that you should know.
First off, the software itself requires a password. You cannot access your database unless you enter the correct password. In addition, the software's database is encrypted. It uses an advanced typed of encryption algorithm called Twofish. It is also important to note that this software can store, retrieve, edit and delete the important user account details that you include in your lists. So it is very important that you choose a very strong "master password".
Nonetheless, I find this software very easy to install. There were no unnecessary installation requirements plus I managed to install this software in my computer in less than a minute. The only time that I got a bit confused was the part where I had to create a new list. It was because the options in the menu bar didn't show any hints or mouseover descriptions. Moving on, the first thing that this software will ask you during installation is to whether you want to install the "regular" or the "green" version. Just select "Green" if you want to get the software's portable version. Other than that, you will also be required to choose your preferred components. So don't forget to uncheck the parts of the software that you do not want to include or install.
The final phase of the installation is where you will be prompted to create a new database. This is the part wherein you will be prompted to create a strong password. Always remember that this password will eventually become your "master password". Just take note that this software isn't designed to remember your master password. It also doesn't provide any option for password recovery. In other words, it is your responsibility to think of a way to recall your master password without revealing your confidential information to other people. I also suggest that you read the software's documentation first before you start creating your lists of usernames and passwords.
Given all these features, I could say that one of the strongest aspects of Password Safe is its ability to organize your lists into groups. You can also do a lot of things that would make your user log-in tasks a whole lot easier. For example, instead of manually copying your password, you can simply click the "Copy Password to Clipboard" option. You can also set the password manager to automatically take you to a particular page or URL.
Conclusion and Download Link
Password Safe has proven that it has what it takes to keep your passwords and other account credentials safe. It is great for people who find it difficult to manage their multiple online and offline accounts. At first, you might experience some difficulties in managing your database but it won't take long before you get used to its controls. This is a good program for anyone who is looking for a secure and reliable password manager. However, I don't recommend it. Why? Simply because Password Safe isn't as easy-to-use as other free password managers due to lack of browser integration; sure it has Auto Type but that isn't as good as what is offered by other password managers. I recommend reading dotTech's review of best free passsword manager for Windows to learn of free password managers that are better than Password Safe.
Price: Free
Version reviewed: 3.31
Supported OS: Windows XP, Windows Vista, Windows 7
Download size: 12.6MB
VirusTotal malware scan results: 0/47
Is it portable? Yes
Related Posts