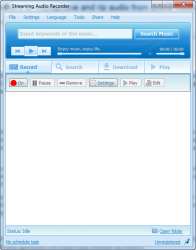 Have you ever thought of recording your own song? How about recording that song that you keep playing on your streaming media player? You might not be a pro in audio recording but that doesn't matter. All you need is a reliable audio recorder. If you want to know if the Apowersoft Streaming Audio Recorder would best fit your needs, better read on.
What is it and what does it do
Main Functionality
Apowersoft Streaming Audio Recorder is a program that has a wide range of functions. It is like a multi-purpose tool for managing your audio recordings. It can record streaming audio (i.e. audio from your speakers — loopback audio). It can edit audio tracks using its easy-to-use audio editor. You can also use it to stream your favorite music and radio stations. Unlike other audio recorders, this software has five basic functions – play, record, edit, convert and download.
Take note in order to record audio, you need to have compatible hardware. In other words, you can only record audio from microphone if you have a microphone, and you can only record audio from your speakers/record loopback audio if your sound card supports the ability to record loopback audio. (Most modern sound cards support it, so you typically don't have to worry about it.)
Also, Apowersoft Streaming Audio Recorder has an unlimited trial (meaning the trial never expires) but the trial limits you to 3-minute recordings, you must wait 5 seconds before you can close the trial prompt, and you can only download one song at a time. If you want to remove these restrictions, you must purchase full version of Apowersoft Streaming Audio Recorder.
Pros
Can record streaming audio, whether that be from online videos, online music, offline videos, offline music, etc. Whatever sound you would normally hear from your speaker/sound card, Apowersoft Free Online Audio Recorder can record it.
Supports ripping of audio from online videos – ideal for downloading audio from videos from YouTube, DailyMotion and Vimeo
It lets you record your voice as well, from your microphone
You can opt to record both audio from your speakers and microphone at the same time
You can edit your audio and music recordings using the software's built-in (basic) audio editor
Features a built-in audio converter – converts your audio recordings to MP3, AAG, OGG, WMA or WAV
Can rip audio tracks from CD
Can burn audio tracks to CD
Has a built-in ID3 tag identifier and editor
Features an option for scheduling tasks at a later date or time
You can create playlists to organize your recorded tracks and downloaded songs
Has a built-in music player that can play music from your local hard drive. You can also use it to stream your favorite songs and online radio stations. It also features a large collection of free music and hit songs such as "Get Lucky" and "Gangnam Style".
Supports hotkeys
Clean and user-friendly UI, easy to install
Works well
Cons
Nothing major I can think of except for the fact that the price is a bit high. It may be featured-filled but it is essentially an audio recorder, a functionality that can be found in many freewares and cheaper sharewares.
Discussion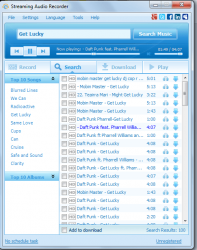 Apowersoft Streaming Audio Recorder is a very versatile type of audio software. As a matter of fact, its functions go way beyond the main function of recording audio. Its main feature may be its ability to record audio from speakers or microphone but it can also execute the following functions:
Play music from your local hard drive
Stream music and online radio stations
Record streaming music and radio stations
Edit audio/voice recordings and recorded songs
Download online videos into MP3, WMA or WAV (aka ripping audio from online videos, without having to sit there and record it)
Rip audio tracks from CD
Burn audio tracks to CD
Add/edit ID3 tags
Given the above functions, you can definitely say that this software is very useful for many purposes. The obvious is, of course, recording or ripping audio from videos, movies, TV shows, podcasts, radio stations, etc. However, it can also be used to create background music and ringtones. You can also use this tool to record your own musical pieces or song compositions. Plus, the recorded/ripped audio quality is very clear. You won't be able to hear any hiss or background noise.
Furthermore, the software features a simple UI with easy-to-use controls. This is one of the reasons why this tool is ideal for beginners. Upon installation, you will be guided by the software's setup wizard and once you're done, you are all set to record. Just don't forget to check your tool's settings first and always make sure that you've chosen the appropriate audio source, although by default Apowersoft Streaming Audio Recorder should select the proper source for loopback audio, but you can change it if you are having issues.
Conclusion and download link
Apowersoft Streaming Audio Recorder for Windows is very interesting program with a good amount of interesting features that go above and beyond simply recording streaming audio. The asking price is a bit high, but the program itself doesn't have any major issues I came across. Overall, it is a pleasure to use. If you want or need an audio recorder and are willing to spend $39.95 on it, Apowersoft Streaming Audio Recorder is a great choice.
That being said, $39.95 is no small price especially when you consider you can get the ability to record audio in freeware programs. Sure, most — if not all — freeware audio recorders don't have all the "extra" features of Apowersoft Streaming Audio Recorder but they do let you easily record audio… without costing you a cent. To learn more, read dotTech's review on best free audio recorder for Windows.
Price: $39.95

Version reviewed: 3.3.1
Supported OS: Windows 2000/XP/2003/Vista/7/8
Download size: 13.2MB
VirusTotal malware scan results: 0/47
Is it portable? No
Apowersoft Streaming Audio Recorder homepage
Related Posts