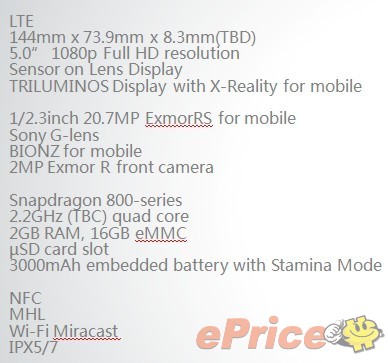 Sony hasn't been able to come up with a breakaway hit Android smartphone, but the company has no plans to let up if rumored specs of the Sony Xperia Honami turns out to be legitimate. Unlike Nokia, the next Sony smartphone won't be just about the camera, there will also be other noticeable improvements under the hood that should make for an overall great phone.
Reports claim the rumored Sony Xperia Honami shall make its official debut at the upcoming IFA conference in Berlin, Germany. Leaked information suggest the device could come packed with a 20.7-megapixel camera sensor that is similar in size to the one found on the Samsung Galaxy Camera. In addition, the Honami boasts a 5-inch display with 1080p resolution, quad-core Snapragon 800-series processor, 2GB RAM, NFC, 16GB internal memory and a 3,000mAh battery.
This leak is in-line with previous leaks about the Honami.
Nokia and its Lumia 1020 could be in for serious competition if these leaked specifications hold strong. In a world where the power of smartphone hardware plays a big role in consumer purchase, Nokia has chosen to focus much on the camera rather than anything else. Then again, it is difficult to blame Nokia alone since Windows Phone does not support high-res displays among many other things.
We hope to see and hear a lot more of the Sony Xperia Honami in the coming months. It would be interesting to see how its 20.7-megapixel camera stacks up to the Lumia 1020 41-megapixel sharpshooter.
[via ePrice]
Related Posts