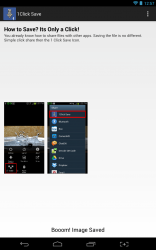 A lot of folks primarily browse Facebook on their mobile devices. It's a great way to pass time while you're waiting around for something to happen or when you're on the go. Unfortunately, the mobile Facebook app doesn't allow you to download images that you like onto your device. It stinks, especially if you want to share an image in a post of your own instead of just resharing. Facebook Photo Downloader is a third party application that works directly with the official Facebook app, and allows you to save images on your device.
What is it and what does it do
Main Functionality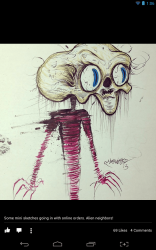 Facebook Photo Downloader is an Android application that allows you to store images from the popular social media network right on your mobile device. Saving an image takes only a few quick taps, and it can be done from directly within the official Facebook app. Once the images are stored on your device you're free to share them on other social networks or platforms.
Pros
Works directly with the official Facebook app
Adds an option to the Android share menu, '1Click save'
Easy to use, just open the image you want to download and share it with 1Click Save
Downloads are relatively quick
Cons
There is no batch or full album download support
Discussion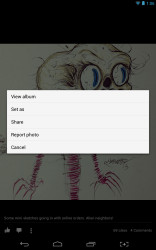 As I mentioned above, Facebook Photo Downloader works directly with the official Facebook app allowing you to download photos (yes memes too) that you otherwise would not be able to. Now you can keep all those inspirational photos with a beautiful backdrop or silly images right on your device. Of course, that's all this app does so if storing Facebook images locally doesn't interest you then you might want to move on.
The Facebook Photo Downloader app itself doesn't really do anything. If you open it up, you'll be presented with a brief description about how to save photos to your device using the "1Click save" support.
The process is quite simple for downloading the images to your device. All you have to do is tap the native Android 'share' button, which can be found in almost all apps. This will bring up a menu of options, mostly pertaining to third party apps that you can share content to. Just choose '1Click save' from the list of options and the related image will begin downloading.
To access the sharing menu, you must first open an image for viewing in the Facebook app, and then hit the Android menu button. A hidden menu will pop up with several different options, one of which is "share". Tapping on that button will bring up the share menu, where you can select from various apps or platforms to share content with. It's quick, painless and the download process is just about as fast as the Facebook image upload process.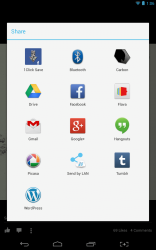 With an app extension like this system resource usage doesn't really matter. Facebook Photo Downloader doesn't actually use RAM unless you have the main app open. This is because it just adds a new dialogue option to an existing menu.
Obviously you can only download photos from profiles and friends that don't have privacy settings preventing you from seeing them.
One major quirk I found is that currently there is no setting to batch download images or albums. Instead you have to download photos individually, meaning one at a time. If there are a lot of images you want saved, then the process can get quite tedious.
Conclusion and download link
Facebook Photo Downloader is a great way to save images and photos from Facebook onto your mobile device. It adds an option to the Android share menu, which allows you to send images to the '1Click save' platform for downloading. All you have to do is open the image for viewing that you want to save, and then share it with the related option. The download process is also fairly quick, and takes about as long as it does to upload an image to Facebook. Unfortunately, there's no batch download or album download support because of how the setting has been implemented. If you've ever wanted to pull a meme, or photo from Facebook to browse offline on your Android device, then this app will certainly allow you to do that.
*The Facebook image I downloaded in the preview is from Cavity Colors (Aaron Crawford), a venue that produces some fantastic artwork. Check it out here.
Price: Free
Version reviewed: 1.1
Requires: Android 2.3 and up
Download size: 1.3MB
Facebook Photo Downloader on Play Store
Related Posts