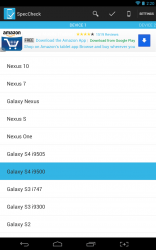 Ever had those situations where you needed to compare devices side-by-side to see which one had the better specs? As a tech blogger, I have those moments all the time. Even so, I have them when I'm talking with friends and family too. It doesn't matter how much you know about the latest devices, you're probably not going to remember the entire list of specs for a particular handset. SpecCheck is a Holo themed Android app that allows you to do some fact checking on the fly.
What is it and what does it do
Main Functionality
SpecCheck is an Android application that allows you to compare two devices side-by-side to do some good ol' one-on-one matchups or just to check out what they have to offer. It could even serve as a great resource while shopping.
Pros
Compare the specs of two devices side-by-side
Very quick and easy to use, Holo themed layout
Links to secondhand distributors like Swappa, JaneOscarTrades and Gazelle for buying or selling
Cons
Some important specs are not listed like battery capacity or dimensions
The device list is not comprehensive, a lot of devices are missing, but all of the latest and most popular flagships are available
Uses nearly 40MB of RAM while running, which seems pretty high for an app of this caliber
I encountered a bug of some kind the very first time I ran the app, but it was easily remedied (see the "discussion" section below)
Discussion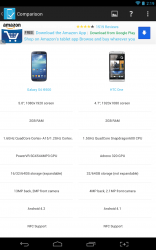 SpecCheck is pretty straightforward. You choose two different devices and then a spec sheet for each of them is displayed side-by-side. This allows you to compare hardware and features for various applications. If you need some good ammo for a geek argument, you can certainly find some here. Adversely, if you just want to compare a device that you're considering purchasing with another, it's also great for that.
When I first opened the app I encountered some kind of weird force close error. On the first run, the application downloads a content database, which is likely to populate the device list and related stats. On my device though, the app would run, start the download and then crash immediately after. I'm not exactly sure why it happened, but it was easily remedied by clearing all data associated with the app and restarting it. This can be done by navigating to 'apps' in the Android settings menu and then choosing SpecCheck in the list. You'll see a button that says 'clear data' which will perform the necessary operation.
After that little quick fix, the app worked flawlessly.
There are two scrollable lists, which sit side-by-side. To compare two devices, all you have to do is select the first device from the initial list, which will then be highlighted. After that, you swipe left to move to a duplicate list, where you choose another device. When you've selected two devices, you tap the 'check' mark at the top of the window.
A spec comparison will appear, along with images of both the devices you selected. You can hide or reveal the images will a preview button at the top. This is useful if you just want to compare the specs list on more of the screen real estate.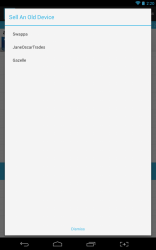 There are quick links to sell an old device on Swappa, JaneOscarTrades and Gazelle.
The device list is quite populated, and includes all kinds of handsets from Android, Windows Phone, iOS or Blackberry. That being said, it's not comprehensive in the least. My main driver, the Motorola Droid Bionic was not included in the list. Still, most of the newer handsets are available to compare specs with like the HTC One, and multiple variants of the Galaxy S4.
Compared stats include screen size and resolution, installed RAM, processing power, graphics adapters, internal storage, camera resolutions, installed OS version, and NFC support. It would be nice to see battery capacity comparisons, and a larger list of specs overall. For example, none of the listings seem to include device dimensions and thickness, which is also pretty important to some folks.
As a device comparison reference for most of the popular handsets on the market currently, it functions quite well. There are some things missing, and there are evident quirks here and there, but in a pinch it will get the job done.
For reference, SpecCheck uses nearly 40MB of RAM while running.
Conclusion and download link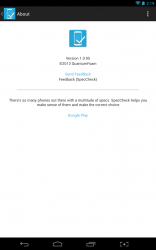 SpecCheck is a simple Android application that allows you to compare the specs of two different handsets quickly. There are many uses for such an app, namely as a fact check when you're duking it out with a fellow geek. It works great, and it has the potential to be incredibly useful in situations where an app like this is called for. That being said, there are some quirks with it like a few spec listings that are missing, and the need for a more comprehensive device list. All the latest handsets are available for comparison however, which is what most would want anyway. There is a pro version available ($0.99), but you can get along just fine with the free version if you don't want to crack open your wallet.
Price: Free, $0.99 (Pro)
Version reviewed: 1.2
Requires: Android 2.3 and up
Download size: 1.2MB
Related Posts