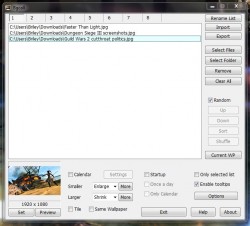 With Windows 7, Microsoft introduced several new improvements when it comes to configuring desktop wallpaper. Namely, there's now an option to choose multiple images when applying a theme, which allows you to cycle through more than one desktop background natively. This idea was expanded upon in Windows 8 and it now includes support for multiple monitors. That being said, third party desktop wallpaper software still offers a lot more functionality when it comes to customizing the appearance of your system. Many of those applications even allow you to configure differing resolutions for a multi-monitor setup. Bgcall is an advanced Windows app that makes use of several unique features, one of which ensures it runs only at startup in order to apply new wallpaper images before it's closed again.
What is it and what does it do
Main Functionality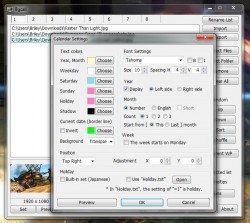 Bgcall is a wallpaper changer like any other, albeit with a few advanced features thrown into the fray. As I mentioned above, one of the most prominent features is that it can run at system startup to change the wallpaper as necessary, and then shut itself down again conserving valuable system resources. There are other features too, like an option to add a desktop icon which cycles through specified wallpaper images, support for multiple wallpaper lists or cycles, and much more.
Pros
Allows you to organize wallpaper backgrounds into lists, and the app automatically cycles through them
You can display a calendar with each wallpaper background (enable or disable)

The calendar can be completely customized from text color, to font to where it's positioned

You have the option to make Bgcall automatically change your wallpaper at system startup and/or once per day
Will run itself when it needs to change the wallpaper and then close itself automatically, so it doesn't stay on in the background
Works with multi monitor setups (including monitors with different resolutions), and you can even configure separate lists for each display
Includes options to create two desktop shortcuts which you can use, one to instantly change wallpaper and the other to change the calendar
Supports JPEG, PNG, BMP, GIF, and TIF wallpapers
Relatively light on system resources, uses above 16MB of RAM while running
Cons
It would be nice to be able to have Bgcall change the wallpaper every X minutes or X hours, instead of just as startup or once per day
Help files are in Japanese
Does not work on Windows 7 Starter Edition
Getting Started
Bgcall is available in several different versions, one of which comes as a standard install package and the other comes as a portable [standalone] package. Of course, both packages are offered for 32 and 64 bit systems.
For the purpose of this review, I ran both packages through VirusTotal even though I used the portable version. You can see the results in the 'conclusion' section below.
The portable version comes in a compressed package which means you will need an archive tool like WinZip, WinRAR or 7ZIP to extract the contents. Once extracted, you can run the application from any directory including that of an external or USB drive.
Discussion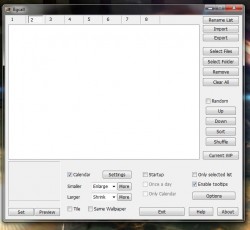 At first glance, the Bgcall interface can be a little daunting. It's not cluttered, but there are quite a few options present in the main window. The first thing you'll notice is a row of numbered tabs across the top ranging from 1 to 8. Each of these tabs represents a separate list of wallpapers or images, and they can all be renamed. For example, if you create a list of flower based images in the first tab you can rename it to something like 'flower power' to help you better identify it later. The lists are saved as standard text files, and they can be exported or imported at any time. With the portable version, this would be quite useful if you wanted to load the application on a flash drive and carry around all your custom lists and backgrounds with you.
The right hand side of the screen includes controls to populate the various lists and organize them. You can import image files individually, or you can add them by an entire folder if you have them organized into a single directory. You can also move any of the related files up or down the list, and sort them in alphabetical order by name. If you would much rather shuffle through the images at random, there's a setting for that too.
At the bottom of the window you'll find the actual wallpaper activation buttons, allowing you to preview or set wallpapers, and choose how the app handles them if they are bigger or smaller than the native resolution. You can also enable a calendar which hovers over the desktop.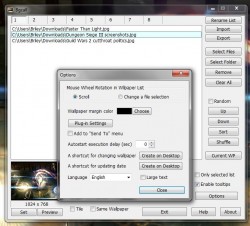 You can highlight an image in the list at any time and make it the active wallpaper by selecting the 'set' button in the bottom left. You can also preview how a wallpaper is going to look in fullscreen mode by clicking on the 'preview' button.
The benefit of having multiple lists is that you can configure each one separately for various monitors. For example, if you're using a dual monitor setup with two operating resolutions you can build one list of images for one of the monitors and another list of images for the other monitor. This allows you to cycle through wallpaper backgrounds for both monitors in their native resolution.
In the settings menu you'll find options to add shortcuts to the desktop which change the wallpaper or the displayed date. You can also enable a 'send to' option in the right click context menu for the app.
Further options allow you to make Bgcall change the wallpaper at startup, once a day and/or display only the calendar. The application will run at system startup, change the wallpaper and shut down immediately if the 'startup' option is checked.
For reference, Bgcall uses nearly 16MB of RAM while running, but since it's optimized for users to quickly start, change wallpaper, and then shut down again, the resource consumption doesn't play a huge role.
Conclusion and download link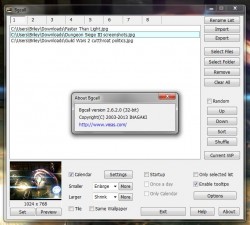 Bgcall is a great application if you have have many wallpapers that you want to use and would like the ability to have your wallpapers be automatically changed. The fact that Bgcall supports multiple monitors using separate resolutions makes it even better, for those that have multiple monitors. What makes this program a winner is not only its ability to automatically cycle between wallpapers you specify but also the fact that it isn't always-on in the background — it runs when a wallpaper needs to be changed and then closes itself.
Overall, it's free, it does as advertises and it offers a couple advanced features you won't find elsewhere. Sure it would be nice to be able to have Bgcall automatically change the wallpaper every X minutes or X hours, but most people will probably be satisfied with Bgcall's ability to change wallpaper at startup and/or once per day. Check this out if you need an automatic wallpaper changer.
Price: Free
Version reviewed: 2.6.2.0
Supported OS: Windows (XP, Vista, Seven, Eight)

Download size: 246KB (zipped portable), 537KB (unzipped portable), 733KB (install package)
VirusTotal malware scan results: 0/46 (portable), 0/45 (install package)

Is it portable? Yes
Related Posts