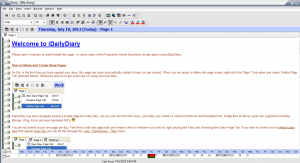 One of the greatest benefits of having a portable diary software is that you can take it wherever you go. As its name suggests, it's portable. Compared to other diary apps, a portable diary is much better because you can use it on any computer. Anyways, let's find out if the iDailyDiary has all basic features that you want in a portable digital journal.
What Is It and What Does It Do
Main Functionality
iDailyDiary is a portable diary software that is developed by Splinterware Software Solutions. It's basically a digital "page-for-a-day" diary or journal that is meant to record your everyday activities, ideas and creative thoughts. That's not all. This software also features a notepad-like user interface with a rich text editor.
Pros
Simple UI, easy-to-use
Is portable
Features a rich text editor
Allows text formatting and image uploads
Supports hyperlinks and special characters
Features a "password-protect" option. You can lock your diary so that no one else can view your secret notes.
You can save or export your entries as RTF, TXT, IDF or HTML
For quick access, you can simply click the software's system tray icon
Features a quick search and quick browse tool
Features three elegant themes – luxury, brilliant pink and brilliant blue
You can create multiple diaries with multiple pages
Cons
The iDailyDiary software doesn't support content filters. You cannot add special tags to your entries but you can use the search tool to search for a specific word or phrase.
You cannot bookmark your special diary pages. There's no highlight or bookmark tool to emphasize a specific note or date.
The side graphic has only one design. You cannot use your own side graphic, either.
It doesn't support other platforms such as Mac, iOS and Android.
Discussion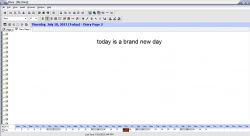 If we compare the iDailyDiary portable diary software to other journal apps, its way more convenient to use since it features a familiar rich text editor. Appearance wise, the software looks like a modified version of the MS WordPad but the only difference is that it is intended to be used as a digital journal. Not only that, the software can also be used on any Windows-based computer. Since it's a portable application, you're free to save it to your USB flash drive. This feature comes in very handy especially if you're working with multiple computers. So instead of installing the software all over again, you simply plug your flash drive to your computer.
Another good thing about this software is that it allows you to customize your entries with different fonts and photos. You're also free to create as many diaries as you like and there are no limits to the number of entries that you can write. Say, for example, in your first diary called "My Summer Days" you've decided to sort your activities for Day 1 into two types. So instead of putting all of your activities in a single page, you can opt to write your second entry in a separate tab. It's also good to know that you can use a password to lock your diaries. This way, you can keep your notes private.
Setting the good things aside, this portable diary software has a couple of minor drawbacks such as its lack of emphasis on special dates and occasions. Unfortunately, this essential feature is often neglected and all you get in most of today's diary apps is a typical looking calendar. For example, you want to highlight last year's camping trip but you couldn't since there is no option for highlighting dates in the calendar. Furthermore, this software doesn't support tags. So if ever you feel like filtering your entries, you can use a more traditional approach. Say, if you want to view all of your posts that are related to work, I recommend that you include a hashtag. In this case, you can put the hashtag #work at the end of your entry and then you use the search tool to search for entries that contains the said hashtag.
I also think that it's worthy to mention that the iDailyDiary diary has only one side graphic and it doesn't really match well with the software's background color. The good thing is that these drawbacks do not really affect the software's overall performance. It's more like there are still a lot of ways to make this digital diary more user-friendly. Other than that, the iDailyDiary has all the essential elements that you would want in a digital diary. As of now, this portable diary app is only compatible with Windows.
Conclusion and Download Link
There are two essential factors that makes this software stand out from its competitors. First and foremost, it's portable. You can take it anywhere and you can use it on any computer (as long as it's Windows) without the need to install. Second, it features an interface many people are familiar with — it gives you the feeling that you're just using WordPad or MS Word — and supports rich text.
Needless to say, I'm pretty much satisfied with this software. It gives me the freedom to do whatever I want with my diary notes plus I feel confident that my notes will always stay private and secure for as long as no one else knows my diary's password. I recommend you check this one out if you are in the market for a diary or journal program
Price: Free
Version reviewed: 3.85
Supported OS: Windows 2000, XP, 2003, 2008, Vista, 7
Download size: 4.5MB
VirusTotal malware scan results: 1/46
Is it portable? Yes
iDailyDiary – Portable Diary Software homepage
Related Posts