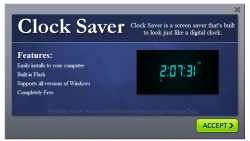 Nowadays, it's so easy to find a screensaver for your PC or laptop. All you need to do is to search for a screensaver with a cool theme or design and you're done. There are even those that you can use as a dynamic calendar. With our current technology, it seems that almost anything can be used as a screensaver. As for those who are time conscious, you might as well check out this simple yet very interesting program called Clock Savers.
What Is It and What Does It Do
Main Functionality
Clock Savers is is basically a simple flash-based screensaver that is designed to appear like a real digital clock. It's also very dynamic. It will always keep you up-to-date with the current date and time. There's also no need to manually adjust its time settings since the program is actually based upon your computer's clock.
Pros
Very easy to use
One-click installation
Features a modern digital clock design
Dynamic, shows actual date and time – hours, minutes and seconds
Can be adjusted to match your computer's screen resolution
Compatible with any types of Windows OS versions
Cons
It only has one design. You cannot change the theme or color.
Other third-party software offers will appear during installation. You must read the directions carefully or else these programs will be automatically installed to your computer.
Discussion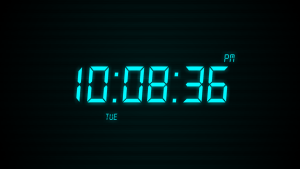 What's interesting about Clock Savers is that you can use it as a screensaver and at the same time, it does its work as a digital clock. It also features a modern neon blue design that can be compared to that of a digital alarm clock.
Furthermore, the set-up for activating the screensaver is very easy. Its set-up process is actually the same as the way you activate your other screensavers. As for those who are using Windows 7, just go to your Control Panel then click Appearance > Display > Change Screensaver then on the drop-down menu, select "Clock Saver". Do not forget to set the wait time and make sure that your computer's display is set to your preferred screen resolution. After that, the digital clock screensaver will automatically appear every time your computer is on idle mode.
Since this screensaver also doubles as a digital alarm clock, it will show the time and date that is based upon your computer's clock. Just keep in mind that this program will only show the actual day of the week and not the exact date in the calendar. As for the time, it's pretty accurate. It's just that it could have been better if there's an option for changing the clock's theme or color.
The greatest downside to this software is that you might end up installing a couple of third-party software that are not in any way related to the actual program. Even though this particular information is already disclosed in the software's homepage, there's still a tendency for other users to ignore these important details. So before you decide to install this screensaver, do not forget to read "everything" that is included in the installation details.
Anyways, my greatest concern about this app is its reliability. At first, the anti-virus scanner showed that it is totally safe to install but when it comes to actual installation process, it prompted me to install a couple of unrelated programs. While these programs may not actually be considered as a major threat, there's still a possibility that these programs could be used to steal your private information.
Conclusion and Download Link
While I like the fact that Clock Savers can be used as a screensaver and at the same time as an alarm clock, I would recommend that you download and install this software with extra caution. Most importantly, do not download this software if you are not fully at ease with a program that comes bundled with crapware.
Price: Free
Version reviewed: 2.8.0.1
Supported OS: Windows 98/2000/XP/2003/Vista/7
Download size: 739KB
VirusTotal malware scan results: 8/47
Is it portable? No
Related Posts