Have you ever felt bothered that you cannot easily adjust your phone's volume controls? It's like whenever you need to adjust the alarm sound, you need to open the alarm app and so on. Wouldn't it be nicer if you can simply adjust or change your volume settings straight off your home screen? Well, this is what the AudioManager is meant to do.
What Is It and What Does It Do
Main Functionality
AudioManager is a free home screen widget and volume manager. It is created and developed by Smart Android Apps and it is meant to give you a live reading of your phone's current volume levels. Aside from that, you can also use its stylish widget to manage your sound and volume settings without going through the app drawer.
Pros
Well-designed and easy-to-use user interface
Features two free themes for changing the app's layout/appearance
Provides two stylish home screen widgets – one large (4×1) and one small (2×1)
Features two default audio profiles – loud and mute
You can adjust the volume for alarm, media, ringer, alerts, system and voice call
You can change the ringtone for alarm, ringer and alerts
There's a one-click button for vibrate mode
Features a volume or sound lock option – if enabled, you cannot adjust your phone's sound using the volume rocker; the same condition applies when you're using your media player
Cons
Most of the features are only available for premium users – that is if you're willing to purchase the Pro version for $2.99.

The following features are only available to Pro users

Creating and editing custom profiles
Editing and renaming the default profiles
Profile backup and restore
More themes for changing the app's UI design
Downloading additional skins for the app and home screen widget

There is no option for creating a backup copy of your volume and sound settings
Discussion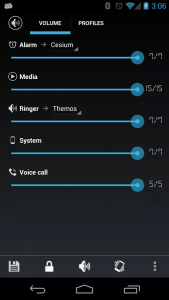 I do not have any complaints regarding the app's volume manager. It's so easy to use and it's a pretty straightforward app. It looks pretty neat too. Functionality wise, any Android user can easily figure out how to use this app since all you need to do is to drag the volume marker to your desired level. For example, if you want to adjust the alarm volume to its maximum level, just drag the marker all the way to its end point. Also, if you want to change the ringtone, just press the menu that's sitting right next to the volume label. The same process applies when you are adjusting the volume straight off from the home screen widget. It should also be noted that the widget will show a live reading of your phone's current volume level. It will also update its reading every time you make some changes.
As for those who do not want other people to accidentally alter their phone's volume settings, you can opt to enable the AudioManager's "sound lock" option. Through this, the volume levels will remain as is no matter how many times you press the volume rocker.
The sad part to this app is that it is not 100% free. It's like when you're using the free version, you're only getting at least half of its full features. The rest are only available to those who opted to purchase the Pro version. Take for example, the "Profile" tab is accessible but you really can't do much with its two default audio profiles. You can't even edit or rename these profiles unless you upgrade to Pro.
Furthermore, you are not allowed to create custom profiles. So having this feature on the free version is no use since you can easily use your phone's default widget to change the sound profile to loud, vibrate or mute. The same goes for the rest of the options that you are supposed to get from creating audio profiles. You can't even use the profile scheduler.
There's also no option for saving your volume manager settings. So if ever something unexpected happens (e.g. your phone crashed, etc.), you have to manually adjust the volume levels. It's also a bummer that free users only have limited access to widget skins and app layout themes.
What I can say about this app is that it definitely has a lot of good features. The problem is that these features are only available to paid users. It could have been better if the app would allow its free users to create and edit at least two audio profiles. This way, new users will have the chance to experience some of the app's premium features but of course, it will be limited but not fully inaccessible.
Conclusion and Download Link
AudioManager app is a good app but don't expect that you'll get the best out of it especially if you are only planning to use the app as a free user. If you want to unlock all of its features, you have to be ready to upgrade to its paid version. Nonetheless, its free version provides quick access to your phone's volume settings plus it has a very reliable home screen widget. You might still want to give it a go, despite the free version being limited in features.
Price: Free – with an option to upgrade to Pro ($2.99)
Version reviewed: 4.1.1
Requires: Varies with Device
Download size: 2.34MB
Related Posts