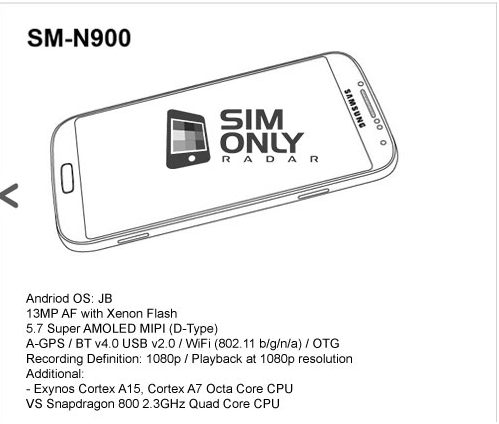 Specifications' regarding the Samsung Galaxy Note 3 has leaked again, and from what we can tell, this device could become one of the top Android handset to own later in the year. The leaked information claims the device will have Xenon flash, if this turns out to be legitimate, the Galaxy Note 3 could take some great looking photos with its rumored 13-megapixel camera.
The leak also claims the Galaxy Note 3 will run Android Jelly Bean, though we are not certain if version 4.2 or 4.3 is the preferred choice here. Potential users should expect a massive 5.7-inch display with full 1080p HD support; however, it pales in comparison to the rumored 6-inch display on the HTC One Max.
Additionally, the Galaxy Note 3 could come in 2 different versions, one running Qualcomm's snapdragon 800 quad-core processor at 2.3GHz, while the other runs on Samsung's Exynos 5 Octa processor at an unknown speed.
For those who love to take pictures with a phablet, the Galaxy Note 3 comes preloaded with a dedicated camera button so snapping your cat looking all cute and cuddly shouldn't be much of a problem. That's all we know so far of the Galaxy Note 3, but compared to other phablets destined to hit the market later in the year, the handset is not looking so good at the moment.
Despite some of the shortcomings, the Galaxy Note 3 carries the Samsung logo and should perform admirably at retail when it launches for an unknown price.
What features would you like to see in the Galaxy Note 3? Let us know in the comments below.
[via Sim-Only Radar]
Related Posts