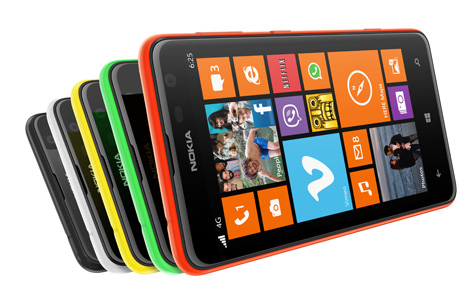 The most effective Lumia line of Windows Phone 8 devices on the market are the affordable ones, so it comes as no surprise to see Nokia putting more focus on this section of the market. The Finnish giant recently announced the Lumia 625, which is an upgrade from the Lumia 620, the first dirt-cheap Windows Phone 8 handset.
The first thing you'll notice here is the larger display, it is 4.7-inches (201 ppi) compared to the 3.8-inches of the Lumia 620. Furthermore, users can touch the Lumia 625 display with a glove on or with their fingernails, a feature found in almost all Windows Phone 8 handsets from Nokia. If you're looking for some exciting hardware specifications on the inside, you won't find here because the Lumia 625 is a budget phone, so bare that in mind.
Processor wise, we're looking at a fast dual core 1.2GHz snapdragon S4 CPU, 512MB of RAM, 5-megapixel camera at the back and 8GB of internal storage. In addition, there's a VGA camera for video calling, LTE, GPS, Wi-Fi, Bluetooth 4.0 and a massive 2,000mAh battery to accommodate the huge display.
The problems we have with the Lumia 625 are the lack of NFC and that 512MB RAM. Yes, it is a budget handset with a $350 price tag unlocked, but we seriously believe Nokia could have found a way to squeeze at least 1GB of RAM in this thing and still keep the price relatively low… especially considering the Android-powered Nexus 4 is cheaper ($299) and has better specs (aside from LTE).
One thing we need to touch on. The screen size of the Lumia 625 is 4.7-inches, while the bigger and badder Lumia 1020 maxed out at 4.5-inches, don't tell Nokia we caught on to that.
[viaNokia]
Related Posts