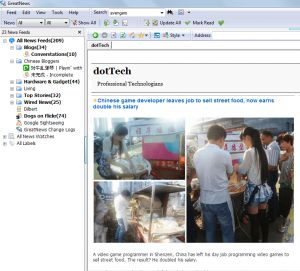 When Google decided to close Google Reader, a lot of users were saddened but at the same time, their attention turned to other free RSS feed aggregators such as Feedly and InoReader. As a matter of fact, most of our feed readers today are browser-based but with GreatNews, you won't only get a free feed reader. You will also get a free web browser.
What Is It and What Does It Do
Main Functionality
GreatNews is a free RSS feed reader for Windows. It is developed by Curio Studio and it basically functions like any feed aggregator in the market but the major difference is that it doesn't rely on any web browser. You can just load this software straight off your computer and you can even use it like an actual web browser. What this software basically does it that it lets you create, collect and manage your news feeds so that you will never miss any of the latest updates from your frequently visited websites and blogs.
Pros
Portable, easy-to-use and simple UI
Displays full pages of blog posts and news articles, features six different layout styles
Available offline, efficient and fast-loading
Supports all types of feed formats
Will automatically update your feeds whenever your device is connected to the internet
Organizes your feeds by group or label
Features an integrated web browser with tabs
Supports multiple languages including Simplified Chinese, Spanish, Korean & Japanese
Supports full text or global search with keyword highlights
Features a "quick search" toolbar and address bar
Cons
You cannot customize or set your own homepage
Lacks the option for translating texts
The new tab feature won't load any RSS feeds or web pages
Lack of new software updates, the last software update was released on April 2010
Discussion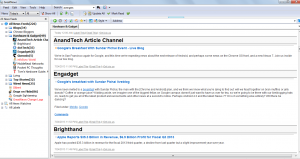 If you already have a first-hand experience with today's most widely used RSS feed readers, then you won't have a difficult time using this software. It basically features a similar process of creating and managing RSS feeds so there's no need for you to go back to square one. Furthermore, the GreatNews UI is user-friendly. It looks very basic but it's quite reliable plus it also has a built-in web browser.
What I like most about this software is that it's simple and direct to the point. It doesn't flatter you with lots of unnecessary features and most of all, it won't require you to log-in or register. Upon launching the software, you can immediately start organizing your feeds. You can even sort them out according to their respective category, group or label. There's also no need for you to keep on clicking the refresh button since the software will automatically update its entries. You will know whenever there's a new post because the category or label will appear as bold.
Another thing that I like about this software is that you can view your feed's content in full without clicking the actual link. You can also set the appearance or layout of your feed aggregator according to your liking. So far, the software has six different layout themes – simple, brief, essay, Firefox Sage, newspaper and readability. In my case, I always opt for the newspaper layout since it will show the full content instead of just showing a summary or snippet.
I also like the fact that this software has a quick search tool for search feeds, keywords and even for web pages. Moreover, the search function isn't limited to the content that is being shown or collected by the feed reader. You can actually use its search tool to search the web. There's also an address bar for loading direct links or specific URLs.
Needless to say, this software has a lot of good and reliable features. It's a bit outdated but mind you, it's as good as today's most widely used feed readers. Just don't expect that you'll be getting the most up-to-date features since it's been more than two years since this software was last updated. So, apparently, it doesn't support cloud sync, cloud backup/restore, etc. Even the sharing buttons are outdated. There's no sharing button for Twitter, Facebook, Reddit or Pinterest.
Another downside to this software is that you cannot customize the home page of the built-in browser. Plus, the new tab won't load any feed or pages. It will only do so if you opt to open a link in a new window. There's also no built-in tool for translating texts. So if ever you stumble upon a foreign blog, you have to use and open a third-party translate tool like Google Translate in a new tab.
Conclusion and Download Link
Despite its notable drawbacks, the GreatNews feed reader managed to stay true to its core. Its simplicity is its major asset plus it will work even if you're not connected to the internet (assuming you have already downloaded the relevant RSS feeds, of course). It's also portable: put it on a USB flash drive, load it on another computer and you're all set to work. It may not be as advanced as cloud-based feed readers but it will come in very handy especially for those who are always on-the-go. This tool is great especially if you're looking for a reliable secondary RSS feed aggregator. Check it out but just remember: if you run into issues with the program, they likely won't be fixed as this program was last updated in 2010.
Price: Free
Version reviewed: 1.0 (Build 386)
Supported OS: Windows 2000, XP, 2003 and Windows 7
Download size: 1MB
VirusTotal malware scan results: 1/47
Is it portable? Yes
Related Posts