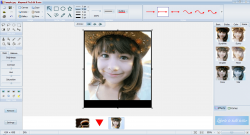 Some image editors are only good for adding effects and filters. They're not really meant to create or process an entire image or photo. As for Maymeal PicEdit, it is said to be a powerful image editing software that is great for creating bitmap and vector images. Let's find out if it is really that reliable.
What Is It and What Does It Do
Main Functionality
Maymeal PicEdit is an image editing software for Windows. It is developed by Maymeal Software and it features a lot of tools that you can use for editing your images. It also supports vector and bitmap image processing plus it's known for its excellent capability for repeat editing. This software also flaunts a wide selection of photo frames and filters.
Pros
Very lightweight, easy to install, neat user interface
Has tools and shapes for creating vectors
Will automatically preserve your previously saved image for repeat editing
Features four different sets of photo frames and filters – Pad, Band, Pattern, Edge
Can resize, copy, paste and rotate images
Can adjust the image brightness, contrast, hue and saturation
Features other basic tools for editing such as lasso, marquee, gradient, magic wand, fill, brush, pencil, clone stamp, zoom and a whole lot more…
Supports multiple image formats such as .jpg, .jpeg, .png, .bmp and .gif
Has an option for applying watermark
You can adjust the image and canvas size
Save and view all of your images in your custom PicEdit gallery
Features four default skins for changing the software's style or appearance
Cons
You cannot work with multiple layers
You cannot save your unfinished projects
Costs $39.95. The software is only free for 10 days. After that, you are required to purchase the full version for $39.95
Discussion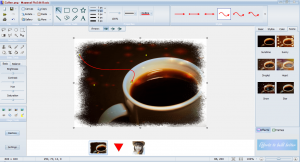 This software doesn't require any tricky installation. After you download and unzip its file, you're all set to launch the application. The Maymeal PicEdit is very lightweight and it loads fast. It's also very responsive and it doesn't crash. Furthermore, its user interface gives off a familiar vibe. It's like a simplified version of Adobe Photoshop but with the addition of those cool photo frames and photo filters.
Still, it could take a while before you get fully used to its controls. I suggest that you read the software's FAQs page first before you start working on your first image editing project. Aside from that, it's important to note that this software supports various image formats. So you can use this tool to create images or graphics in bitmap or vector format. As for creating vectors, you can use its drawing tools to draw any kinds of objects. You can even enhance the look of these vectors by adding captions and callout boxes.
Another thing that I like about this software is that it could easily edit and enhance your photos using frames and filters. Plus, there are a lot of designs that you can choose from. Other than this, this software will automatically save your edited images as .peda. This way, you'll get the chance to re-edit or restore your original images. If you are not satisfied with the outcome, you can always redo your work.
Now here comes the bitter part, Maymeal PicEdit is free to use but only for ten days. When you go to its download page, you will definitely think that it is free since no particular detail has been disclosed. The problem is when you get to install and check the software's "About" section, you will eventually discover that it is only available for a limited period of time. I find this really disappointing since you can't even downgrade to a full free version. Plus, if you want to continue working on your pending projects, you are required to purchase the Maymeal PicEdit's lifetime license which would apparently cost you no less than $39.95.
In terms of functionality, I like the fact that this software supports vectors. You can even add watermarks to your original images. It's great for simple editing but don't expect that you can use it for editing images via multiple layers. You can only draw on a single-layered canvas and you can't also save your image as a project file. So do expect that once the image has been saved, all of the changes that you've made on it will be final. Keep in mind that this program will only save a copy of the original image. It won't save a copy of all the changes that you've made on the edited image.
Conclusion and Download Link
Despite of the fact that Maymeal PicEdit has a lot of good features, I can't really recommend it especially to those who are looking for a free image editing tool. It's free in a sense that you can use it for a couple of days but after that, it's as good as nothing unless, of course, you opt to purchase its lifetime license. I'm not against purchasing software but I don't see this program being worth $39.95. As for those who really want a reliable free image editing software, I recommend that you check out these best free image editing programs for Windows.
Price: $39.95
Version reviewed: 3.50
Supported OS: Windows XP/Vista/7 and Windows 8
Download size: 3.05MB
VirusTotal malware scan results: 0/46
Is it portable? No
Related Posts