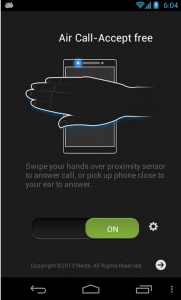 The Galaxy S4 commercials have touted many of the hands-free features of its phone as being mostly unique to the device, but as with many "unique" features in the open source Android operating system, the functionality is now available in an app on the Google Play Store.
AirCall-Accept, a free app on the Play Store, allows users to answer incoming calls by simply waving their hand across the screen. There is also a paid version of the app ($2.99) that adds options to automatically turn on speaker phone or even reject a call.
Currently the app is not available on every device, and might not work on devices even if the download is available for them, as users gaining root access and installing certain custom ROMs seems to be affecting the functionality of the app, but the developer has promised that they are working to find solutions so that as many users as possible will be able to make use of this hands free phone answering technology.
Have you tried out AirCall-Accept? If so, let me know how you like it in the comments!
Related Posts