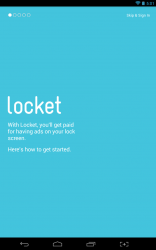 One of the biggest drawbacks of the Android platform is that users are subjected to more advertisements than on other devices. Of course, the consensus about whether or not this is seen as a drawback can be relative. Some users don't mind being served ads, at the expense of free apps and more. Point is, at some point you're going to see ads whether you like it or not, why not make the most of it? Locket is a free Android application that serves up advertisements on your lockscreen and pays you for viewing them. As far as I can tell, it's not a gimmick and you're definitely paid for viewing ads, but there is a cost associated with that. It uses about 20MB of RAM at all times, and likely contributes to an increase in energy consumption though it's not altogether significant.
What is it and what does it do
Main Functionality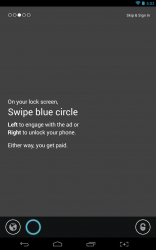 Locket is a free Android application that pays you for viewing advertisements every time you unlock your device. Once installed, it keeps track of how many times you unlock your device and how often you view ads. It then pays you accordingly for any time spent viewing the adverts. For a quick reference, the payout is about $0.01 per ad viewed, but there are limitations. Whenever you're ready, you can cash out any money credited to your account by transferring it through Paypal. That means you will need an active Paypal account in order to take advantage of the app.
Pros
Earn money by viewing advertisements on your lockscreen

Locket pays about $0.01 per ad viewed
You can earn $1 extra per sign-up through a unique referral link
You cannot wildly lock and unlock your device to earn money (some may consider this a con, but it adds value to the app)
Payouts are made through Paypal, so you will need an active account to take advantage of Locket

In my opinion, the ad lockscreen is stylish and attractive

Locket mimics the stock lockscreen by displaying a time and date
Slide the unlock orb left to open a related link or right to unlock the device

In about two hours I earned $0.06, and I unlock my device frequently- by that measure you could earn about $0.72 per day, or $5.04 per week

Going even further, that's approximately $262.08 per year ($5.04 x 52), assuming there are seven days in every week
You can only cashout in $10 increments
Cons
Continuously uses 20MB of RAM and likely contributes to an increase in energy consumption and data usage
Users are faced with double lockscreens unless they disable the stock Android lockscreen
I noticed a problem with the MightyText message overlay, therefore users may experience similar issues with other third party apps
Currently is for US users only
Discussion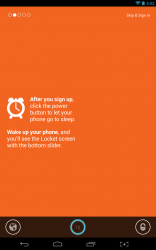 I'll start this review by saying you can definitely make money from Locket. However, I'm also going to tell you right here and now that it's not ever going to make you rich. Don't approach this app with that attitude though. Approach it as you would any platform that's willing to pay you for your efforts. Look at how this app works, what it offers and whether or not you feel it's worth the effort. I cannot tell you if it will be worth the install specifically for you, but I can tell you how I feel about it and I'm definitely going to do that.
After you install Locket on your device, or devices –I have it installed on my tablet and my smartphone for good measure- you will be asked to sign-in to an account before you can earn any money. You can either sign-up for a new account through Locket, or you can sign-in using your existing Facebook account. I've said many times before that I prefer to sign-up for a proprietary account when faced with this decision instead of using my social media accounts. However, with Locket there's a benefit to signing-in with your social account, which we'll get to in a bit. Keep in mind that even if you sign-up for a proprietary account you can still login to your social accounts later.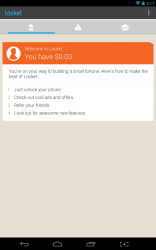 Once you're all signed-in –or signed up- Locket will start serving you ads on your lockscreen. I will say, all of the ads I've seen have been stylish and attractive. That being said, they're still ads and some people will never like seeing them. If you don't like the idea of being turned into a giant click-bait machine then don't install Locket.
As a side note, I've used an alarming number of hyphens in this review and I probably will use many more.
One thing I noticed is that it takes a moment or two before the ad appears on your lockscreen. If you make a habit of turning on the screen and swiping instantly to unlock the device you might miss an ad or two, so just keep that in mind.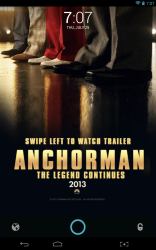 The advertisement takes up the entire screen, but it does so in a very intuitive manner. At the top of the screen the date and time are displayed, just like on the normal lockscreen. At the bottom of the screen is the standard unlock orb. You slide it to the left to open the browser with a related link, or you slide it right to simply unlock the screen. No matter what you decide, you're still paid for viewing the ad. There are limitations though. According to the developers, Locket makes use of a unique algorithm that allows the software to detect when you view an advertisement. It also allows the app to determine if you're locking and unlocking your device repeatedly just to earn money.
By all means, install it on all of your devices if you really like using it. Just be aware that you won't earn money for blatantly unlocking your device every few seconds.
It is recommended that you disable your current lockscreen if you decide to use Locket, because you will have to go through two of them in order to gain access to your device if you have one active. For example, on my smartphone I first have to unlock the Locket screen and then enter a pattern unlock to access my device. Personally, I'm going to leave it this way to protect my sensitive data. It can certainly get annoying, when you have to unlock the device multiple times.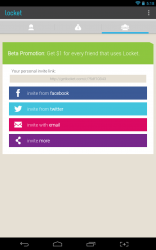 You also have an option to login to your social media accounts including Facebook or Twitter to earn money from referrals. For every friend that signs-up using your unique referral link you earn a $1. You can also send your link through email or the standard Android share menu, if you want to make it available through other social apps and platforms.
I have MightyText installed on my tablet and phone which sends SMS messages to my tablet, so that I can answer them without picking up my phone. MightyText delivers a popup that works even through the lockscreen, if you have it set to do so. One quirk that I noticed when using Locket, is that I cannot respond through this mini overlay without first unlocking the device. It's an added hassle that some may grow frustrated with, so it's worth mentioning.
Locket uses nearly 20MB of RAM while running, and because it runs continuously in the background that's important. While it doesn't take up a huge amount of resources, it will certainly contribute to an increase in battery drain. I didn't notice any significant changes in battery usage, but at the same time I don't have any exact statistics to share. It will vary depending on how often you use your device and unlock your screen.
At the end of the day, Locket is a heavily commercialized app in that you're paid a very small amount of money for viewing ads. Like I mentioned above, you'll never get rich using it no matter how many devices you have it installed on. Still, there's a certain allure in earning money for your efforts regardless of how much is offered.
Also, you will need an active Paypal account to receive any payouts.
Conclusion and download link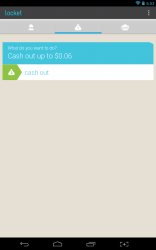 Locket is a unique Android application that serves advertisements to your device lockscreen and pays you for viewing them. The payout amount is very small and appears to be about $0.01 per ad viewed and there are limitations, since you can't blatantly unlock your device every few seconds just to earn a quick buck. But it is, after all, free money.
You can earn more money through referrals by sharing a link on your social accounts or other platforms, in $1 increments per friend that signs-up. However, you have to make a decision about whether or not it's worth subjecting your friends to that kind of content just to earn small amounts of money.
Overall, you won't get rich using Locket, but over time you could earn a decent portion of money.
That said, there are drawbacks to using the app, like dual lockscreens (if you don't disable the Android lockscreen), and continuous RAM usage. (I strongly urge you to read the full review above if you skipped down to this portion, to learn more about the drawbacks.)
As a final note, I will continue using Locket on my devices. It will take a while to decide whether or not the investment is worth my time. So far I've earned enough money with the app to maintain interest, but it's the long term benefits that will really matter. I will update this review accordingly, once I've spent more time with it.
Price: Free
Version reviewed: 1.0.3 (Beta)
Requires: Android 2.2 and up
Download size: 5.1MB
Related Posts