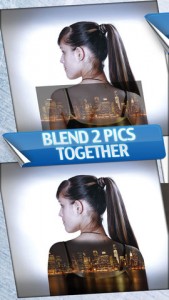 Peanut butter and jelly. Chocolate and peanut butter. These are some examples of two tastes that taste great together. If you're a big fan of mashing things up, then chances are you've been looking for a photo editor tool that will let you blend two images together. If you want to experiment with blended images, an app like Pic Blender can get you started.
What is it and what does it do
Main Functionality
Pic Blender lets you blend two images together to create a unique work of art. The app also lets you superimpose one image on top of the other, making it easy to overlay meme images on an image, or insert creative backgrounds.
Pros
Over 130 stock images within the app to experiment with
Share on Twitter, Facebook, Email, or Instagram
Multiple brush sizes to erase extraneous areas you want to blend in
Cons
Tutorial is very short and lacks live demos
More pop-up ads than I'd like, making it hard to stay focused on your project
Must pay 99 cents to upgrade to Pro version if you'd like to unlock all the backgrounds, get rid of the apps, or add backgrounds of your own
Interface seems straightforward at first, but it actually somewhat cumbersome to navigate
Discussion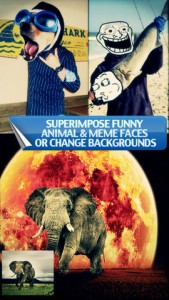 Man, I'm having a rough week when it comes to pop-up ads. It seems like a whole bunch of apps I've reviewed this week have had really aggressive pop-up ads that really interfered with my enjoyment of the app.
In the case of Pic Blender, the pop-ups shilling free apps and free game downloads were pretty incessant. Every time I opened the app, tried to take a new picture, or accessed my camera roll, the ads just kept coming.
Ostensibly, this app is pretty straightforward. Pick a pic, select a background, edit, and share. There's a tutorial, although I wish it had graphics or animation of the app in action: it's more of a legend to the various buttons than a proper tutorial. Once you've added your pic, you can adjust or rotate it, change the transparency/opacity, erase unwanted areas, and then share.
I found that interface cumbersome, and had a hard time getting the photos to respond the way that I wanted, even after poring over the tutorial. This app might be free, but it didn't really feel like much of a bargain.
Conclusion and download link
Between the lackluster interface and the annoying ads, it's hard to get a bead on Pic Blender. It seemed awesome at the outset, but the more I played around with it, the more frustrated I became. This app may actually be good at blending images and creating funny photos if you're willing to upgrade to the pro version, but I am unlikely to upgrade after such a ho-hum experience with the free version.
Price: Free
Version reviewed: 1.2
Supported OS: Requires iOS 6.0 or later

Download size: 38.6 MB
Pic Blender on Apple App Store
Related Posts