Unlike the Windows Taskbar, the menu bar featured in both the Mac OS X, and Linux operating systems will actually perform various actions. Sure, in Windows you can search for programs and files on your computer, but I'm talking about a functional and practical approach. Nucleus is a portable Windows application that adds a top-seated universal menu bar to the OS. It differs from the Taskbar thanks to its usability and support for a lot of different and convenient features.
What is it and what does it do
Main Functionality

Nucleus is a portable Windows application that adds a second, smaller menu bar to the top portion of the screen. There are integrated functions which allow you to close open applications, access directories and files on your computer, and even view inline Gmail notifications. In addition, it includes a fully operable terminal that lets you do a plethora of things from searching the internet, to crunching numbers through a simple calculator. Essentially, all you have to do is type various commands and interactions in the terminal, much like you would the MS-DOS command prompt.
Pros
Adds a functional top-menu bar to Windows, like what's found in Mac OS X or Linux
Includes shortcuts for music, pictures, videos and more
Built-in terminal that can calculate basic math equations and execute tasks
Lightweight, since it only uses about 14MB of RAM
Can connect Gmail to receive notifications without any browsers, extensions or additional apps open
It's an alpha version which means it will be improved over time
Cons
Requires Microsoft .NET Framework (any version)
No user customization or personalization support
Discussion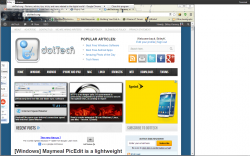 Nucleus is a portable application, which means it comes bundled as a compressed archive. In order to gain access to the application, you will need to extract the related contents using an archive tool like WinZIP, WinRAR or 7ZIP. Once extracted, you can run the Nucleus executable from any directory, including that of an external or USB drive.
The Microsoft .NET Framework needs to be installed in order to use the application, but the developers claim that the stock version which ships pre-installed in Windows should be enough. You also need to run it with administrative privileges by right clicking on the icon and choosing "run as administrator," or enabling permanent access through the Windows properties menu.
To be perfectly honest, some users may find this application silly. It's an odd sort of tool, one that actually seems to be tailored for power users, but at the same time not quite. The reason I say not quite, is because most power users would find it potentially unnecessary to run a second menu bar, just for some of the actions and benefits it affords. With exception to the integrated terminal, you pretty much find all of these features in other system apps or third party tools.
That being said, there is definitely an audience for something like this yet it's a little difficult to pinpoint exactly who that may include.

When open, Nucleus sits at the very top of the screen. It uses a very minimal theme and style, and comes in a flat black color, by default. Surprisingly, it fits in with the general Windows theme quite well. The menu bar itself stays on top of all other windows, and it does not fade away like the Windows Taskbar. It remains open at all times, and there's no way to change that behavior. In addition, there are no customization options, meaning you can't change the color, add personalized shortcuts, or anything like that. I found it to be a little lacking in that aspect, especially if it's meant for power users. Custom shortcuts and personalization would be great.
The menu bar itself is laid out in a pretty simple manner. The first option is the app icon which opens settings, exits Nucleus, and restarts or shuts down the computer. There are two more tabs on the left side of the menu bar, and a final one on the far right dedicated to the integrated terminal.
One tab on the left displays the current users account name, and the active window when open. A simple click on the active window in the related list will close it. The "libraries" tab allows you to quickly access music, pictures and videos stored on your computer.
The most interesting -and also most useful- feature is the built-in terminal. The most common use of the terminal is to enter simple math equations to find an answer. Just enter the equation and tap shift+enter to calculate the answer. It can also handle system commands, internet and browser searches and more. Here are the supported commands and functions for the terminal: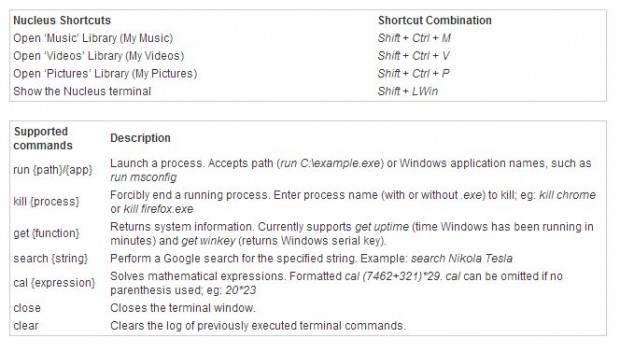 For reference, Nucleus uses just under 14MB of RAM while running.
Conclusion and download link
To be perfectly honest, Nucleus seems like a tool or utility that would be for power users, but thanks to a total lack of customization and personalization support I'm not so sure. Anyone can use it, and the terminal commands are quite simplistic. It's both portable and lightweight, and certainly offers some useful functionality. The real question though is who would use it. The shortcuts and quick settings are all accessible through other means in Windows, while the terminal isn't exactly one of the fastest ways to execute an action. Still, if you're clamoring for a little extra, and you believe Mac or Linux style menu bar will help, it doesn't hurt to check it out. Personally, I wouldn't recommend this app to anyone, but that's not because it doesn't work properly – aside from the lack of customization- because it most certainly works as advertised. However, it is currently in it's infancy (alpha) which hopefully means that it will be improved over time.
Price: Free
Version reviewed: 0.2.0 (Alpha)
Supported OS: Windows XP/Vista/7 and Windows 8
Download size: 1.73MB (compressed), 4.84MB (unzipped)
VirusTotal malware scan results: 0/46

Is it portable? Yes
Related Posts