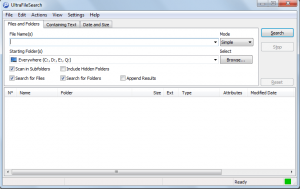 Windows has its own built-in utility tool for sorting and searching files. Unfortunately, this tool has limited options so you really can't rely on it to give you the most accurate results. Speaking of which, there's this free software that is specifically designed to do the most tedious file searching work. It's called UltraFileSearch.
What Is It and What Does It Do
Main Functionality
UltraFileSearch is a program that is created and developed by Stegisoft. Its main function is to search files, folders and text on your local network. You can also use it to search your other file storage devices such as your DVDs, data discs and USB flash drives. Furthermore, this software features a more in-depth way of searching content. You can even set this tool to search for particular phrases or words.
Take note UltraFileSearch comes in two versions, Lite (freeware) and Standard ($24.95). The following chart explicitly lists the differences between the two: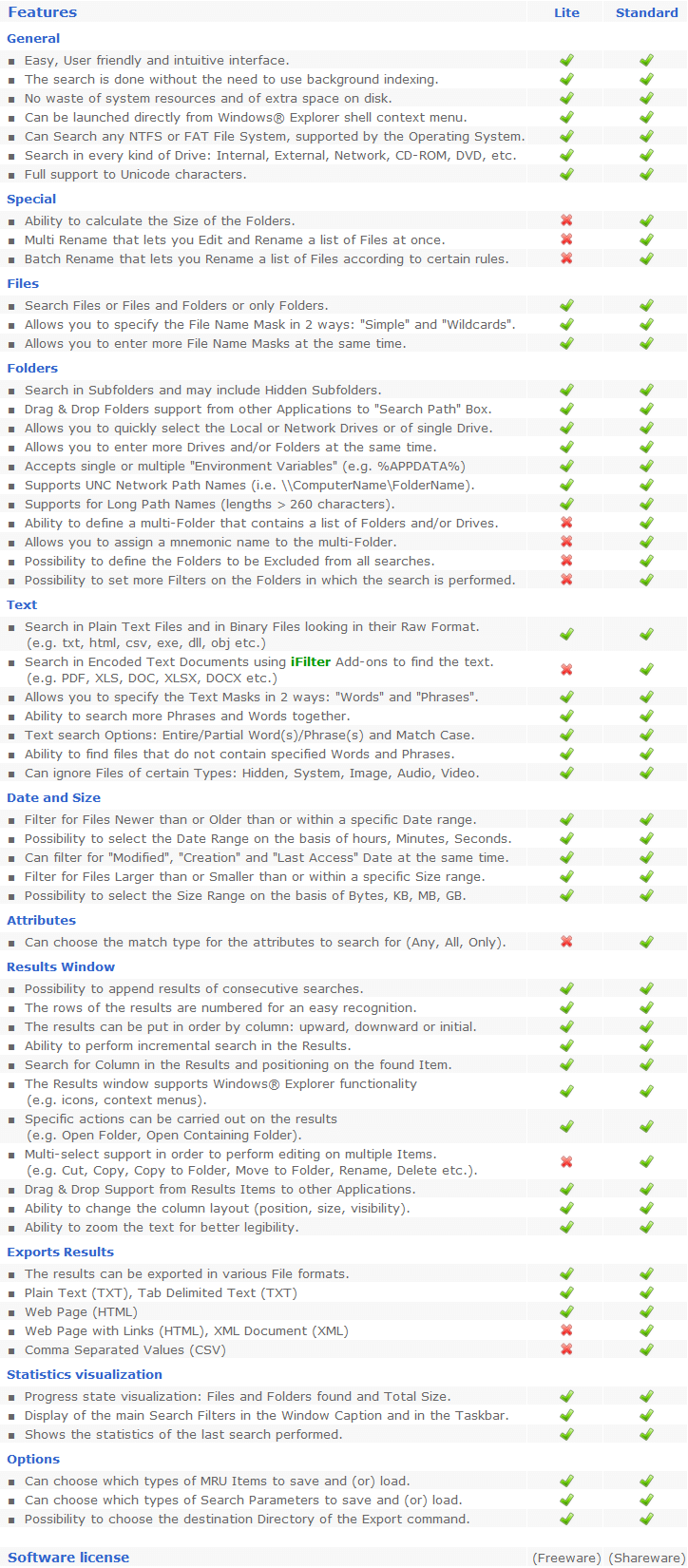 Pros
Well-designed UI, easy to use
You can conduct search in three different modes – Files and Folders, Containing Text, Date and Size
Has the ability to search all sorts of drives – internal, external, DVDs, CD-ROMs, USB flash drives, etc.
Search can be limited to a specific folder
You can cut, copy, paste, move or rename files and folders
You can adjust the size and font styles of your search results
Has an option for viewing search results in a very detailed manner wherein each item will be classified by name, folder, size, extension, type, modified date, creation date and number
Features the ability to search for specific phrases or words inside text and binary files (TXT, HTML, CSV, EXE, etc.)
Can include or ignore files that are located in hidden folders
Provides a wide range of search parameters – ex. scan in subfolders, include hidden folders, match whole words, skip image files, skip video files, etc.
Does not use an index
Cons
You cannot save or export your results as CSV in Lite. This option is only available for the Standard version. You can purchase the Standard version for $24.95.
You cannot copy or select multiple folders and the batch rename feature is also not available to free users. You need to upgrade to Standard to get these features.
You need to upgrade to Standard in order to search inside documents such as PDF, DOC, DOCX, XLS, XLSX, etc.
This software is only available for home use. You are not allowed to use this tool for commercial purposes.
Discussion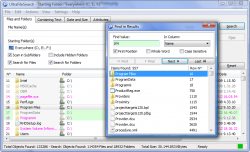 What makes UltraFileSearch stand out is its advanced way of searching files. So instead of manually searching your computer, you can simply use this tool to search for a particular file, document or folder. In addition, this software is also very easy to use plus it flaunts a simple interface with properly labelled buttons. In some way, it's similar to your computer's built-in search tool but way better.
This is because you can use this software to search for specific content using advanced parameters. You can set it to search for content according to file type and you can filter the results according to your own preference. So it is possible to show results according to filename and it is also possible to search for files that contain a particular phrase or word. You can also use this tool to search for files that you've modified or created within a certain date range. For example, if you want to search for files that you've made on the first week of July, all you need to do is to input the correct dates and the software will then show a list of items that you've created within that specified period of time.
Other than the above mentioned features, you can also use this software to manage files and folders. So if ever you want to copy or rename a particular file, you can just search for it and then you're free to do whatever you like. You can even view the file and copy its exact location. You can also move it to another folder.
Another good thing about this app is that it has the ability to search all of your drives regardless if it's internal or external. So your search isn't limited since you can easily find a specific file that you've stored on your DVD, CD-ROM or USB flash drive. It is also very easy to sort the items in search results.
Compared to the default search tool that you can usually see in most Windows-based computers, the UltraFileSearch is way better. It is way better because it provides a more detailed method for searching files plus you can export your search results as .txt or .html. It also has more options for filtering results plus you can search for files that are located in hidden folders. The only downside to using this software is that you are not allowed to copy, move, select or rename multiple files. You are also not allowed to export your search results in CSV format. These features are only available for paid users. Plus, this software is not intended for office or business use. If you wish to use this software for commercial purposes, you must purchase its Standard edition.
Conclusion and Download Link
Overall, UltraFileSearch is a useful program. With UltraFileSearch, it's so easy to search for a specific document. It may have some limitations in the free version but it also flaunts a lot of good features that some other Windows desktop search tools. I definitely recommend this tool to anyone who is looking for a better way to search and organize their files. I also recommend you check out dotTech's review on best free desktop search programs for Windows if you want other options.
Price: Free with optional $24.95 upgrade

Version reviewed: V.3.1.0.13181
Supported OS: Windows NT 4.0/2000/XP/Vista/Windows 7 and Windows 8
Download size: 2.69MB
VirusTotal malware scan results: 0/45
Is it portable? Yes
Related Posts