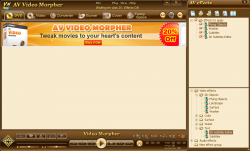 Video editing is not a simple task on Windows; it requires specialized software and someone who has the skills to properly make use of those programs. So when I come across a program that allows users to add effects to their videos by simply clicking buttons, it gets me excited. AVSOFT's AV Video Morpher is one such program; let's see if it is worth getting excited about.
What Is It and What Does It Do
Main Functionality
AV Video Morpher is a program who's primary function is to allow you to add video and/or audio effects to your videos.
Pros
Add video/audio effects to videos
Has 49 different video effects, 51 different audio effects; see screenshot to the right for list of all effects in AV Video Morpher
You can add multiple effects to one video
You can modify the settings/parameters of each effect that you add
Allows you to dub videos in your own voice (i.e. will allow you to record your voice via microphone and insert that in video)
Allows you to add subtitles to videos (.SRT format only) and optionally edit them
You can view (playback) videos inside the program, including live-preview of what effects look like on your videos
Supports the following input formats: AVI, WMV, MPG, MPEG, ASF, M2V, MP2, M2P, MOV, RAM, RM, DAT, MP3, WAV, M2A, AC3, MPA, WMA, ASX, and RM

NOTE: The program itself also appears to support FLV but the developer does not list FLV as supports in Help docs or official website

Takes DVDs, SVDs, and VCDs as input also
Supports the following output formats: AVI, WMV, MP3, and WAV
Has a handful of other features like take snapshot of videos, extract audio to MP3, adjust volume level, and design cover for CD/DVD
Not too bad on computer resources, considering what it does: roughly 60-80MB RAM usage while idle, and roughly 90% CPU usage and 120MB RAM usage while converting

NOTE: These numbers will vary on a case-by-case basis. These numbers are only general indicators and should not be taken as absolutes.
Cons
Would be nice for the program to support more input and output formats, such as MP4
Not user-friendly. Has a definite learning curve + an ugly interface.
Very slow at converting/outputting videos. It converts by playing back videos in real-time so if you have a long video then it will take a very long time to convert. For example, it took 2 minutes 13 seconds to convert by 1 minute 54 seconds video.
Cannot select to add effects to portions of videos — you add effects to the whole video or none at all (e.g. you can't add an effect for only 30 seconds in a ten minute video, the effect will be for all ten minutes).
Be watchful of the output video file size; AV Video Morpher can, and often will, increase the file size of the output file drastically as compared to the input file. For example, one of my 1.5MB input videos was turned into a 110MB output AVI while using the same input video but different effects and output format resulted in 14.5MB output WMV. Another example is how a 100KB MPEG was turned into a 500KB AVI.
Cannot resize program window
Has an unnecessary 'Funny Space' tab that has no relation to the functionality of the software but rather is a built-in browser that lets you surf one of the developer's content-focused websites
Does not come with built-in codecs. If you don't have the relevant codecs installed, you will need to download them manually.
Not 100% bug-free: crashed on me twice
Comes packed with bloatware during installation and the bloatware is cleverly integrated into the installer to trick you into installing the unnecessary program. Be sure to be very careful during installation; for me, the bloatware was hidden inside the last ending screen where you see a 'Finish' button — see screenshot for more details.

NOTE: I understand why freeware programs have bundled bloatware — it is a source of revenue for the developer since freeware programs are free. However, I can never fathom why shareware programs like AV Video Morpher have bundled bloatware. Shareware with bundled bloatware is completely unacceptable.

The trial version I tested had a built-in banner advertisement for the full version of AV Video Morpher. It is unclear if the full version of AV Video Morpher will also have a built-in banner ad for a different program by AVSOFT. Just an FYI.
Take note VirusTotal has returned a 4/41 rating for this program. ESET-NOD32, Malwarebytes, Norman, and TrendMicro-HouseCall are the four that detect something wrong with VirusTotal. Since the majority of the anti-virus/anti-malware detect nothing, and it looks like these four are objecting to the bundled bloatware, the detections are probably false positives. But proceed further at your own risk.
Discussion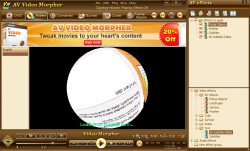 When it comes to the nuts and bolts of AV Video Morpher, the program's main function is to allow you to easily add effects to your videos; it has 100 effects for you to use (49 video effects, 51 audio effects) and you are allowed to use multiple effects on the same video. However, when you first install and run AV Video Morpher, you may not necessarily realize that is the program's main functionality because the interface is so confusing.
This is how AV Video Morpher works. AV Video Morpher has six tabs/areas of functionality in its program: DVD, Video, Converter, Burner, Cover, and Funny Space. Cover allows you to design CD/DVD covers and Funny Space is a completely unrelated built-in browser for one of the developer's websites; neither of these is a core feature of this program, so you don't really need to worry about those two. The other four tabs, however, are important:
DVD tab allows you to view/play DVDs, SVDs, and VCDs
Video tab allows you to view/play videos
Converter allows you to output DVDs/SVDs/VCDs/Videos as AVI/WMV/MP3/WAV that include all the effects and other edits — like dubbing — that you made
Burner allows you to burn files to CD or DVD
When you want to add effects to an input source, you can do it one of two ways.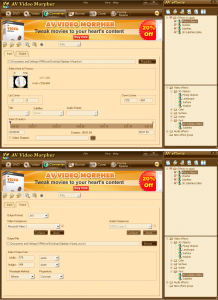 For DVDs, SVDs, and VCDs, you can go to the DVD tab, load what you to add effects to, add effects from the sidebar, preview the effects (effects you add are shown in real-time), make any other edits that you desire (e.g. dubbing — see the File menu at the top for access to dubbing feature), and click the Converter button from the bottom (note I said Converter button from the bottom, not the Converter tab). Once you do that, your DVD/SVD/VCD will be sent to the Converter tab from which you can modify output settings (e.g. set a crop area, select output format, etc. — see screenshot to the right for more details) and then have AV Video Morpher output your video.
For videos that are not DVD/SVD/VCD, the Video tab does all the same things as the DVD tab… except it is for normal video files.
If you don't want to live-preview the effects on your DVD/SVD/VCD or video, you can skip the DVD and Video tabs and go straight to the Converter tab. Once at the Converter tab, all you have to do is open the relevant DVD/SVD/VCD/video file, add the effects desired from the right sidebar, modify output settings as necessary, and output.
And that, more or less, sums up how to use AV Video Morpher. Now let me provide you my personal assessment of this program.
Firstly, let me make it clear that AV Video Morpher does exactly as it claims. Although it did crash on me twice and it has its fair share of drawbacks (as highlighted in the Cons section above), it works as intended and outputs are of good quality. So in terms of actually working and adding effects to videos, AV Video Morpher has no issues.
That said, I personally feel AV Video Morpher is a program with a lost identity. Who exactly is the developer trying to target here — home users (amateurs) or professionals?
If targeting amateurs, then the asking price of $49.95 (note: you can get 20% off if you download and install the trial) is a bit high. Sure having the ability to add effects to videos with the click of a few buttons is something that will amaze most amateurs (because otherwise video editing is not an easy task) but, really, not very many people will be willing to shell out $49.95 for something they will only use occasionally; a price of $19.95 would be much more enticing.
If targeting professionals, then the developer needs to rework the program because two shortcomings make this program almost unusable for professionals: the lack of ability to set effects for only a portion of videos and slow outputting.
You see, as a professional you are likely to want to, well, professional edit videos. And no professional editing video will have the same effect(s) playing throughout the whole video; it will have different effects played during different segments, at the times deemed right by the professional. Unfortunately, however, AV Video Morpher does not allow this sort of functionality.
Furthermore, the way AV Video Morpher works is it outputs/converts by playing back the input videos in real-time. This means the time it takes to output/convert is around the same as the length of the input video. For professionals who work with videos on a daily basis, having to wait that long to output a video is a deal-breaker, in my opinion, especially considering that some videos can be very long.
Conclusion and Download Link
AV Video Morpher has its fair share of drawbacks but it works as intended and does what it claims to do. However, I'm not going to recommend the program… but I'm not going to not recommend the program either. As discussed above, AV Video Morpher has an identity problem that makes the program difficult to recommend to people but, at the same time, its shortcomings aren't bad enough for me to tell you to stay away from this soft. So, I'll let you decide.
We have provided you enough information in this review to help you decide if you should give AV Video Morpher a try to not, so go and make up your mind — and remember it has a free 7-day trial you can test before you purchase, if it comes to that.
Price: $49.95

Version reviewed: 3.0.54

Supported OS: Windows XP, Vista, Windows 7 and Windows 8
Download size: 10.1 MB

VirusTotal malware scan results: 4/41

Is it portable? No

AVSOFT AV Video Morpher homepage
Related Posts