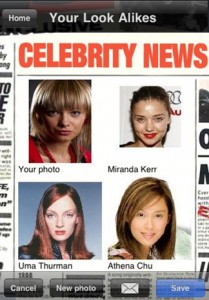 We tend to focus on a certain set of iOS apps round these parts. While the categories vary, we generally tend to look at apps that are generally useful (or at least trying to be), as well as interesting, quality new games. But sometimes, half the fun of having an iPhone is playing around with the silly apps, the goofy little entertainment apps that you rarely have on your phone for more than a day. Sometimes, the stupidest apps can be the most fun. I downloaded a little app called Celebtwin: Celebrity Look Alike Lite, and spent wayyy too much time messing around with it earlier today.
What is it and what does it do
Main Functionality
Celebtwin: Celebrity Look Alike Lite is an entertainment app. Upload a pic of yourself, and the app will tell you what celebrities you look like!
Pros
Simple interface
Upload new photos or photos from your camera roll
App does a good job of matching faces, even when you are wearing glasses!
You can sort results based on gender
Create "morph" animation to show the similarities between your face and a celebrity's face
Cons
Hasn't been updated since 2012, meaning that newer celebs on the scene are likely not included
Sometimes, the app freezes up and doesn't display results
For best results, photos must be face-forward
Each search query only give you three results
Results aren't quantifiable: it would be nice to see results sorted by percent matching to your looks
Some celeb images are a bit lo-res
Discussion
Whether your results are accurate or not, this app is totally addictive and really fun! Even when the results are wrong, it's a really fun conversation starter.
I personally didn't think that my "matches" looked much like me. Depending on the image I used, I got results like Gwyneth Paltrow, Miranda Kerr, and Shiva Rose, two women who look nothing like me! Just for fun, I used a pic with my cheeks puffed way out and my nostrils flared. Still got Gwenyth Paltrow. Gwenyth Paltrow does not have chipmunk cheeks, my friends.
Then, for even more giggles, I used a picture of Gwenyth Paltrow as "my" photo." Oddly, Paltrow didn't even show up as a match for herself: I got Natalie Portman, Christina Ricci, and Elizabeth Banks (that last one is pretty good, actually.) Still, this experiment proves that the facial recognition abilities of this particular app are not particularly impressive.
That being said, it's the imperfections that make this app kind of addictive. An app this imprecise shouldn't be so much fun to mess around with, and yet…it is. Sometimes, all you want from an app is a momentary distraction that's fun…and maybe a little dumb.
Conclusion and download link
If you're in need of a little time waster, Celebtwin: Celebrity Look Alike Lite is a fun, mindless app. If you've got a friend who won't shut up about how she looks just like Taylor Swift, this app could shut her up for good…or prove she's right. Despite its flaws, this app is more fun than it has a right to be.
Price: Free
Version reviewed: 4.0.2
Supported OS: Requires iOS 4.0 or later

Download size: 10.8 MB
Celebtwin: Celebrity Look Alike Lite on Apple App Store
Related Posts