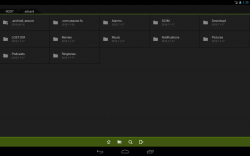 If you are looking for a good alternative for your smartphone or tablet's default file manager, you might as well choose the one with the best features. After all, the app market is already flooded with lots of utility and file management tools. Speaking of which, let's see if the Fo File Manager could live up to your expectations.
What Is It and What Does It Do
Main Functionality
Fo File Manager is a free file manager app for Android with multi-language support. It is developed by dataegg and it is intended to help you manage the files that you have stored inside your mobile device. Compared to other utility apps, this application prefers to have a simple user interface with custom themes and colors. You can also use this app to convert your files into compressed (.zip) archives and vice versa.
Pros
Provides a wide range of options or tools for managing files such as Open, Cut, Copy and Paste, Create, Delete and Rename, Multiple File Select, Play, View and Create New Folder, etc.
Simple, easy-to-use UI with custom themes and colors
You can change or modify your default home directory
You can set the app to show or hide your hidden files
Features 4 basic file display modes – thumbnails, lists, tiles and icons
Can sort files or documents by name, type, size or date modified
Has an integrated quick search tool for searching files
You can add a specific folder to your "Favorites" – these folders will be pinned to your app's side menu
You can create a shortcut for a specific file or folder (the shortcut will be placed on your home screen)
Has a built-in tool for compressing and decompressing files (.zip only)
Can share files or folders via Gmail, Bluetooth, SMS, IM, SNS, etc.
Ad-free
Cons
No support for file backup or restore
No password-protect option
Cannot play multiple audio tracks
Cannot decompress .rar files
Discussion
The Fo File Manager is a good example of an app that sticks to its true purpose. It is simple in a sense that it doesn't attempt to take things that are beyond its scope. It will help you manage and organize your files but don't expect it to install or uninstall your unused applications.
When using the app, the first thing that you will immediately notice is its neat and very responsive UI. As a matter of fact, its user interface resembles the default Android user interface with only a few notable differences. What makes it different though is that it supports multiple themes and you can also change its main UI color. You can change its theme to light or dark and then you're free to choose your preferred color. It could be green, blue, orange, pink, red or purple. Aside from that, you can also set your own homepage directory. The app also features a side menu that you can show or hide in just a single swipe.
On the side menu, you'll see a list of folders. These are your favorited folders. This option is quite useful especially when you need to access your frequently used folders. To add a folder to your "Favorites", all you need to do is to long press the folder's icon, tap the "more options" button on the bottom menu, select "Add Favorites" and that's it. At first, you might feel confused as to how you should use the app but once you get the hang of it, you won't have any problems at all.
Apart from this, the app also covers the basic aspects of effective and efficient file management. It supports four basic display modes plus you can easily sort your documents by date, name, type or size. You can also make use of its quick search tool for searching files in various formats. Say, for example, if you want to limit your search to .zip files, then all you need to do is to use the app's quick search option. File handling has also been made easier thanks to the app's built-in support for file compression and decompression. The only minor drawback to this feature is that the app can only compress or decompress files in .zip format. It doesn't support RAR, 7Z, CAB, ARJ, ACE, GZ, etc.
Anyways, Fo File Manager actually caters a variety of file types regardless if it's a Word document, a PDF or a simple text file. It can also view videos and images. It can play songs and audio tracks but you are only allowed to play one track at a time. So don't expect that you'll able to use it an alternative music player.
With Fo File Manager, you won't have difficult time managing your files but you should also keep in mind that it's not a perfect app. It has its downsides. It lacks the option for data backup and restore. Plus, you can't lock it using a secure password which means that your files are still very vulnerable to data thieves and unauthorized users.
Conclusion and Download Link
I have already tried a lot of file manager apps but this app has certainly proved its worth. Unlike some other apps, I find the Fo File Manager very easy to use plus I really like the fact that it supports multiple themes and colors. It's also very efficient since it has all the necessary tools needed for managing files and folders — including the ability to extract or create ZIP files. It does have some drawbacks but those are something that you could actually forgo. Therefore, I conclude that this app definitely deserves a look if you are in the market for a file manager on Android. Also be sure to check out dotTech's review on best free file manager for Android.
Price: Free
Version reviewed: 1.8.1
Requires: Android 2.1 and up
Download size: 312KB
Related Posts