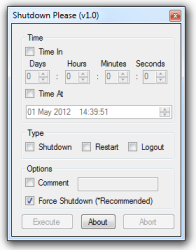 Have you ever wondered if it's possible to let your computer shutdown or restart on its own? Well, it's actually very possible. All you need to do is to find a reliable shutdown tool or application. If you want to find out if Shutdown Please is download-worthy, you better read on.
What Is It and What Does It Do
Main Functionality
Shutdown Please is a free software for Windows that is developed by Simon Fletcher of Will Game for Gold. With this software, you can set a predefined date or time for your computer to shutdown, restart or log-out. By scheduling these three basic computer operations, you'll be able to execute and complete your other tasks even if you're away from your computer. This software also comes in handy for users who often leave their computers on idle mode.
Pros
Easy to install, easy to use, very simple UI
Can shutdown, restart or log-out a computer within a specified date or time
You can set the predefined time in days, hours, minutes or seconds
You can set the predefined date in this format – Day/Month/Year – Hour/Minute/Seconds
You can abort your scheduled operations in just one-click of a button
You can opt to force shutdown your computer just in case the other programs will restrict your PC from restarting or shutting down
Cons
The log-out operation doesn't work
You can only schedule one operation at a time.
You cannot schedule your shutdown or restart time within a specified time interval. For example, you cannot set your computer to shut down every Monday at exactly 2 o'clock in the afternoon.
The UI window is too small and it cannot be resized.
Doesn't really offer anything Windows Task Scheduler can't do, albeit this is a bit easier to use than Task Scheduler.
Discussion
Shutdown Please is a very simple application that is meant to perform the simplest yet often disregarded computer operations. This software has also been analysed and labelled by VirusTotal as malware-free so there's no need for you to worry if it's safe or not. Furthermore, this app doesn't require a lot of disk space since it will only take at least 24KB of space in your local hard drive. It's also very easy to install. As a matter of fact, the app will immediately load right after you click its executable file.
When it comes to setting up the software's prescheduled operations, all you need to keep in mind is that it is only intended to carry out at least three types of commands – shutdown, restart and log-out. Its functionality doesn't go beyond that.
Regardless of the command that you want to execute, the time or date options will always remain as is. So if you set your shutdown time in 2 hours and 30 minutes, you can also do the same for the other commands. Even so, you're not allowed to set a specific date range or time interval. So you'll have no other choice but to skip your plans on setting your PC to shut down on its own for a whole week. Also, you shouldn't expect it to automatically restart every 1 o'clock in the afternoon and so on. Nonetheless, Shutdown Please can execute the shutdown and restart commands with ease. Unfortunately, its log-out function doesn't work so you might want to skip this at least until this problem gets addressed by the software's developer.
In addition, this software can only cater to one operation at a time. You cannot use it to schedule two or more commands such as setting your computer to shut down and restart at the same time. While this aspect may be disregarded, some users might find the software's UI too difficult to view or read because of its small fonts and buttons. You are also not allowed to resize its window.
All in all, I consider this software as a pretty useful tool especially for instances wherein one must complete a time-consuming task that usually involves large file downloads and software installations. It's just that this software still lacks in many aspects but since this is a new release, it might get some major updates in its future versions.
Conclusion and Download Link
Functionality wise, Shutdown Please executes its predefined commands for shutdown and restart without trouble. It's a useful tool but it's not irreplaceable. Come to think of it, there are a lot of shutdown tools out there that are more reliable such as SmartPower and Wise Auto Shutdown. Check those out instead.
Price: Free
Version reviewed: 1.1
Supported OS: Windows XP, Windows Vista, Windows 7 and Windows 8

Download size: 7.98KB
VirusTotal malware scan results: 0/46
Is it portable? No
Related Posts