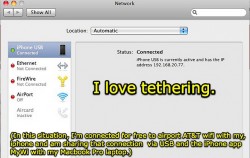 Sharing your smartphone or tablet's internet connection with another device or computer is known as tethering. Tethering is a very popular use of many smartphones (and some tablets), but many cell phone carriers in the United States also charge as much as $15 per month for the added feature regardless of the amount of data on a subscribers plan. This guide will show you how to enable tethering on your Android smartphone or tablet without getting charged by your carrier.
BEFORE WE BEGIN
This app requires a rooted Android smartphone or tablet on Jelly Bean or Ice Cream Sandwich. If you don't have a rooted device, either root your device or check out FoxFi tethering without root access app. If you have a rooted device but don't have Jelly Bean or Ice Cream Sandwich, check out dotTech's review on best free tethering apps to learn how to tether with your device.
HOW TO FREELY USE WIFI TETHER ON YOUR ROOTED ANDROID PHONE
Download the Treve Mod WiFi Tether app from here on your phone or tablet and install it using your favorite file manager. You will need to sideload it onto your device, meaning you will need to enable Unknown Sources from device settings.

Launch the app then tap on the menu and select the settings option.
After that, choose "change device-profile". "Generic ICS/JB (wlan0)" is the option you need here.
Then select "Send Netd Max Client cmd" from the menu that pops up.
The next option you should choose is "WiFi-driver reload" or "WiFi-driver reload 2".

I recommend choosing the first option, and if you do not get any errors going forward, you will be fine, if you do receive errors when trying to enable the tether, then you should go back and select the second option.
There are so many different Android phones that it is almost impossible to make a full chart for which option to select for each phone.

After choosing your WiFi driver, you will need to scroll down check "MSS clamping" and "Routing fix".
You should then be able to turn on tethering by choosing the WiFi icon, and then hit "Menu -> Show log".
If there are no errors, you are good to go. If there are, you should then choose the other WiFi driver. After than, you will only need to hit the WiFi icon in the app in the future.
Done!
Happy tethering!
Related Posts