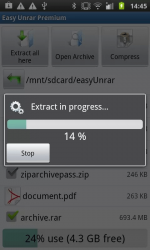 One of the most important things that should be included in a smartphone or tablet is the ability to extract and compress archived files with ease. Unfortunately, this feature has to be acquired through apps so you have to find a reliable file archiver that could support today's most commonly used archive file formats. If you're currently in search for one, you could check out this app called Easy Unrar, Unzip and Zip"and try to find out if it's reliable enough.
What Is It and What Does It Do
Main Functionality
Easy Unrar, Unzip and Zip is a free file archiver app for Android. It is developed by RbigSoft and its main function is to let you extract or compress your files and folders. This data compression utility tool supports all RAR and ZIP archive versions and it also features its own browser. Therefore, you can directly use the app to browse for the files that you want to compress or extract.
Pros
Fast-loading, responsive UI
Can extract files in RAR and ZIP formats – supports all versions
Can compress files and folders in ZIP format
Has a built-in browser
Can load, open or execute extracted files without opening another browser – Ex. view a photo, play a song, watch a video, read a PDF, etc.
You can change your compression method from Normal to Low, Medium, High or Max – the higher the quality of the method is, the slower it would take for the app to compress your files.
You can open and view your archive without extracting the file
Cons
The browser doesn't have a search tool – If you have lots of files to search, you need to search them all through browsing your directory
Cannot overwrite or replace existing files
This app won't work if you are viewing the file or folder on a separate app or file manager
Some of the features are only accessible if you purchase the app's premium version which costs around $0.99. These features are:

AES encryption
Password protection
Multi-part archives
Discussion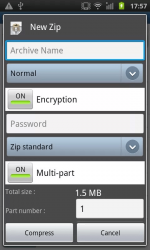 With Easy Unrar, Unzip and Zip, you can definitely extract ZIP and RAR files the easy way. It's also has a neat and responsive user interface. Just don't expect more from this app because it clearly doesn't support other archive file types such as 7Z, GZIP, ACE, etc. It should be made clear that what this app can do is to extract files in .zip or .rar format. It can also compress files or folders in standard .zip format. It cannot compress files into .rar. Furthermore, this app supports all types of RAR or ZIP file versions so you don't have to worry if your archived file is compatible with the app or not.
I also like the fact that this app has a built-in file browser. This means that you can directly search for files that you want to compress or decompress. You can also view or load the extracted files directly on your app's browser. So if you've extracted some songs, the Easy Unrar, Unzip and Zip app will automatically detect the app that's needed to play these songs. No need to view the extracted files on a separate file browser or file manager. The only downer to this feature is that it doesn't have a quick search tool so if you're searching for a specific file, you need to search for it manually. If you're searching multiple files with complicated file names, then that's already a hassle.
In addition, this app won't work if you are viewing the files on a different file manager. For example, you're viewing your downloaded files on your phone's default file manager and you've decided to compress it so you could easily send it via email. You cannot directly compress the files there. You need to open the Easy Unrar, Unzip and Zip app first and then you look for the file in your directory.
Anyways, when it comes to compressing files, this app does a good job. It can compress any type of files or folders but it cannot overwrite or replace existing files. So if you wish to update your compressed folder, you need to start all over again. If you have already deleted your original file, this means that you may need to extract the folder just to include the files that you want to include and then you compress it back. The good thing is that you can actually set the compression method according to your preference. Just remember that the higher the compression method is, the slower it will take for the app to compress your files or folders. I also tried to compress a 35.1MB file and it took only a minute to compress it using the normal compression method.
It is also important to note that the advanced features of this app can only be accessed if you purchase its premium version. So if you want to create a multi-part archive with password and AES encryption, you need to buy the app's premium version for $0.99.
Conclusion and Download Link
This app is good and it pretty much does what it is intended to do but it failed to convince me. It does work as advertised but when it comes to user experience – it's a so-so. For example, it doesn't have a quick search tool plus it doesn't allow you to select multiple files so you still have to go through all that hassle. On top of that, Easy Unrar, Unzip, and Zip lacks many features found in other free file archiver apps… such as ZArchiver.
Overall, if you are looking for an app to extract/create archive files, I recommend skipping out on Easy Unrar, Unzip, and Zip and get ZArchiver instead.
Price: Free
Version reviewed: 2.5
Requires: Android 1.6 and up
Download size: 628KB
Easy Unrar, Unzip & Zip on Play Store
Related Posts