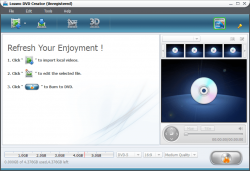 DVD authoring, as opposed to just DVD burning, is the process of taking DVD and non-DVD format videos, converting them to DVD format, and then putting them on a DVD (or ISO/DVD folder). dotTech has a review of the best free DVD authoring program for Windows, if you need a free DVD authoring tool. Leawo DVD Creator is another DVD authoring program. Let's see if it is worth your time.
What is it and what does it do
Main Functionality
Leawo DVD Creator is a DVD authoring program that lets you create DVDs (DVDs that are playable anywhere, on your DVD player or your computer) out of DVD and non-DVD video formats — including SD and HD videos.
Pros
Allows users to create DVDs from any video format
Supports many input formats: AVI, MP4, DAT, WEBM, RMVB, RM, MPG, MPEG, VOB, MOV, M4V, QT,FLV, F4V, NSV, NUT, MKV, MTS/M2TS/TS/TP/TRP, AVCHD, H.264, VC-1, MPEG-2 HD, MOD, TOD, DV, WMV, ASF, 3GP, 3G2, DVR-MS
Allows users to perform basic edits on input videos prior to making DVD

Edits include trim, crop, adjust brightness/saturation/contrast, adjust volume level, flip vertically/horizontally, rotate 90 degrees clockwise/counterclockwise, and add text or image watermark

Adds DVD menu to DVDs
Comes with dozens of DVD menu templates for users to pick from, and allows users to customize DVD menu if desired
Allows users to preview DVD, with DVD menu
Can output as DVD-5 or DVD-9, NTSC or PAL, and 16:9 or 4:3
Can automatically shutdown or sleep after output
Can output by directly burning to DVD (DVD-R, DVD+R, DVD+/-RW), creating an ISO, or outputting to DVD folder
Can add subtitles (SRT, ASS, SSA format)
Supports compression vis-a-vis allowing users to select if they want low, medium, or high quality DVD
Supports 2D -> 3D conversion
Very easy to use
Supports multi-core CPUs and GPU acceleration
Performs well — good output quality and good conversion speed
Cons
No 2-pass encode option
No offline Help
Has a built-in ad (a 'Download Video' button in the button bar) for Leawo Youtube Downloader, which costs $29.95 (sidenote: $29.95 for a Youtube downloader?!)
Comes bundled with K-lite Codec Pack, which is a free codec pack that adds relevant video/audio codecs to your computer. I have no issue with the program coming bundled with a codec pack (because a codec pack is not unnecessary bloatware — it is relevant to the program being installed, ensures you can properly preview the different video formats you add) but it would be better if the option to install this pack wasn't check by default, because some users may install it by accident when they don't really want or need it.
In the end, doesn't really do anything groundbreakingly different that you can't do with free/freeware DVD authoring programs
Discussion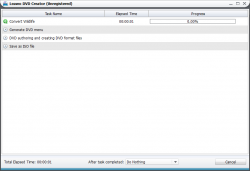 As you can tell from the Cons section above, there really isn't that much to complain about regarding Leawo DVD Creator. Yeah, it does have some issues but the issues are relatively minor. Indeed, Leawo DVD Creator advertises itself as a DVD authoring program and it performs that job admirably.
Not only is Leawo DVD Creator feature-filled (aside from no 2-pass encode, there really isn't any DVD authoring feature I can think of that Leawo DVD Creator doesn't have) but it is also ease-to-use; the default settings for the program are set so you can quickly create DVDs by simply adding your videos and outputting… but there are also customization options for those that like to have more control.
That being said, where Leawo DVD Creator falls short isn't actually a shortcoming of the program itself but rather the genre it operates in: DVD authoring programs are dime a dozen nowadays, including freeware and shareware ones. And all of the good freeware/shareware ones have most (if not all) of the features of Leawo DVD Creator, although Leawo DVD Creator does have basic video editing capabilities and dozens of DVD menu templates… something not found in most (if any) freeware DVD authoring programs. In other words, what I'm trying to say is Leawo DVD Creator doesn't offer any unique functionality you can't get elsewhere and potentially for a lower price (i.e. free) although, to be fair, it should be mentioned Leawo DVD Creator is one of the lower priced shareware DVD authoring programs.
Conclusion and download link
Leawo DVD Creator is an excellent program. It is easy-to-use, filled with features relevant to creating DVDs, and performs well. Plus the price for the program ($29.95) is in a sweet spot which makes it not too expensive for those that want paid solutions to DVD authoring woes.
That being said, the biggest issue with Leawo DVD Creator is it doesn't really offer anything you can't accomplish with free DVD authoring programs, although Leawo DVD Creator does offer some advantages over free alternatives, such as dozens of DVD menu templates and basic video editing capabilities.
That, then, begs the question: do I recommend Leawo DVD Creator? Yes and no. Yes, I recommend it if you are willing and able to pay money for a DVD authoring program. No, I do not recommend it if you prefer using free/freeware programs, because free DVD authoring programs will essentially allow you to do the same thing as Leawo DVD Creator — author DVDs. For the latter group, I suggest checking out dotTech's review of best free DVD authoring programs for Windows.
Price: $29.95

Version reviewed: 5.2.0.0

Supported OS: Windows 2003/XP/Vista/Win7/Win8

Download size: 42.6MB

VirusTotal malware scan results: 0/45

Is it portable? No

Related Posts