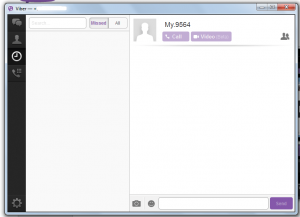 Viber is one of today's most popular free text messaging and VoIP calling apps for Android and iOS. However, many people are not away Viber also has Windows and Mac versions which you can use to make free calls and send free messages. Let's see if its desktop counterpart is as good as its mobile version.
What Is It and What Does It Do
Main Functionality
Viber for Desktop is a cross-platform free call and text/picture messaging software for Windows and Mac OS X. It is developed by Viber Media Inc. and it basically has the same functions as its mobile version; in other words, with Viber for Desktop you can make free voice calls and send free text/picture messages to your Viber contacts as long as you have an active internet connection.This software also supports video calls and it is automatically syncs to your tablet or smartphone.
Take note although Viber for Desktop works on Windows and Mac OS X, we specifically reviewed the Windows version for this article.
Pros
Nice and clean UI design, fast-loading, easy to use, easy to install
Does not require user log-in or user registration – you only need to provide your mobile number
Supports auto-syncing – automatically syncs your contacts as well as your conversations (PC – Mobile)
Allows its users to send free text and photo messages
Free voice calls and video calls (requires internet connection)
Allows you to send messages and make calls to your Viber contacts on any platform; meaning you can have Windows to Android, Window to iOS, Windows to Mac OS X, Windows to Windows, and Windows to Windows Phone conversations
You can transfer your ongoing calls to your mobile device and vice versa
Features a wide variety of stickers and emoticons
Supports group conversations
You can instantly share or upload your photos on Facebook
Every photo that you will receive will be automatically stored to your "ViberDownloads" folder, making it easy to access
You can minimize the software to the system tray area, making it very easy to keep it turned on in the background but out of your way
Cons
You cannot use this software unless you already have Viber for Mobile (aka Viber on Android, iOS, or Windows Phone)
You cannot edit your profile or view your contact's profile from Viber for Desktop
Doesn't have the option for adding contacts to "Favorites"
There's no option for sending videos via messages — only photos/images
Requires an active internet connection to use (duh)
Discussion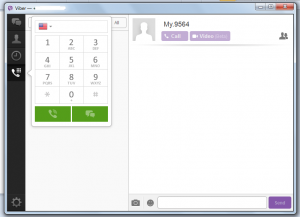 The PC counterpart of Viber is like an extension of its mobile version. It's great especially when you feel like you're too lazy to type on touchscreen and since you have your computer near you, you can just switch to its desktop version. Besides, this software basically does the same thing and it is also automatically synced to your mobile device. It lets you send free text messages, photos, stickers and even emoticons. You can also make free calls and video calls to your contacts provided that they are also using Viber. It doesn't matter if they only have the mobile app. Just remember, that this software will only work if you are connected to the internet. It does not provide offline support.
If there's another thing that you should keep in mind before using this software, it's the system and hardware requirements. For you to be able to use this software on your PC, you must install the required version of the app first on your mobile device. This means that both iOS and Android users must have the app's version 3.0 installed on their mobile devices while those who are using WP8 (Windows Phone 8) must have the version 2.2.3 or later. You may refer to this link for further details.
What I like most about Viber for Desktop is that it's so easy to use. After you install the software, you will be asked to provide your mobile number. This is the number of the device that is linked to your app. Thereafter, the software will send a confirmation code to your Viber app and you must use this code to confirm and proceed with the software installation.
Once done, the software will automatically load and you'll notice that its interface is very similar to its mobile version. Therefore, you won't have any trouble using this software since you're already familiar with its controls. Plus, you can do almost everything that you're doing on the app such as making calls, sending stickers, photos, etc. It's just that there are a couple of limitations.
With this software, you can't send videos plus you can't see the contacts that you've added to your "Favorites". There's also no option for viewing user profiles. Also, when you are using your mobile device to send videos, the videos won't appear on the desktop version. Anyways, it's good to know that this software has kept some of its most essential features such as its built-in option for group conversations.
Conclusion and Download Link
I find Viber for Desktop very practical and it's a great alternative for Google Hangouts or Skype. It is also very light and easy to use and there's no log-in required. It may have some minor setbacks such as its inability to send and view videos files via messages and the fact that you must have Viber for Mobile in order to use Viber for Desktop. However, all-in-all, this software is very commendable and highly recommended. Check it out.
Price: Free
Version reviewed: 3.0.0.2300
Supported OS: Windows XP SP3+, Windows Vista, Windows 7, Windows 8 (RT is not supported); Mac OS X 10.7 and up

Download size: 1.30MB
VirusTotal malware scan results: 0/45
Is it portable? No
Viber for Windows and Mac OS X homepage
Related Posts