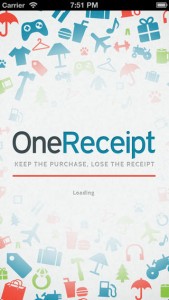 I'm not that good at hanging on to receipts. Well, I guess I should say that I don't care about most of my receipts, but I am exceptionally good at hanging on to the ones that matter. Case in point: a couple of weekends back, I had to bring my computer to Best Buy to get a part replaced (it is still under warranty.) I was able to produce my original 2008 receipt for the computer, much to the amazement of the guy behind the counter. But if you have an app like OneReceipt, producing an important receipt is always easy.
What is it and what does it do
Main Functionality
OneReceipt is an iOS app that allows users to record and manage their receipts. There's no need to hang on to paper receipts, and no need to have a messy file folder filled with all your purchase histories. This app lets you make your personal finances paperless, without sacrificing a complete receipt history.
Pros
Great UI
Automatically retrieves email receipts from your inbox
You'll get a unique email address you can use for forwarding your receipts
Monthly spending summaries help keep you aware of your personal budget
Also tracks your shipping status!
App takes measures to protect your privacy: credit card info is not stored, and a secure SSL connection is maintained at all times
App also boasts a Chrome extension
Your info automatically comes up when you deal with sites like Mint.com, American Express, CitiCards and Bank of America websites
You have the option to add receipts manually, or upload a photo of one
Cons
You do need to take the time to make an account prior to using this app
Some users have complained that the app is very slow, and that photo uploads are not always smooth sailing
Discussion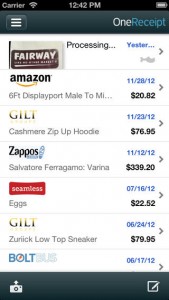 OneReceipt is absolutely jam-packed with features. There are a couple of other apps like this, but OneReceipt really stands out to me because it is just so feature rich. This app sets out to make it easy to import your receipts through a bunch of different methods: taking a photo of them, email import, and manual entry.
The user interface here is very clean, very professional in its layout. This is an app that just feels secure when you use it, by virtue of it's design and taste level alone. It's not just an illusion, however. This app does really seem to take personal privacy and security seriously, with the App Store description stating that credit card info is not stored, and a secure SSL connection is maintained at all times.
Overall, this app is easy to use, and has been thoughtfully designed. It's a great tool for disorganized people because there are so many ways to import your receipts. It's a rare organizational app that actually makes it easy to get and stay organized.
Conclusion and download link
If you need a tool for keeping your receipts in a single place, OneReciept is a solid option to consider. Some users have definitely experienced usability problems, but I liked this app a lot. It's still early days for this app, so presumably more and more kinks will be worked out with each new update. I'd suggest that you give it a try!
Price: Free
Version reviewed: 2.4
Supported OS: Requires iOS 5.0 or later

Download size: 8.5 MB
Related Posts