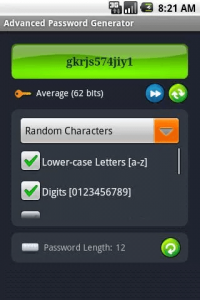 One of the essential things that you should look for in a password generator is its ability to generate passwords that aren't too difficult to remember. Unfortunately, not all strong password creators have this kind of feature unless, of course, you have already heard about this app called Advanced Password Generator.
What Is It and What Does It Do
Main Functionality
Advanced Password Generator is a free secure password creator app for Android that is developed by EllipseLab. It's a simple yet very practical utility tool that lets you generate secure passwords in three different methods: random, memorable and pronounceable. This app also features batch password generation and it could create strong passwords of different lengths. You are also free to generate passwords that are based upon your preferred set of characters.
Pros
Simple, easy to use user interface
Features three methods for generating passwords – random, memorable and pronounceable
You can create passwords of different lengths and strengths
There's no limit to the maximum number of characters for each password
You can easily copy the password to your clipboard, you can also share your password vie email or SMS
Has an option for batch password generation – can generate up to 100 passwords and even more
Has its own password strength checker
Cons
This app does not support landscape mode
You cannot customize or adjust the length of memorable passwords
No option for saving user settings
This app works offline but it's not 100% ad-free
Discussion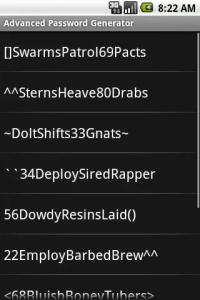 The Advanced Password Generator is definitely one of those apps that are simple yet very direct to the point. It practically does what it is supposed to do plus it has a lot of features that you cannot easily find on other strong password generators. Considering the fact that this app is free, I would say that it's very commendable.
What I like most about this app is that it is not only limited to generating random passwords. As a matter of fact, it features three different password creation methods and you are free to set your preferred password length. It even has its own password strength indicator. Not only that, this app also has a simple user interface with user-friendly controls. It also has an option for batch password creation.
By default, the Advanced Password Generator app creates random passwords of different character lengths. There's no limit to the number of characters that you can use per password so if you want to make it longer than 16 or 24 characters, it doesn't matter. You can also keep it short. Since it's a random password, it's totally up to you if you want to generate a password that is made out of lower case letters, upper case letters, digits or special symbols. There's also an option for skipping similar looking characters such as "0oOI1i". Apparently, the strength of your password will totally depend upon these essential elements. So if you want a stronger password, it should not be shorter than 8 characters. Fortunately, this app has an integrated password strength checker. For every password that you create, the app will tell you if it's weak, strong or just average. The same goes for the passwords that you can create using the other two methods.
Speaking of which, the second method is meant for creating memorable passwords. With memorable passwords, the app will automatically generate passwords that are based on real English words. Compared to random passwords, these types of passwords are easier to recall because they are made out of various familiar English terms that are mixed together with random digits and special characters. The only downside to using this method is that you cannot set your preferred password length.
Meanwhile, the third method lets you create pronounceable passwords. These passwords are way easier to pronounce but they don't exactly signify a specific word or term. With this method, you are also allowed to include hyphens and capital letters. You can also indicate your preferred password length.
In general, this app works great and it doesn't crash or lag. It also works offline so you're free to create passwords without connecting your device to the internet. It's just that it's not ad-free so if you have your Wi-Fi or 3G network activated, the app will show ads and this could become a potential source for security loopholes. Nevertheless, this issue isn't something that cannot be fixed. This app also lacks the option for remembering your preferred settings.
Conclusion and Download Link
If I were to use a password generator, I would definitely choose this app since it has the features that I need plus it generates passwords out of three different methods. While it's true that the Advanced Password Generator app does have some minor drawbacks, these flaws aren't deal-breakers. I highly recommend this app, if you need the ability to generate secure passwords.
Price: Free
Version reviewed: 1.21
Requires: Android 1.5 and up
Download size: 333KB
Advanced Password Generator on Play Store
Related Posts