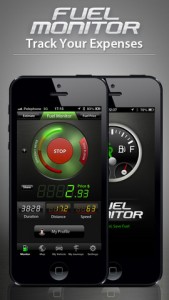 In high school, my best friend had this great classic Impala. It was in pretty good shape, save for the gas gauge. It didn't work at all, so my friend always kept a notebook in the car to track when she last filled up, how many miles she had driven, and how many miles to the gallon she was getting. Even if you're lucky enough to have a car with a working fuel gauge, you may still want to track your gas consumption and fuel costs. With an app like Fuel Monitor, you'd be well on your way.
What is it and what does it do
Main Functionality
Fuel Monitor is an app that tracks everything related to your car's fuel: costs, consumption, efficiency, and trip distance estimation. The app also tracks you in the event of an accident and lets you share your info with an employer in case you need to provide them with mileage data for reimbursement.
Pros
Sleek, cool interface
60,000 vehicles to choose from
Works with GPS to better estimate speed, braking, and driving conditions so that your fuel estimates are more accurate than other apps of this ilk
Allows you to track distance/fuel in US or international measurements
App includes accident kit that alerts people to your distress and you can also use it to take pictures of the accident for insurance purposes
Cons
You don't seem to be able to add any cars older than a 1985 — a bummer for classic car fans or teens rocking a cheap, hand-me-down car
Can run down your battery really quickly because it uses GPS
Discussion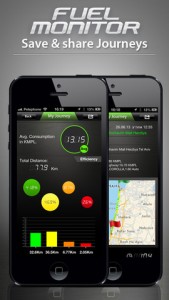 Fuel Monitor offers a ton of real-time results for your personal petrol edification, including duration, distance, speed, how much fuel you have used up, your average consumption of fuel, and your total journey cost. It's info rich, but it never seems to be overwhelming because of the sleek, professional UI design.
After you input your car's year, make and model, you'll get factory specs for highway and city driving fuel consumption. You can also include the price you've paid for fuel, see how much money you've spent on gas for each leg of your journey, and gauge your overall efficiency using a color-coded Red-Yellow-Green system that's easy to grasp at a glance.
The efficiency meter is one of the best features in this app. If you keep your meter "in the green," you will reducing fuel costs by up to 15 percent and also reducing your carbon footprint. The efficiency meter tracks your speeding and brake usage using GPS to determine whether your driving habits (slamming on the brakes, speeding often) are causing you to waste gas.
Conclusion and download link
If you want to do a better job of tracking your fuel costs and fuel consumption, Fuel Monitor is an awesome choice. The app is absolutely gorgeous, a dream to navigate, and very helpful for anyone looking to get a handle on their fuel costs. Definitely give it a go!
Price: Free
Version reviewed: 2.0.0
Supported OS: Requires iOS 4.3 or later

Download size: 19.6 MB
Fuel Monitor on Apple App Store
Related Posts