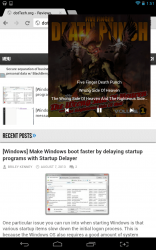 Arguably one of the best features added to Android in ICS (4.0) is the lockscreen music controls. When playing music on your device, you can skip tracks, pause and stop playback directly from the lockscreen. It's incredibly convenient, because all you have to do is turn on the screen and you're good to go. Wouldn't it be great if you could have access to controls like that from anywhere on your device? Floating Music Widget is an Android application that will provide you with a set of resizable and moveable media controls, which are accessible from anywhere on your device.
What is it and what does it do
Main Functionality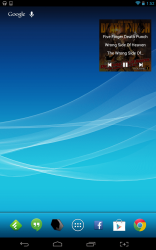 Floating Music Widget takes the media controls from the Android 4.0 ICS lockscreen and makes them available from anywhere on the device. Of course, to use the app you will need to also have a media player installed that supports the lockscreen controls, like Poweramp, Droidsound, Yandex.Music or Google Play Music.
Pros
Adds floating widget to device with media playback controls

Widget stays on top of all other windows
It can be moved, resized or closed at any time
Displays album art, song title, artist and album information

The widget can be opened through the app shortcut, or the same way Google Now is activated
It uses few system resources, at 5MB of RAM while running
Cons
Requires Android 4.0 to benefit from many of the features
I couldn't find any cons worth mentioning
Discussion
It goes without saying, this app is for anyone that uses their Android smartphone or tablet to listen to music regularly. If you're not a fan of music, then you probably won't find this app interesting, to say the least.
I love listening to music on my device. Thanks to Google Play Music, which allows you to upload up to 200,000 songs free, you can pretty much keep an entire library in the cloud. Of course, any music you purchase through the Google Play store does not count towards that 200,000 count, and it's automatically added to your library as well.
Point is, I always have access to my music so I'm always listening. The Android lockscreen provides access to media controls if I just turn on the screen, but what about when I'm in an app or navigating the OS? You can always place a widget on the homescreen, and you have access to the advanced notification tray too. Okay, so there are plenty of ways already available which allow you to interact with your media player.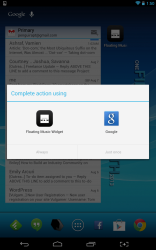 Floating Music Widget is essentially a clone of the lockscreen controls. It doesn't do anything special, but it does give you access to the music controls from anywhere. The widget includes four controls: previous track, next track, play and pause.
While music is playing it will also display the album art in the background, along with the artist, album and track title. You can move the widget around the screen at any time by holding and dragging your finger. You can also resize the widget by using a pinch gesture. The latter feature is incredibly useful since you can shrink the widget down and sit it in one corner of the screen.
The widget stays on top of all other windows, even apps. That means you can access the controls even from within a fullscreen game.
To call upon the widget, you can either use the app icon or you can use the method for opening Google Now. By default, that's pressing and holding your finger in the center of the navigation tray and swiping up. A menu will appear allowing you to choose between Google Now or the Floating Music Widget.
For reference, Floating Music Widget uses just 5MB of RAM while running.
Conclusion and download link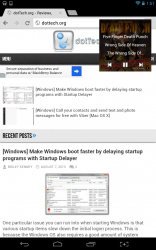 Floating Music Widget is just what the name implies. It's an Android app that adds a media control widget, which can be accessed from anywhere. The widget stays on top of all other windows and can be moved, resized or closed at any time. In addition, it's extremely light on system resources since it uses just 5MB of RAM while running. If you need this sort of thing, grab this app
Price: Free
Version reviewed: Varies with device
Requires: Varies with device

Download size: Varies with device

Floating Music Widget on Play Store
Related Posts