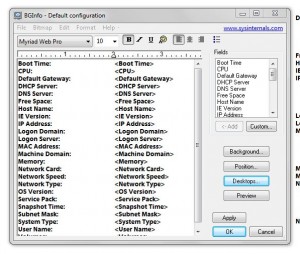 System monitoring and information collection software is great, but it often requires interaction. In other words, you generally have to interact with a menu or pull up the window to view the necessary information. There are more convenient ways to view system information, and that's where this next app comes in handy. BgInfo is a Windows application that displays user specified system information right on the desktop. It was actually officially developed, and is offered by SysInternals- a subsidiary of Microsoft.
What is it and what does it do
Main Functionality
BgInfo is a simple Windows application that will display system information right on the desktop. No more opening apps or interacting with software to find system vitals. Depending on what kind of information the user wants, it can be configured to display different information like boot time, CPU info, IP address and more. The application can be moved to the system startup folder so that it opens right when Windows boots, and it can even be configured to display the related information on the logon screen.
Pros
Allows you to display system information right on your desktop
You can customize and configure what's displayed and how it looks
You can create custom "fields" for information that doesn't already exist
You can display the information on your logon screen also
The background uses no system resources since it's applied as a bitmap
Cons
I honestly couldn't find anything wrong with this app, at least nothing that stands out
Discussion
BgInfo is a portable application which means it comes bundled as a compressed archive. You will need an archive tool like WinZIP, WinRAR or 7ZIP to extract the related contents. Once extracted, the application can be run from any directory including that of a USB drive.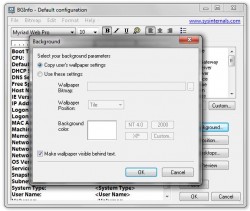 The application itself is very simple and easy to use. You just start it up, choose the information you would like displayed on your desktop and then configure the general appearance. Before applying any settings you can preview what the end result is going to look like.
When you first start the app you have ten seconds to click on an activation button. If you do not click on the button within the allotted time then the app will close. I'm not entirely sure why this feature is there, but it is.
For the text, you can assign a font, text size, format (bold, italics, or underline) color and position. You can also make any of the text appear in bulleted form.
You designate the information or "fields" you would like to display and add them to a list on the left side of the window. You can also create your own custom fields if you don't see what you want listed. You can add custom fields many different ways including, but not limited to, VB scripts, time stamps, version information and registry values. For many, the stock fields and information displays will suffice.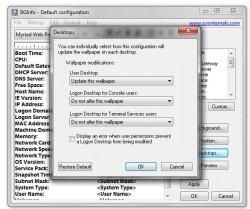 You can configure the background itself by adding a wallpaper behind the text and more. You can also change the screen position, and display the system information on the logon screen or desktop for online terminals.
The information is created and displayed through a bitmap file, which means it doesn't use any system resources after the initial app has been closed. You can apply the system information, and then close the app without it disappearing. In other words, this is not an app that needs to be running at all times in the background, so there's really no point in discussing system resource usage.
It works fantastic, and once the information has been applied to the desktop I think it looks great too. Of course, it will take some tinkering to get the fonts, colors and backgrounds exactly the way you want.
Conclusion and download link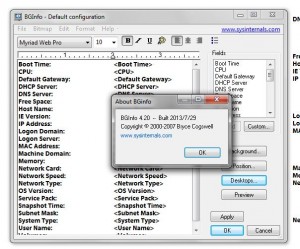 BgInfo is a fairly simple application that allows you to display user specified system information right on the desktop. With this app, it's not necessary to use a system monitoring tool unless you need to know operating temperatures, or voltage readings. It's actually best used for static information like an IP address, boot time, CPU info and more. Yes, I'm aware that IP address changes, but for the most part it remains static once connected. There's no need to discuss system resource usage, because this app applies a bitmap to the desktop and uses no additional memory. You don't need to leave it running in the background either, you can just apply the display or changes and then close it.
Overall, there are advantages offered by BgInfo — particularly how it doesn't stay "always on" — but I do feel if you want a system monitor, you should check out Rainmeter instead.
Price: Free
Version reviewed: 4.2.0
Supported OS: Windows 8/7/Vista/2003/XP

Download size: 387KB (compressed), 834KB (unzipped)
VirusTotal malware scan results: 0/46
Is it portable? Yes
Related Posts