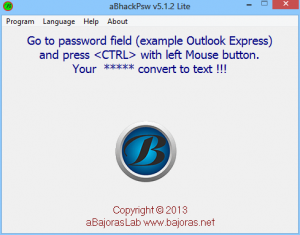 Password generators help you create strong passwords but what will happen if you are having trouble recalling your password? If that is the case, you might want to use a simple password recovery tool such as aBhackPsw Lite for Windows.
What Is It and What Does It Do
Main Functionality
aBhackPsw Lite is a simple yet very handy application that will help you reveal any password that is hidden or cloaked with asterisks. It is created and developed by Arturas Bajoras of aBajorasLab. Aside from revealing hidden passwords, this software is not meant to do any other tasks.
Pros
Simple and very straightforward
Easy to use – just left-click your mouse then press CTRL to reveal the password that is hidden in the password field
Supports multiple languages
Portable – no installation required, you can save this program into your flash drive
Compatible with the latest versions of Windows
Cons
Does not actually recover lost passwords – it only reveals the characters that are hidden by asterisks (aka passwords that are already typed in
Cannot be used to reset your password
Discussion
There's really nothing much to discuss about this software except, of course, for the fact that it is a simple Windows utility tool that only does one thing – it reveals any type of password that is hidden in the password field. So if ever you encounter any situation where you are prompted to key in your password, this software could become pretty useful since it will reveal any types of characters that is hidden or cloaked by asterisks. Other than that, I really don't find any use to this software since it couldn't really help you recover the password that you've forgotten.
On the lighter side, aBhackPsw Lite is very easy to use. After you download its file, just unzip it then go to its unzipped folder to open its application. Thereafter, you will be notified on how to use the software. Since this is a very basic tool, all you need to do is to find a program that has a hidden password field (For example, Microsoft Outlook or WinRAR). You will then be able to reveal the password by pressing the CTRL button while you click on the password field.
While this program may not be that useful when it comes to recovering your lost passwords, it actually helps when it comes to typing passwords. For example, if there's a program which would require you to key in your security code but instead of showing the characters, it will only show the asterisks. In this case, there's a probability that you might make a mistake when typing so in order to prevent that, you could use this tool to reveal the characters behind the asterisks.
Just don't expect that you could rely on this software to help you recover or reset any of your forgotten passwords. In that area, aBhackPsw Lite is totally useless.
Conclusion and Download Link
I really don't see any use for this software especially when it comes to resolving problems that are related to password recovery. It only reveals hidden password characters of already typed-in passwords and it does nothing else. While it may be useful in certain situations, I don't recommend you garb this program for password recovery needs… unless you specifically need the niche function this program offers.
It would be much better if you opt to use a more reliable password recovery program such as Ophcrack (if you lose Windows password) or better yet, you could opt to learn how to crack, open, or unlock password protected or encrypted ZIP, PDF, RAR, XLS, and XLSX files.
Price: Free
Version reviewed: 5.1.3.0
Supported OS: Windows (x32/x64) 98/ME/NT/2000/2003/XP/VISTA/2008/Windows 7/8
Download size: 1.75MB
VirusTotal malware scan results: 0/46
Is it portable? Yes
Related Posts